---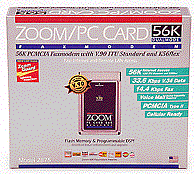 By Jayne A. Hitchcock
as it appeared in the May/June 1999 issue of Link-UP
When I purchased my AST notebook last year, it came with a 24.4K modem, which I thought was fairly fast. Six months later, I purchased Zoom's 33.6K modem and was delighted at the ease of installation and the speed. Now that 56K has almost become a standard modem speed, I felt it was time to look at upgrading to a 56K modem. Because I was happy with Zoom's 33.6K modem, I called them and they promptly sent me their latest notebook modem: Zoom/PC Card 56K DualMode Faxmodem with V.90 ITU standard and K56flex (model 2975). Whew!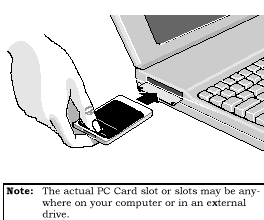 Also included were CD-Rom's with the usual free Internet access tryouts of AOL, Compuserve and Earthlink, plus PaintShopPro SE, QuickLink II Fax/data software, Exterminator Antivirus, Howdy (to send multimedia e-mail postcards), Web Cannon (a web site publishing program) and iVisit (allows you to communicate face-to-face through video, audio and text messages over the Internet). That was a lot more than what came with the 33.6K modem, so I was impressed.
The manual for the 56K card was also on the CD, but in .pdf format. The good news is that the latest version of Adobe Acrobat Reader, 3.0.2, is included; the bad news is that if you're like me and like a printed manual, expect your printer to spit out 40 pages before it's done. However, the manual is easy to understand and has illustrations as you go through installing the modem and setting it up.
The one thing the instructions do not tell you is that you should remove your previous modem from the Control Panel MODEMS selection first. I didn't do this and had a hard time configuring the new modem. I finally realized what was going on, physically removed the new modem, removed both entries for my old 33.6K and the new 56K, inserted the new modem again, restarted my computer and the "New Hardware Found" Windows 98 Wizard appeared. It was a cinch from there.
Connecting to Compuserve (one of the ISPs I use) was just as easy, and I connected at 49.3K - not bad when my previous connect rate with the old modem was 28.8K at the highest. I found my email downloaded much faster and it easier to navigate Compuserve's Main Menu and Netscape Navigator (my preferred browser).
I decided to try out the free software and offer the following opinions:
QuickLinkII is reminiscent of DOS-based programs, no fancy GUI (graphical user interface). I found this program a little hard to understand on how to use it. If you are a diehard DOS fan, you'll find this program right up your alley. If you're used to pull-down menus and a nice interface, you won't like this.
Exterminator Antivirus - Nice options at installation: Install full copy of the virus scanner and monitor; scanner only if you already have an antivirus program installed; install on a network drive; install a network station version; or custom install - choose your own options. I decided to try out the Full Install. First, it scanned my hard drives for viruses before installing the program, then asked if I wanted the Active Monitor to load with Windows or let me decide. That's when my computer went a little wacky. My sound for "Program Error" began playing over and over. I had to hit CTRL+ALT+DEL to end the "Install" program. The sound stopped. I was a little worried about starting the program, but decided to go for it. Virus definitions can be updated free via the Internet, which is good. Going through the options was fairly easy until I got to the "templates" section. There was an overlap of windows and the check boxes couldn't be checked or unchecked. I was not very impressed and uninstalled this program.
Howdy! - This installed easier than the Antivirus program (and no odd sound problems this time). Upon start-up, audio of a male voice tells you what each of the functions of the on-screen menu do. As I went through the program to put together an email postcard, the audio "help" told me what to do (this can be turned off in the Options section). I followed the simple instructions and e-mailed the postcard to me. The file was a bit larger than I expected and took a while to send (even with the new 56K modem). When I received the file, I tried to play it and it would not play. I went to the HELP section, read the instructions and tried it again. It still didn't work. I uninstalled the program.
Web Cannon - This is a good program for beginning web page designers. It has some nice graphics in it and is very easy to use. The best program on the CD yet.

iVisit - This is a nifty little program - if you have one of those videocameras hooked up to your computer. You can still use the audio and chat portion of the program, but its main feature is to send and receive video. It's fairly easy to install and understand.
PaintShopPro SE - This is a "Special Edition" of the regular program and is the best "freebie" on the CD. You can open, edit, manipulate and have fun with all kinds of image files. This is great for designing/editing .gif or .jpg files for web pages. Highly recommended.
If you don't care about the "free" programs that come with it, the Zoom PC Card 56K DualMode FaxModem is worth it's $139 price tag (I did find it on several shopping web sites for under $100; comparable modems run over $140). If you do care about what programs come with a product, you may want to get another modem.
UPS OF ZOOM 56K PCMCIA FAXMODEM:
Quick installation
Fast connection and speed (but this depends on your ISP and whether they have 56K capability)
Can be installed on a 386 or faster IBM notebook (Mac version is available at the same price)
Incorporates both ITU V.90 and K56flex modes so that this modem doesn't become outdated before it's time
Automatically connects in ITU V.90 mode, K56flex mode, 33.6 Kbps, or any other ITU International or Bell standard speed to achieve the fastest, most reliable connection possible.
Has Zoomguard lightning protection (a must for any notebook user)
Can be used with any cellular phone (really good if you're in the middle of nowhere)
Has "sleep mode" to conserve notebook battery power and automatically turns "on" when it detects activity
Can also be used with any PDA, palmtop or other computing device that has PCMCIA slots
Has a two-year warranty
Online tech support is good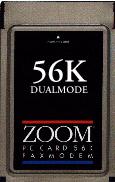 DOWNS OF ZOOM 56K PCMCIA FAXMODEM

Could be clearer on installation (instructing user to remove the old modem data first)
Wish the manual was already printed
Cellular activation kit to make your cell phone modem-ready costs extra, but can be ordered from SupplyNet (ordering info on Zoom's web site)
Needs better "freebies" or make sure they're bug-free first
Telephone tech support is a toll call
Related web sites:
Zoom 56K PCMCIA Faxmodem (model 2975)
The 56K Web Site (if you're not sure you want to upgrade or not)S
---
J.A. Hitchcock is a regular contributor to Compute Me. Visit her web site at jahitchcock.com.
Return to the Compute Me Reviews main page.