---

ZoneAlarm Pro 3.0 - Great Protection Online With Some Limitations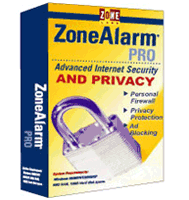 By J. A. Hitchcock
as it appeared in Link-UP
I've tried several firewall/Internet security programs, including ZoneAlarm, which is the free version of ZoneAlarm Pro 3.0 (which I'll call ZAP3.0 from now on), but without all the bells and whistles. I decided to take the plunge and try the paid version, ZAP3, which touts on its web site: " "Zone Alarm Pro protects against Internet-borne threats like worms, Trojan horses, and spyware. New ZoneAlarm Pro doubles your protection with Ad Blocking and Cookie Control to speed up your Internet experience and stop Web site spying."
Mind you, my husband and I invested in a router with a hardware firewall so that we could use our cable Internet connection at the same time, whether he and I were on our desktop computers, or he was on his desktop and I was on my notebook (via wireless modem). Supposedly, the hardware firewall was all we needed, but being the overly cautious (some may say paranoid) person that I am, I wanted to make sure our Internet connection was really being protected.
ZAP3.0 costs $49.95 for the initial purchase, which includes one year of updates and online technical support (after the first year, it costs $19.95 per year for updates/support). It's available for download only from the Zone Labs web site, which some people are not crazy about. I know some folks who like to order the "boxed" retail version online just in case their computer crashes, etc. - many people still don't have a CD-RW, ZIP, Jaz or other backup procedure to make copies.
The download is 3.8MB, but with our cable connection it was fast, less than a couple of minutes. Installation was easy and I followed the "wizard" step-by-step prompts to set up ZAP3.0 before using it. The actual program takes up only 10MB of hard disk space (the free version takes up 8MB), so I was curious to see what, if anything, would happen.
I didn't have long to wait. Within minutes after installing ZAP3.0, I got a "hit" - a small popup window warned me that someone from the IP address 192.168.1.101. I went to SamSpade at www.samspade.org, input 192.168.1.101 in the top text box, clicked on the "Do Stuff" button and found out that this IP address was allocated to a private network. Hmm.
Throughout the course of using ZAP3.0, I received an average of two of these hits a day, but from different IP addresses. And that's with a hardware firewall installed. I was becoming happier that I'd put ZAP3.0 on our computers.
I love the simplicity of ZAP3.0's program, the ease of which to set it up, understand everything and the fact that it does indeed get rid of those popup ads, banner ads and cookies. I have mine set to the Medium setting for blocking cookies (you get a choice of Off, Medium or High) and High for ad/pop up blocking. What I don't like is that I can't access my Hotmail e-mail account via the Netscape web browser, which is my browser of choice. I had to either use MS Internet Explorer or CompuServe, but even when I used one of those, if I selected the check box to check all the messages to be deleted from my INBOX (once I'd read what I wanted to), only one of the messages was highlighted for deletion versus all of them being checked for easy deletion. Since Hotmail is a spam magnet, even with their excellent Junk Mail folder, I sometimes have to manually check off 30 messages, one at a time. This gets tedious.
I also found there were many web sites that wouldn't let me view their pages at all unless I turned off the cookie and ad blocking features on ZAP3.0. I did that once, then stopped visiting those web sites. I don't like the fact that I was forced to let them bombard me with garbage and make cookies of whatever information they felt they needed from me.
But overall, I do like ZAP3.0 and will keep it on our computers. If you don't want all the "bells and whistles," ie the cookie/ad blocking features, mailsafety (basically checking your incoming mail for viruses and the like), reports of who may have been trying to hack your connection or cause trouble, and other nifty features, then try the free version, ZoneAlarm. For free, it's good. But for people like me who want more control over what a firewall program does on my computer, I highly recommend ZAP3.0.
ZoneAlarm Pro 3.0 $49.95 for download, one year of updates & online support ($19.95/year after that for updates/support)
Features:
Personal firewall
Advanced MailSafe email attachment protection
Automatic Intrusion Blocking
Improved Program Control
Enhanced Hacker Tracking
Performance Ad Blocking
Cookie Control
Pop-up Ad Control
System Requirements:
IBM PC or 100% compatible
Pentium processor (or higher)
Windows 98/ME/NT/2000/XP
16 MB RAM
10 MB Hard disk space
Internet connection
---
J.A. Hitchcock is a regular contributor to Compute Me. Visit her web site at jahitchcock.com.
Return to the Compute Me Reviews main page.