---

By Jayne A. Hitchcock
as it appeared in the September 2000 issue of IT Magazine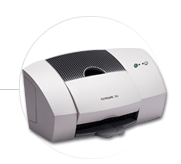 If itís time to break down and get a new color printer, then consider the Lexmark Z52. I decided to try it out, since it touts that itís faster than other color inkjet printers and provides better DPI capabilities, primarily due to its using thermal inkjet technology. If youíre not familiar with that, thermal inkjet output allows the ink to print ďdryĒ so that it adheres quickly to the paper without bleeding like you sometimes get with regular inkjet printers and you donít have to wait for the paper to dry.
The Lexmark Z52 is compact in size and light in weight (8 lbs), but not in output. Itís claims of getting 2400x1200 dpi are quite true, but only if youíre printing high-quality color documents, and then, mostly photos. Although it claims it prints 15 pages per minute, the caveat is that this is in black and white format, not color. But, color print speed is fairly fast and much faster than my Xerox WorkCentre XK35c or my Canon BJC-4550.
Setup is easy, especially when using the Quick Reference Card, giving you the option of connecting it to your computer via parallel port or USB. Since all my USB ports were used up, I opted for the parallel port first, then switched to USB later in testing. Going parallel was a tad slower, but not by much.
It did take me a while to get used to the Advanced Paper Feed function - the printer literally snatches the paper out of your hands and feeds it. I was used to a slight tug from my other printers, so I jumped the first few times when adding paper to the Z52. Once you get used to it, the APF is a joy and makes printing that much easier.
Installing the inkjet cartridges was very simple - theyíre not only clearly marked on the cartridge and the cartridge holder in the printer, but the cartridge carrier automatically centers itself for easy use. Plus, the printer can tell if youíre using just black ink cartridges, color and black ink or the optional photo color cartridge. Itís almost too smart for a printer!
I think the best thing about this printer, other than the low $179 retail price, is that it works with Windows or Mac compatible computers, which is great if you have Mac and Windows system and want to share just one printer.
Once installed on my Windows 98 systems, I decided to test out the Z52 against my Canon BJC-4550 by printing various documents out on each printer: black and white text document, black and white graphic document, color text/graphic combo and a color photo. The color photo ink cartridge did not come with the Z52, so to be fair, I used just the regular ink cartridges on both printers.
On the black and white end, the text on both the Z52 and BJC-4550 were about the same, crisp and clear, although the Z52 printed faster. Black and white graphics were definitely better with the Z52 and faster yet. On the color end, the combo text/graphic document was far better with the Z52, as there was no bleeding on the colors. Color photos, even with just regular ink, were far superior on the Z52 - I was surprised at how close to photo quality the ink got when printing on photo glossy paper. It makes me want to run out and buy the photo ink cartridge, knowing that will be even better in quality!
The software that comes with the Z52 has a tool that allows you to check to see if you need to replace a cartridge without opening up the printer. Plus, a promo brochure allows you to choose two software titles for just $8.00 - I ended up picking up the full versions of WordPerfect Suite 2000 and Corel PrintHouse. Thatís a heckuva deal!
Overall, the Lexmark Z52 is a vast improvement over any other color inkjet printer currently on the market. I highly recommend it!
Features:
Thermal inkjet technology
Print Quality
- Black: 2400 x 1200 dpi
- Color: 2400 x 1200 dpi
Printing:
- Black draft: Up to 15 ppm
- Color draft: Up to 7 ppm
100-sheet input tray
Automatic envelope feeding
25-sheet label or transparency capacity
Prints on photo paper, index cards, envelopes, transparencies, iron-on transfer sheets, heavy card stock for greeting cards, legal size and European A4 and B5 sizes 16 - 150 lb. media
Comes with LexExpressô one-year exchange warranty
Retail price: $179
Replacement inkjet cartridge prices: Black $30.99
System Requirements:
Windows 95/98, NT 4.0, Win 2000, Mac OS 8.6 (or higher)
Pentium 133 MHz
16MB RAM
20MB Hard Drive
Parallel interface: IEEE 1284 compliant bi-directional parallel cable, or USB (excluding Windows 95 and NT 4.0)
---
J.A. Hitchcock is a regular contributor to Compute Me. Visit her web site at jahitchcock.com.
Return to the Compute Me Reviews main page.