---

By Jayne A. Hitchcock
as it appeared in the June 2001 issue of IT Magazine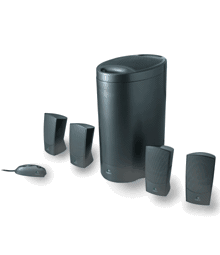 Just when I thought I had the best-sounding surround sound speaker system, Logitech had to come out with one that was better. And lower in price. I was happy with my Boston Acoustics BA7500 system (which cost me $300), but when I found out Logitech just released the SoundMan Xtrusio and for just $180, I jumped on them. I gave my husband the Boston Acoustics system and now he's happy.
SoundMan Xtrusio DSR-100 is a 100-watt, digital surround sound speaker system that's makes your multimedia computer system truly multimedia. Included with the four speakers and subwoofer are two CD-ROMS, one has a bunch of MP3 songs, digital music and multimedia software (including a karaoke program); the other is PowerDVD, a program that allows you to get high-quality Dolby Digital sound from DVD movies on your computer (you need the appropriate hardware/cards to use this program) - that's almost $100 in extras alone.
As a reviewer, I was also sent a Telarc music sampler CD chock full of surround sound samples that aren't just music, they're pretty spectacular (and freaked out my dogs at times). I was also sent The Beatles "Yellow Submarine" DVD movie, but since I didn't have the appropriate hardware in my computer to play it, I watched it on my regular home DVD system (it's still a great movie, after all these years).
The speakers are a dark gray (almost black) color and measure 6" tall and almost 3" deep. What is different about the SoundMan Xtrusio DSR-100 system over the BA7500 is that all four speakers are the same size and a bit smaller (the BA7500 rear speakers are smaller than the front). They may not be as "slim" as the BA7500 speakers, but they fit on my desk and behind me perfectly. There is wall-mounting hardware, which is nice, but don't come with speaker stands like the BA7500 speakers do. That's okay, though, because I ended up placing the rear speakers on shelves situated behind me. The only beef I had with setting up the system was that the length of the speaker cord (150" each) for the rear speakers wasn't as long as the BA7500, so I had to place them closer.
The subwoofer has a rounded brushed aluminum case in that same dark gray with color-coded inputs, making installation a snap. The coolest feature is the remote - yep, a remote. It is attached and not cordless, though, which I hope they change in the future, but still, it's very nice. I can put the speakers on standby if I get a phone call or want to talk to someone, has a fader control, master volume dial and a headphone jack.
Now, about my soundcard. I have a SoundBlaster Live card. When I downloaded the updated drivers from the SoundBlaster site, I found that I couldn't use the program so that my new surround sound system would work. Believe me, I tried everything - uninstalling it completely, defragging the hard driver, reinstalling, etc. I ended up reinstalling the original, older program that came with my soundcard and everything ended up working fine. So, if you have a SoundBlaster card, beware if you download the latest update!
Now that I had the soundcard and speakers all set, I popped the Telarc sampler CD in and away I went, listening. Jumping from classical pieces to thunderstorms and spooky noises to jazz fusion to hip hop, it showed off the capability of these speakers. I then opened up my RealPlayer to watch and listen to some news shows and could really hear the difference. These speakers are great!
Besides the length of the speaker cord and wishing the remote was cordless, the only other thing I'm not crazy about is the color of the speakers. I like the color itself, but since my computer is that "computer beige" color, they don't really match. But hey, it's a minor quibble.
Logitech's SoundMan Xtrusio DSR-100
Retail: $179.95
100-watt digital surround sound speaker system
Subwoofer 52 Watts
Satellite speakers 12 watts RMS per channel
Power supply is built-in (90V-240V, auto-switch)
Front & rear analog inputs
Digital 4-channel
Analog 4-channel
Digital PCM stereo
System frequency response 28Hz-20kHz
Crossover frequency 160Hz
Signal-to-noise ratio 80dB
System weight 14.75 lb
J.A. Hitchcock is the author of seven books and writes for several print and online publications. She can be reached by e-mail at anotherwriter@hotmail.com. She is also the president of WHOA (Working to Halt Online Abuse) which is online at www.haltabuse.org.
Return to the Compute Me Reviews main page.