---

Hardware Review: Lexmark All-In-One Printers:
Icing On The Cake For A Small or Home Office
As seen in the January 2002 issue of IT magazine
By J.A. Hitchcock
I love Lexmark multifunction printers. I have a small office in my home and I do mean small. Instead of having separate components - color printer, color copier and scanner - I can get all of them in one machine. And now Lexmark has made it even better by offering their latest with fax capability as well!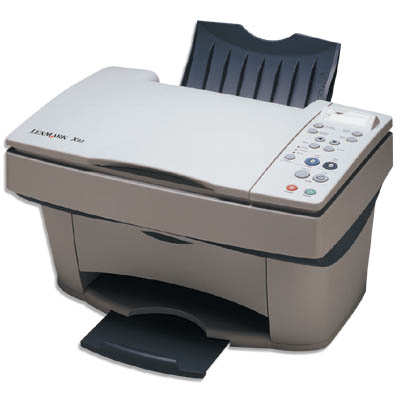 I got the Lexmark X83 primarily for the thermal printing - instead of having to wait for the ink to dry, like you do with typical inkjet printers, thermal printing means the ink is dry as the paper comes out. No smudging, no waiting, no fuss. And the quality seems to be much better than most other inkjets (at least to me).
With a 2400x1200 dpi resolution, I get up to 12 pages per minute (black and white) and 6 pages per minute for color. Scanning is just as nice - it's a 48 bit flat-bed scanner and allows me to scan pages from books, reports, magazines and more. The best part is the color copy function (I don't use the black and white as I do have to admit I have a regular old Xerox copier). I can get up to 3 copies a minute in glorious color and I do mean glorious.
In copy mode I can also:
Reduce/enlarge an image
Make a poster size copy of an image
Clone the image to create multiple copies of it on one page
Automatically enlarge a small image to fit a page by choosing AutoFit
The X83 can be connected to your desktop (or laptop) via USB so that you can print, scan and copy from the computer or send faxes via the included on the CD-ROM that comes with it. However, you can't do just regular faxes (which means manually). That's where the X63 comes in.
The Lexmark X63 is about half the height of the X83, making it appear more compact, although it basically takes up the same amount of space. Both cost the same, $199.95 (retail) and both have the same 2400x1200 dpi resolution.
But the X63 does have differences:
You can print more pages per minute - Up to 14 pages black and up to 7 pages color
It is NOT a flatbed, so any copies or scans you make must be able to go through the document feeder. If you have a book or a magazine, you're out of luck. But if you scan or copy one piece of paper at a time (or a photo), then the X63 is for you.
Color copy speed is only 2 copies per minute vs the 3 copies per minutes with the X83 (although output is virtually the same for both)
Zoom Range for copying is the same for both - Enlargement up to 400 %; Reduction 25%
Scanning is only 36-bit for the X63 vs 48-bit for the X83
You can't do the nifty Clone, Poster or AutoFit copying that the X83 is capable of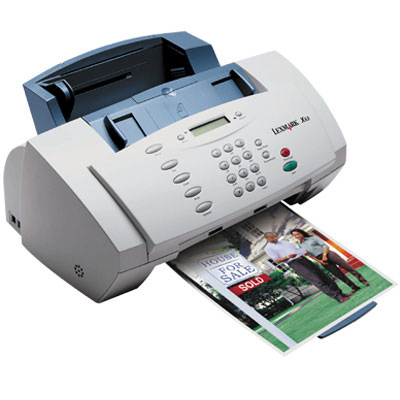 But it's the fax capability of the X63 that makes it stand out gives you more room on your desk when you get rid of your old fax machine. You can't beat that. The X63 works just like a regular fax: Place the document facedown in the document feeder, punch in the fax number and hit send; or use your computer to send faxes, just like the X83.
Now I had myself in a quandary. I like the flatbed on the X83, since I do scan a lot of odd-sized things, such as pages in books, magazines, etc; but I love the fax capability of the X63. So I compromised.
I kept the X83 in my office and put the X63 in my husband's. He doesn't do as much scanning and copying as I do, but finds the X63 is perfect for him. When I need to send a fax, I pop into his office and off it goes. I get more room on my desk, he gets a multifunction printer/scanner/copier/fax and more room on his desk and we're both happy.
Now, if only Lexmark would come out with a multifunction printer/scanner/copier/fax that has a flatbed. . .then I'd be ecstatic.
The Lexmark X63 and X83 both cost around $199 retail and have the following same capabilities:
Thermal Inkjet
Print Resolution, Black
Up to 2400 x 1200 dpi

Print Resolution, Color
Up to 2400 x 1200 dpi

Operating Systems Supported
Microsoft Windows 2000
Microsoft Windows 98, 2nd Edition
Microsoft Windows Me
Microsoft Windows XP

Paper Types
Card stock
Envelopes
Labels
Transparencies

Copier Quantity
Up to 99 copies at one time

Standard USB

Replacement cartridges:
Black $30.99
Color $37.99
Hi Res Photo $36.99
Lexmark X63
Print Speed, up to 14 pages per minute black and 7 pages per minute color
Copier Speed, up to 4 copies per minute black and 2 copies per minute color
36-bit color scanning
Plain paper color or black and white fax

In the Box:
Phone cord
Lexmark high-resolution color and black inkjet cartridges
Power cord
Scan/Fax exit tray
Software: ABBYY FineReader 4.0 Sprint OCR, MGI Photo Suite v8.1
X63 All-in-One installation software
X63 Users Guide
Lexmark X83
Print Speed, up to 12 pages per minute black and 6 pages per minute color
Copier Speed, up to 10 copies per minute black and 3 copies per minute color
48 bit flat-bed scanner
Scanning Resolution - 600 x 1200 dpi

In the box:
Black print cartridge
Color print cartridge
Getting Started Book
Driver and Software CD
ABBYY FineReader 4.0 OCR software for text editing
Black Ice Impact ColorFax Lite software
MGI PhotoSuite 8.1 software
Power supply
J.A. Hitchcock, awriter@jahitchcock.com, is the author of seven books and a freelance writer, as well as president of W.H.O.A. (Working to Halt Online Abuse)
Return to the Compute Me Reviews main page.