---

Software Review - Windows 2000 Professional Edition

by J.A. Hitchcock
As it appeared in the March 2000 issue of IT magazine
A word of warning: This is NOT the upgrade for Windows 98. That is called Windows ME (Millennium Edition), which is slated to go on sale in May. But you can purchase Windows98 Second Edition for $109 for the upgrade or $209 for the standard edition.
However, the way Windows 2000 is being advertised, many consumers may think this is the upgrade, not only because it has come out before Windows ME, but also because Windows 2000 claims you can upgrade to 2000 from Windows 95/98. Confused? You should be.
Before I get into the review, I want to note that Microsoft is one of the few software companies who sends me software and hardware to review on a regular basis. I always get giddy inside when I see the Microsoft box arrive at my door. And until now, Iíve always given their products a solid thumbs up, except for their Windows products. Which I still canít figure out - if they can put out reliable products otherwise, what happened to Windows?
Now for the review:
I read through the Users Manual and found that I needed to check the HCL (Hardware Compatibility List) to make sure my computer hardware was up to specs for Win 2000 (which is based on NT technology). According to the HCL, all of my hardware was fine, Iíd just updated my BIOS (which is strongly recommended) and proceeded to install Win 2000. For the record, I have a Pentium II-450 with 128MB RAM, 6 gig hard drive, STB video card, HP CD-RW 8200i, Creative 48X CD-ROM, SoundBlaster Live soundcard and NEC Multisync 5FGE monitor.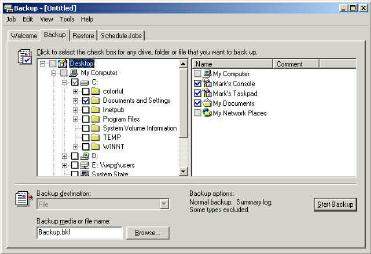 Although the default for the install is to keep the current file system intact (in FAT32 format, as I was currently using Windows 98), the manual highly recommended converting my files to the NTFS (NT file system). So I did. Big mistake. . .although I didnít find that out until later.
Everything seemed to install fine. Then I got a warning that the HP CD-RW and SoundBlaster Live were incompatible. Huh? I went ahead with the final install, waited while my computer re-booted, saw the Win 2000 splash screen appear, then click, click, and an error screen popped up saying that there was a checksum error and gave the file name I was missing (or possibly corrupted). It suggested I check my BIOS to make sure my cache and shadow were disabled (which is bad for the cache, since it will make the computer run really, really slow), tried that and it still didnít work. I couldnít get to my C: prompt or anywhere else.
I tried starting in Safe Mode, Safe Mode with Prompt and a half dozen other possibilities recommended when I tried to reboot. I finally called the Rapid Response Team, who called me back the other day.
I should have known I was going to be in for a rough ride when the person who called was from the advertising agency and not Microsoft, and told me she didnít think I could upgrade to Win 2000 from Win 98. She called me back and told me I was right about being able to upgrade.
No comment.
She then asked me to send her the specific error message, what my system was and e-mail it to me from my laptop, which I did. I got an e-mail reply from her in an hour suggesting I check the HCL. Hello? Was anybody there listening? I told her in my first phone call and the e-mail that I checked the HCL and my system was supposedly compatible. Right now all I wanted to do was get my computer running and back to Win 98.
A Microsoft tech guy called later in the afternoon. He was very nice and patient. He told me there were other people who were getting the same errors that I was, so I was relieved to know it wasnít just me. We then discovered, almost two hours later, that for some reason the Win 2000 files were not decompressing onto the hard drive. The tech guy had me install Win 2000 onto the D: drive to see if we could get it to work there. No go - we got the same error message. So, how was I going to get my computer back up and running properly?
I was told that the only way to convert my NTFS back to FAT 32, I had to purchase a third-party software package and the tech guy recommended Partition Magic. Great. More money to spend that I didnít need to. I have to give Microsoft credit, though - this tech guy was on the phone with me a good four or five hours and really tried to help me get Win 2000 either up and running or off the computer.
The next day I hopped in the car, drove to the computer store (a good half hour from me and it was beginning to snow - we ended up getting 12 inches), bought Partition Magic for $49.95 and raced home. Partition Magic was very easy to install and converted the NTFS files back to FAT 32 in no time. I formatted my hard drive, then installed Win 98 on it and found that I couldnít connect to the Internet at all, even with the current drivers for my modem. I was also getting errors on other programs that didnít come with Win 98. So I reinstalled Win 98 and got a .cab error. Uh-oh. Back to formatting the hard drive and reinstalling Win98 once again. This time it worked and I crossed my fingers. Parts of my hard drive were now unusable, but I was able to get my computer up and running.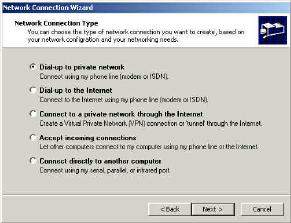 So what about Win 2000? I checked the HCL, then the compatibility information on Microsoftís web site and found that my laptop, an IBM Thinkpadi, was compatible. Or so it claimed. I made sure the BIOS was current, crossed my fingers, held my breath and installed Win 2000 on my laptop, upgrading from Win 98. I made sure I left my file system intact and selected the option to have Win 98/Win 2000 as dual operating systems, which makes it much easier if you decide to take Win 2000 off your system.
Guess what? No problems. I heaved a sigh of relief. Win 2000 is what it claims to be (at least so far and Iím still crossing my fingers). There are lots of wizards to help you through setting up your system once Win 2000 is installed, it can handle USB, infrared and new multimedia peripherals with ease, plus advanced troubleshooting if you do have problems. One thing I did find is that many of the software applications I preferred to use needed updates and some of them didnít have updates compatible with Win 2000, which is a detriment. Another is if you have an AOL account for your business and you want to get onto this NT bandwagon - AOL states on their home page that they are NOT compatible with Win 2000. Now, I know quite a few small to mid-sized businesses use AOL, so this will also be a big detriment.
Although it states on the box to check the HCL and the Microsoft web site to make sure your system and applications are compatible, I know not everyone will do this and will install Win 2000 willy-nilly, then pay the consequences, maybe like what happened to me.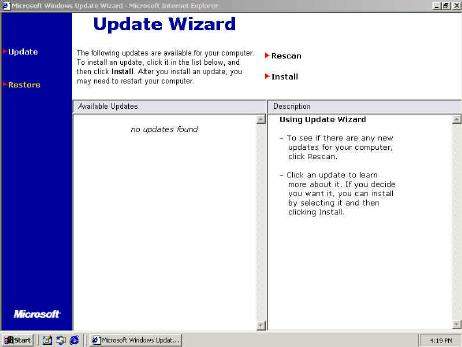 So, some advice:
If youíre currently using Win 95/98 - do NOT upgrade to Win 2000. Do a clean install instead. If you decide to try the upgrade, make sure you have a DOS boot disk handy, just in case.
If youíre currently using an NT OS, have at it and enjoy Win 2000.
If you donít have a name brand computer system and put together your system yourself, you may want to forgo putting Win 2000 on your system. My computer is a ďhome madeĒ one and the MS tech guy told me those are the ones they seemed to be having a lot of problems with, even if theyíre updated and new.
Even though the box states that the minimum system requirement is a P133 - DO NOT install it on anything less than a PII, and even then, I wouldnít install it on anything less than a PIII with at least 128MB RAM (ideally you should have 256MB RAM. This was another tip from the MS tech guy.
If you play any video-intensive games or high-graphic applications, reconsider installing Win 2000 *unless* youíre currently using Win NT. Even though Microsoft has a hardware and software compatibility list, donít believe it. Go to each web site for every application you use on your system that is not a Microsoft product. Check their latest updates and see if they are Win 2000 compatible. If the site doesnít mention it, then e-mail or call the company. You need to make sure that EVERY software application you currently use will work with Win 2000, including your accounting, fax, word processing, office suites, DTP, spreadsheet and other programs.
If youíre still in doubt, either pick up Win 98 Special Edition or wait for Win ME to come out in May. Or stick with what you have, especially if it works well for you, and leave it alone. Like my mom says, ďIf it ainít broke, donít fix it.Ē
Microsoft Windows 2000 Professional Edition
$319 (upgrade $149)
(also available in Server and Advanced Server editions for businesses that need five or more client access licenses, starting at $599)
MS Hardware/Software Compatibility Page (Readiness Analyzer)
MS Hardware Compatibility List
---
J.A. Hitchcock is a regular contributor to Compute Me. Visit her web site at jahitchcock.com.
Return to the Compute Me Reviews main page.