---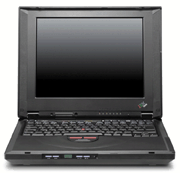 By Jayne A. Hitchcock
as it appeared in the July/August 1999 issue of Link-UP
Although I dearly loved my AST Ascentia laptop and its limited Pentium75 speed, 540MB hard drive and 33.6 modem (which was fine for what I used it for), keys on the keyboard unexpectedly became stuck. These were not keys that I don't use, like the F keys, they were the quote key, a couple of the number keys and the comma. As a writer, I use all of those frequently, so I had to break down and look for a new laptop.

When did they change the name from laptops to notebooks? That was the first thing I discovered in my search for the perfect notebook for me.

Then I checked out the web sites of the primary manufacturers I was interested in: IBM, Compaq, NEC, Dell and Gateway. Gateway was out of my league for what I wanted and Dell was pricier than I thought. I then went to Pricewatch.com, which is a must for anyone who is getting ready to buy a new computer, notebook or add-ons and accessories for a current system. I knew I wanted to spend under $2,000 and I wanted a true Intel Pentium processor, not a Celeron or generic, so I narrowed the list down a bit. Then I narrowed it further to CD-ROM included, internal modem (56K), as large a screen as possible, Pentium 300 or higher and at least a 1 gig hard drive. I now had IBM Thinkpadi Series and Compaq Armada as my finalists. I then found a local store, State Street Discount in Portsmouth, New Hampshire. Not only did I want to test drive the notebooks in person to make my final choice, I also wanted to buy from someone local who could also service the notebook if it needed it.

I spent over an hour in the store, hitting the poor salesguy with a barrage of questions about the IBM Thinkpadi 1451 - I ruled out the Compaq Armada because it only came with a Celeron processor. All of the notebooks on display were larger than my old AST, much to my surprise. I still looked at each one on display and kept going back to the Thinkpad i 1451. It had a 300MHZ Intel Pentium MMX processor, 4.3 gig hard drive (yippee!), 64MB RAM standard (expandable to 256), a 20x combination CD-ROM/3.5" drive, an internal 56K V.90 modem with a jack on the notebook itself (no more fiddling with one of those adapters that always tend to break) and a13.3" active matrix display. In addition, it had a 128-bit video accelerator, 2MB video memory for super 3D support (especially on video playback), SoundBlaster Pro 16-bit audio and Altec Lansing speakers (long and thin, they run along each side of the display and actually sound really good).

The salesguy popped in a music CD to show me one of the unusual, but nice features, of this notebook - you can play a CD with the notebook closed and turned off, for up to six hours. It's like having a large CD player on the road.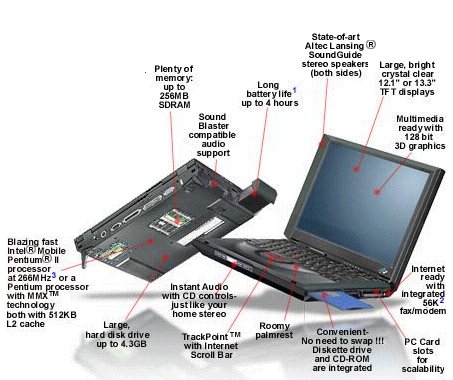 I checked out the included software (Windows98 is pre-installed, along with IBM on board applications) - Worldbook Encyclopedia (functional, but nothing when compared to Microsoft's Encarta), Tom Lehmann Golf Pro, Norton AntiVirus, Rand McNally's TripMaker, Lotus SmartSuite Millennium Edition, Quicken 98 and Adobe Photodeluxe.
But what really sold me was the 3.8 hour battery life - my AST Ascentia was lucky if it lasted for 2 hours of continuous operation.
I also liked the layout of the keyboard area - the palmrest was a bit odd at first, but once I began to use it, I found it naturally supported my wrists as I typed. The TrackPoint buttons just below the keyboard was like having left/right mouse buttons. The 85-key keyboard is full-sized, no fumbling with too-small keys.
Needless to say, I bought it. Pricewatch.com listed a price of $1799.00 from a competitor and State Street matched it (their regular price was $1875.00, as are most other retail sellers). So I went home, flushed with a successful buy.
After unpacking the Thinkpad i 1451 and reading through the instruction manul, I turned it on and went through the registration and install procedures for the bundled software. I ended up not using the WorldBook, the golf game or SmartSuite. I installed the programs I use on my desktop: WordPerfect Suite 8, Netscape Communicator 4.5, Eudora Pro Email, CorelDraw 7 and Agent for my newsgroups. I did find some additional free software included on the notebook itself - a pleasant surprise: Adobe Type Manager, MS Internet Explorer, Adobe Acrobat 3 and PC Doctor.
Once I had everything set, I plugged into the phone jack in our kitchen and went online. The 56K modem connected smoothly and quickly. I browsed the web, checked out my newsgroups, got and sent some email and found everything working as it should be. I tried out the Internet Scroll Bar and it let me whiz through web pages (an option to the scroll bar on the right side of the screen). Although I already have an ISP, I liked the fact it came with a 100-hour trial period through America Online, plus a 90 day/50-hour free trial with IBM Global Services.
Another nice online feature is IBM Owner Privileges - once you send in the registration card, you receive an IBM Owner Privileges membership card in the mail. You can either call the toll-free number for information or go to the web site at http://www.pc.ibm.com/privileges/us - which I did. In the "Members Only" area, I found I could get preferred handling if I called a special technical support number during my one-year warranty period (you can take a tour).
In the Advisory Privileges section, there was information on how to set up my notebook for online connections if I was planning an overseas trip, suggestions for learning foreign languages before going on the trip, smart shopping online, distance learning options, and an archive section of previous articles listed on the site.
Protection Privileges offers a compatibility chart so that I can purchase the right add-on or accessory for my notebook and an Update Connector to automatically advise which updates are needed for software on my notebook and the notebook itself.
Discount Privileges has a long list of places to get special discounts for different products including software, hard drives, online services, magazines, music CDs and more. I found a carrying case for my Thinkpadi 1451 here - it was listed at $139.00 but happened to be on sale for $99.00. A bargain compared to similar bags listed on the web or at local stores.
There was also a list of useful web sites, some I found interesting, others I knew about, and some I know would be interesting to just about anyone.
I've had the Thinkpadi 1451 for about four months now and enjoy it fully. It's a bit bigger and heavier than I wanted, but the options, performance and usability outweigh that (no pun intended). Plus, IBM is a trusted name in computers - you can't go wrong there!
Street price at most retail stores is around $1875 (the highest I found was $1949), but it can be found for less - I paid $1799 for mine.
UPS OF THINKPADi 1451
The many features listed in the review plus:
PCMCIA Type III slot can accommodate either two Type I, two Type II, or one Type III PC card.
CardBus PC Card and Zoomed Video Port PC Card (only lower slot) are supported.
USB PORT
Parallel Port
Serial Port
External display port
External keyboard port
2 PC Card slots for expandability
Headphone/microphone jacks
Four color-coded customizable keys on the keyboard can allow you to access the Internet faster or launch programs with one touch
Onboard comprehensive users manual
Great support via the phone or web
Sleek look
Great video playback and sound
Exterior volume control
Most of the bundled software is great, especially Rand McNally's TripMaker, Quicken and Norton AntiVirus
Easy to add additional memory yourself
DOWNS OF THINKPADi 1451
Not all the bundled software is worth it, especially the World Book Encyclopedia, it was pretty cheesy. Plus I can't use SmartSuite since I already use a different program - I wish you could pick and choose which software you want with it.
If the screen or a program freezes, hitting CTRL+ALT+DEL doesn't work. If you close the lid, it doesn't shut it off completely - you need to remove the battery to get it to completely shut off, then restart the computer
The size and weight is bigger and heavier than some notebooks (13"x10" closed, 7.7 lbs), add a bag it will fit into and it gets bulkier - I had a hard time finding a compact bag to carry just the notebook in
For more information:
IBM Thinkpadi Series
---
J.A. Hitchcock is a regular contributor to Compute Me. Visit her web site at jahitchcock.com.
Return to the Compute Me Reviews main page.