---

Software Review - TurboTax vs TaxACT - Is Free Better?
by J.A. Hitchcock
Filing your federal and state income tax has come a long way - Now you can file your taxes via modem - it's called E-Filing and even online at a web site. As April 15th draws near, and passes, many people rush to file their taxes at the last-minute - or file extension deadlines, and there's no better, or quicker way, than E-Filing. But if you're still one of those who prefers to file the traditional way with paper and via snail mail, you still have time!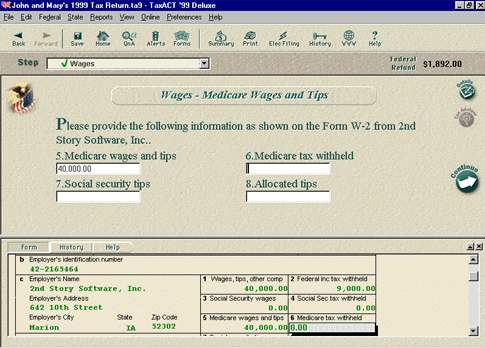 TaxAct 99 - Deluxe
By 2nd Story Software
Download or CD-ROM
Although the Deluxe version costs $9.95 to download, the Standard version is absolutely free. Really. But you do have to pay $7.95 if you want to E-File your return via modem. Still, for the extra $9.95, you may want to consider getting the Deluxe version, as it offers a lot more features, including allowing you to enter an unlimited number of returns (good if you and your significant other file separate returns, you have roommates, other family members, etc), you get Tax "Advisors" for easy help, if you're audited by the IRS and ordered to pay a penalty due to a calculation error in TaxACT 99 Deluxe, they'll pay the penalty for you, your TaxAct 98 data is automatically imported, and life events, such as marriage, births, and deaths are covered.
When you start, it's all easy to understand and use and you get two options as how to enter the data. You can either do the "interview" process that takes you step by step as you fill out the need information, or you can enter the data direct on the "forms" so that it looks like you're typing onto an official IRS form, which makes it all seem more proper (I guess in an odd way - it made me feel like that).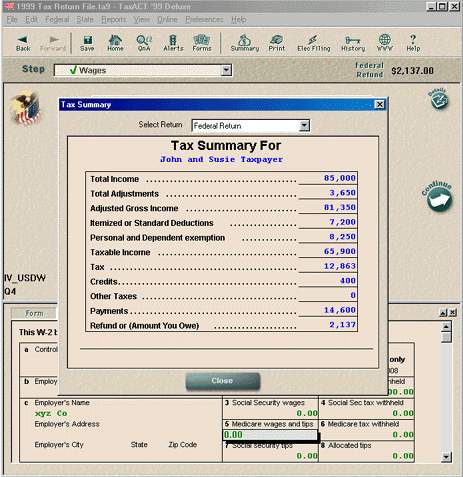 The interface is nicely done and pleasant to look at - no garish colors or hard to find commands and navigation is a breeze.
There are Federal "QnA" (Questions and Answers) throughout the process to make sure you are doing everything properly, and as you go, the amount you're due as a refund or owed is automatically calculated. The Depreciation Center works much better than last year's version and is much easier and the HELP files are just as good, if not better, than last year's version.
If you want to print a copy of your return (or want to mail it the old-fashioned way), every form is printed out IRS-approved (there are over 80 included with the program) and if you have any questions or need more information, there are quick links to their web site and other sites offering tax information.
TaxACT is a free download (but you do pay $7.95 to E-File the return), Deluxe is just $9.95 (E-File up to five returns at $7.95 each), State Edition is $12.95 (E-File costs $5.95)
System Requirements

Windows 95/NT/98
486/66 or higher (Pentium Recommended)
8 MB (16MB Recommended)
SVGA or better (256 Colors Minimum)
2X or better
Recommended
Modem/Online Access required for Electronic Filing and Online Features
---
Quicken TurboTax Deluxe
By Intuit
CD ROM or Download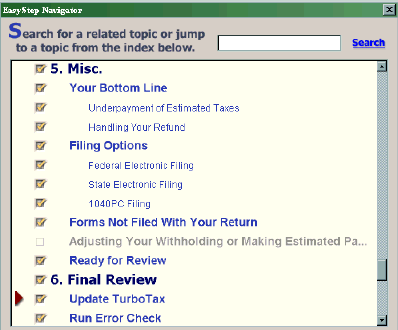 This is truly a must for tax software beginners - if this is your first time filling out and/or filing your tax return online, TurboTax is the program to get. Like TaxAct, it has a pleasant layout and easy navigation, but also offers videos throughout the process so that you can learn as you go. And I do mean learn - everything from simple tax tips to complicated information about Retirement Options, depreciation, if you own a small business, etc.
The intro selections allow you to check the web site immediately for any program updates, which was worth the 20 minutes (with a 56.6k modem) - it's much better to have the latest info than to screw up your tax return.
You go through each step of your return a question at a time, which can seem cumbersome and boring at times (I kept wanting to jump ahead), but taking your time is the best way to properly fill out your return. You don't have to watch videos throughout the "interview" process, so just watch the ones you want, or skip them all. If you decide later you want to view a video, you can go to the HELP section and select what you want to look at.
TurboTax is imports information from Quicken, QuickBooks or other accounting/personal finance programs that have .txf files (I use QuickBooks, so this was a godsend for me).
I found there were more questions asked in this program over TaxAct, but I didn't mind. They also had more information as I went along, whereas with TaxAct, I had to go to the HELP files if I had a question or if it wasn't clear to me.
I also found TurboTax went through more forms than TaxACT - it asked me if I had any 1099-MISC (or other 1099s), TaxACT never brought this up. Also, it offered more options on what kind of assets you have, i.e. computer equipment, cellular telephone, office equipment, etc.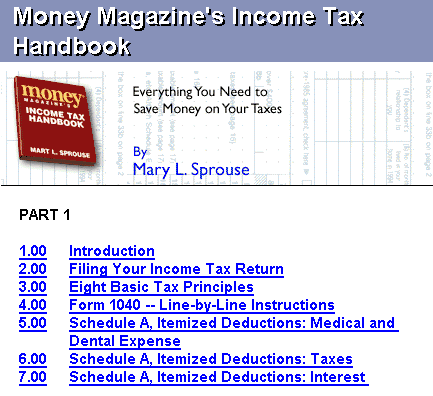 This year's version of TurboTax Deluxe offers some new features, such as the IRA Planner and Roth Conversion Estimator, the Tax Planner, the Deluxe Library, which offers official IRS publications for quick reference, MONEY magazine articles, and more.
You can also file your taxes online, and with the Deluxe version, it's free. If you get the Standard version for $9.95, you can E-File for free. If you're going to be filing a 1040EZ, you may want to try the TurboT ax for the Web option and fill out and file your return online, for free in most instances. Really.
One feature I really liked about TurboTax was the alerts. They were extremely helpful, with links to information about how the IRS selects returns to be audited, what happens if you are audited, etc.
Buy TurboTax Deluxe for $29.95 and get the state edition free and E-File one return for free (via mail-in rebate); TurboTax Standard is available for $9.95 (after a $10 mail-in rebate) with free E-Filing (via mail-in rebate), but no state edition (that's an extra $27.95, so splurge for the deluxe instead); TurboTax for Home & Business is also available for $49.95 (after $20 mail-in rebate) and includes one free TurboTax State and one free federal return E-Filing via mail-in rebate)
System Requirements

Windows '95,'98, NT 4.0
486DX processor
16MB RAM
2X CD_ROM drive (4X CD_ROM recommended)
SVGA color (minimum 256 color)
Modem Connection needed for E-Filing
---
My conclusions:
TaxAct and TurboTax have pleasant interfaces and are easy on the eye. Both offer good interview processes, but I found TurboTax was a bit more thorough and a tad easier to navigate. This didn't detract from TaxAct, since the outcome on both programs was the same refund amount.
What it comes down to is dollars - TaxAct is basically free, E-File your return for $7.95
TurboTax starts at $9.95 and does offer free E-Filing, but you only get it for free with the mail-in rebate, whereas with TaxACT, everything is included for the $7.95 you pay and you can download the program right away. If you don't mind fiddling with mail-in rebates and pay a little extra, TurboTax is great for beginners or those with Intuit accounting programs already on their system. Which one would I use? My husband says I'm cheap, so you guess.
---
J.A. Hitchcock is a regular contributor to Compute Me. Visit her web site at jahitchcock.com.
Return to the Compute Me Reviews main page.