---

A Different Way to Eyeball the WWW
Who knew that the song "Puff The Magic Dragon" would one day lead to a revolutionary VR product that just may change the WWW as we know it today? Well, maybe not the song itself, but the man who wrote the lyrics, Lenny Lipton, founder and president of San Rafael-based StereoGraphics. Not only is Lipton an accomplished lyricist, he is also a noted film maker and soon to be well-known for SimulEyes VR -- 3D glasses way beyond anything ever seen and another step forward to VR becoming a daily function.
Priced at under $150, SimulEyes VR comes with five games to "test drive" the glasses. It's a guarantee you'll get hooked on them in no time. But the real whiz-bang comes when looking at stereoscopic images on web pages. Alpha-tested by 500 developers the past summer, these images jump off the screen and practically into your lap. And businesses are clamoring for more.
"All a user has to do is move their mouse cursor over the image on the web site and it will automatically come up," Lipton says. "We're working with web site providers for corporations to show them that for very little money they can have this on their web site. It's an enhancement. They can 'wow' their potential customers and make business fun."
A company that builds cars, for example, could use stereoscopic images to show off the interior of their newest model. With SimulEyes VR, anyone who visits the site will feel like they are really inside the car. Kaching!
"Our goal is to have thousands of images on web sites," Lipton adds.
SimulEyes VR works like this -- lenses in the glasses utilize liquid crystal shutters that alternate from opaque to clear to synchronize with the left and right eye views on the computer monitor. These synchronized "flags" tell the shutters when to open and close. A chip detects the flags as the image is sent to the monitor. This means the left eye only sees the left image and the right eye the right image, all at such a rapid rate it feels like seeing a single image.
The glasses are packaged with a miroMedia 3D board and plug directly into the board. Up to four pair of glasses can be plugged into the control box at one time for multi-player games, employee training, or demonstrations of company products -- good for trade shows, conventions or client presentations.
"Some companies have attempted to compete and are gone now because they were producing VR/3-D glasses in addition to their main product line. All we produce are VR-related products. Period." Lipton says. "Now virtually every graphics board company is making plug compatible boards to accommodate SimulEyes."
WWW surfers can find stereoscopic images compatible with SimulEyes VR on several sites with more to be added in the future:
Lipton expects over 50 SimulEyes-compatible titles on retail shelves by Christmas from companies including Accolade, Maxis, Apogee, Mindscape, and Visiware.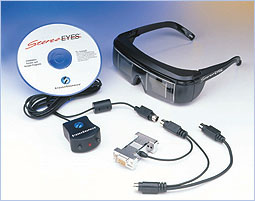 This writer got a chance to try SimulEyes VR and found they not only weighed very little, but also looked like something a skier would wear on the sunny slopes. They easily fit over regular eyeglasses -- much better than head-mounted displays that seemed to take up too much of your head and never fit right. All that was needed were four AA batteries for the cassette-sized control box. What was a surprise was the CD-ROM. The outside of the package stated five games were included and I expected five CD-ROMs, but all the games are on one compact CD-ROM -- no switching back and forth to try out the different games. Games included: Whiplash; Descent II-Test Flight; Slipstream 5000; In Pursuit of Greed; Rise of the Triad-Dark War; plus .FLI and test files.
---
The instructions were simple and "Whiplash" was installed on my hard drive in no time. After starting up "Whiplash" and setting the preferences, it was time to turn on the SimulEyes and see what all the fuss was about. Talk about jumping out of your seat! The 3-D aspect was amazing and I soon found myself moving my body like I was really racing a car. Very impressive. Although a 486/66 is the minimum required, I'd highly suggest at least a Pentium 90 to get the full effect and the speed needed to appreciate the 3-D effects.
Is it worth the money? A resounding yes! Not only is SimulEyes VR affordable, you get the "free" games, easy-to-understand instructions and great technical support.
SimulEyes VR can be purchased at retail stores or by calling StereoGraphics at 1- 800-SIM-EYES.
---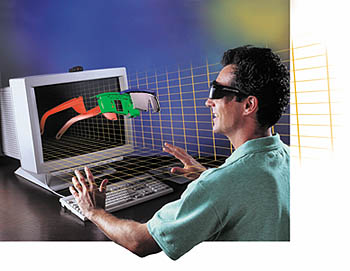 System Requirements: IBM or compatible PC with minimum 486/66 MHZ CPU, 4MB RAM, CD-ROM drive and VGA graphics card. Joystick not required, but recommended.
Minimum requirements: IBM or compatible PC with minimum 486/66 MHZ CPU, 4MB RAM, CD-ROM drive and VGA graphics card.
Joystick not required, but recommended.
Learning curve -- Easy!
Target Market -- Primarily consumers, but will expand to professionals as more compatible titles are added
Primary Competitors: CyberShades by Chinon, CyberMaxx by VictorMaxx
List Price: $149
Contact: StereoGraphics in San Rafael, California at 1-800-SIM-EYES, Fax: 415-459- 2142 or e-mail Craig Rappaport, Product Marketing Manager
---
J.A. Hitchcock is a regular contributor to Compute Me. Visit her web site at jahitchcock.com or write her at anotherwriter@hotmail.com.
---
Return to Compute Me Reviews main page