---

McAfee SpamKiller vs Symantec Spam Alert
By J. A. Hitchcock
as it appeared in Link-UP
Originally, this review was going to be just about SpamKiller, but then I received Symantec's latest version of Norton Internet Security, which comes with Spam Alert and felt it would be better to compare the two products and let readers make their choice.


McAfee's SpamKiller is a stand alone application and does more than what Symantec's Spam Alert does, but it still needs a lot of work done to it before I'd use it exclusively. Once you install SpamKiller, you need to set it up in your e-mail application (or applications, as SpamKiller can be used with Hotmail/MSN as well as POP3 and MAPI applications). This takes some doing and was a bit confusing at first, but once I got the hang of it, I had both my Eudora Pro e-mail program and Hotmail account set up to work with SpamKiller.
I had Eudora Pro check my e-mail and a separate window for SpamKiller appeared with what it assumed was spam. I went through the list and saw some "legitimate" e-mail in there and deleted it from the SpamKiller window, not realizing I'd deleted it permanently from my Inbox. That was a big problem and I'm glad I caught it that first time around, but that should have been a little more prominent in the setup program of SpamKiller.
The messages that were indeed spam, which SpamKiller caught over 85% of the time (a plus in my book, especially since SpamKiller comes with thousands of filters already installed), could then either be deleted, or you can complain to the ISP(s) it originated from. This is where the second problem with SpamKiller came in - although SpamKiller did figure out how many ISPs may have been used (such as if a Yahoo account was used with Earthlink as the ISP), instead of providing the correct e-mail addresses to complain to, SpamKiller provided generic e-mail addresses: postmaster@ispname.com abuse@ispname.com and sometimes webmaster@ispname.com. Many times there is a different e-mail address to send spam complaints to and more often than not, it's just *one* e-mail address, not two or three. Plus, many times SpamKiller assumed bearman.com was a real domain and would set up the complaint to include abuse@bearman.com, etc. If you send out the complaint to the address(es) SpamKiller suggested and the domain name was a bogus one, you'll get them returned to you as undeliverable.
I tried this for a while and found SpamKiller totally ineffective as a reporting tool. I find I have much better luck with SpamCop at www.spamcop.net. That's a free service - yes, totally free. But SpamKiller is extremely effective in figuring out what's spam and sending it to a separate folder that you can easily set up in your e-mail application. You can also create custom filters, create a "safe list" that you can add your friends and the e-mail addresses of people you trust to, and the ability to use this with multiple e-mail applications is wonderful.
Any spams it does catch are kept in a Killed Mail folder that is automatically emptied every 30 days. This is nice, as it does keep your Inbox clean and free of those spam messages.
I just wish SpamKiller would do something about the reporting feature. At $39.95, it may be a bit pricey for some people, but if you get a lot of spam, SpamKiller may be the right software for you.
---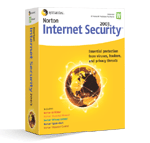 Symantec's Spam Alert comes as part of the Norton Internet Security 2003 package, which costs $69.95, but includes a lot more bang for your buck as a package. You not only get Internet Security, which is a wonderful and customizable firewall program, you also get Norton Antivirus 2003, Norton Privacy Control, Norton Parental Control, Ad Blocking and Spam Alert.
Spam Alert goes through your e-mail as it comes to your Inbox and adds the words "Spam Alert:" to the Subject line of suspicious e-mails. Like SpamKiller, it's fairly good at this and get's over 85% of the spams that do come in. It works with any standard POP3 application by integrating with it instead of as a separate program, but not Hotmail, which isn't a huge loss, since Hotmail already has a Junk Mail folder and filters included.
I created a filter in Eudora Pro so that anything that gets that "Spam Alert" in the Subject line automatically goes into the SpamAlert mailbox I created. I can then go through them at my leisure and see if any non-spam messages were sent there by mistake.
Spam Alert is set at a default level of Medium, which catches most spam, but does admit to identifying some personal e-mail as spam, which is fine with me. The Low setting identifies most spam and doesn't misidentify personal e-mails (but doesn't seem as effective to me), and High catches even more spam, but I found this also called more personal e-mails spam than the Medium setting. Clicking on the Advanced setting allows you to create filters (other than the ones you may have set up in your e-mail application). And that's all there is to it. No separate window like SpamKiller, very simple instructions and easy to use.
Now I can take all the spam in my SpamAlert mailbox and report them one at a time to SpamCop, quickly and efficiently or delete them.
Both SpamKiller and Spam Alert have good and bad attributes:
SpamKiller - Great at identifying and catching spam, ability to use it with POP3, MAPI and Hotmail/MSN e-mail accounts simultaneously; not good at figuring out who to send spam complaints to (if you want to get back at those spammers), the instructions should be clearer that any e-mails deleted from the SpamKiller window are gone for good; price is pretty good
Spam Alert - Great at identifying spam so that you can decide whether you want to trash it or report it via SpamCop or some other method; I love that it does all this without bringing up a separate program window like SpamKiller; The bad side is that it's not a standalone program at a lower price (Symantec should think about releasing Spam Alert and Ad Blocking as a combo program by themselves - FYI Ad Blocking gets rid of those nasty pop up and banner ads - hooray!), but even though the Norton Internet Security package does cost $69.95, you get a lot of effective and important programs with Spam Alert, most importantly firewall and antivirus protection, which every computer user should have on their desktop and laptop computers. A big plus - there's a Macintosh version of Norton Internet Security available.
McAfee SpamKiller
Retail: $39.95
System Requirements:
Windows 95, 98, ME, 2000 or XP
5MB free hard disk space
Norton Internet Security (with Spam Alert)
Retail: $69.95 ($30 upgrade rebate for previous versions)
System Requirements
Windows® XP Home Edition/Professional: Intel® Pentium® II (or compatible) 300Mhz or higher processor and 128 MB of RAM
Windows 2000 Professional: Intel Pentium (or compatible) 150Mhz or higher processor and 64 MB of RAM (96 MB recommended)
Windows®Me/98: Intel Pentium (or compatible) 150MHz or higher processor and 48 MB RAM (64 MB recommended)
REQUIRED FOR ALL INSTALLATIONS 60 MB of available hard disk space (without Parental Control feature installed)
90 MB of available hard disk space (complete installation)
DVD or CD-ROM drive
Microsoft Internet Explorer 5.01 or later
Microsoft Windows Internet support
Also available for the Macintosh

---
J.A. Hitchcock is a regular contributor to Compute Me. Visit her web site at jahitchcock.com.
Return to the Compute Me Reviews main page.