---

Become An Instant Wine Expert with PDA Sommelier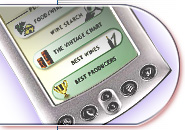 By J. A. Hitchcock
as it appeared in Link-UP
On the road and need to know fast what wine is the best to impress your boss/friend/date with? Want to find a good wine to go with Veal Scaloppini or Eggplant Parmesan without standing in front of the wine selection at your local store scratching your head? Now you can do all this and more with the PDA Sommelier from iConcepts, a wine guide made just for PDAs.
Get the information you need fast for selecting a wine for a special occasion or to go with a certain food or meal, information on wine ratings from experts, vintages from the best wine regions and affordable, high quality wines from around the world.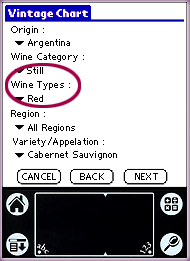 If you already have a PDA, make sure it is compatible with the Palm operating system (OS) or iPAQ Pocket PC and that you have at least 5 megabytes of memory free. Downloading the software is fast and easy, and at just $29.95 with free updates for a year, it's a great deal.
So, why is it called "Sommelier?" Sommelier is French for "professional wine steward" (as if there are unprofessional ones). These stewards oversee wine cellars of the restaurants they work for and offer advice to diners as to what wine(s) will go well with their food/meals. The PDA Sommelier does pretty much the same thing, but without making you feel uneasy when dealing with a live Sommelier, especially if you don't know how to correctly pronounce some of those French wines.
The ratings including in PDA Sommelier were culled on and off the web from various sources. If there were more than one review of a wine, then all the reviews for a particular wine were averaged out. As for how the software pairs wine with food, , iConcept approached many wine and food experts and several Web-related resources. The results were made to appeal to U.S. consumers rather than a worldwide market, as U.S. consumers tend to have different tastes (no pun intended). Plus, the availability of the wines also helped determine which to recommend with certain foods. Thus, the PDA Sommelier offers over 30,000 different wines, which makes for an almost endless selection for whatever you need. But, you should know that there are over 100,000 wines in the database at iConcepts, but only 30,000 can be handled by most PDAs at one time. If you can't find a wine that suits your needs, then you can check the "Best Producers" or "Best Values" in the category you're interested in (such as dessert wines), then find out what wineries produce wines in your area, or which producers are available there. Oh-la-la!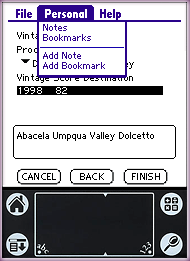 There is a great product demo at the web site, which takes you pretty much step by step through how you'd find a wine to go with say, blue cheese. Then it breaks down the recommended wines by origin (country), wine category (such as red, white, etc), region, and variety (such as cabernet, merlot, etc). Once you select a certain type of wine, you get a better breakdown of what years of that wine are available, rating, and drinking code:
H - Hold (needs more aging time).
D - Drinkable now, but may improve with further aging.
W - Warning (wine may be too old).
A - Avoid (wine is too old or from a weak vintage)
There are also the Best Values to look at, if you're on a budget. The majority of wines here are rated 85 or higher (with 100 being the best) and prices as low as under $15 per bottle.

This is a nifty program for any PDA, especially if you want to find the right wine at the right price for that perfect meal.

from iConcepts
$29.95
For Palm OS and iPAQ Pocket PC compatible PDAs
---
J.A. Hitchcock is a regular contributor to Compute Me. Visit her web site at jahitchcock.com.
Return to the Compute Me Reviews main page.