---

Software/Hardware Review: Real Network's Real Jukebox Plus
and RCAs Lyra MP3 Player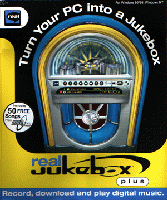 By Jayne A. Hitchcock
as it appeared in the February 2000 issue of Womens Biz Resources
I wasn't really looking for a program to play music. I was pretty happy with my RealPlayer. Then I began hearing more and more about MP3s, how more and more musicians are making their songs and albums available over the web and the types programs used to play them with. Since I already had RealPlayer, I decided to give their Real Jukebox Basic a try (a 6.08 MB download; only 2.85 MB if you already have RealPlayer G2 and RealPlayer Plus G2). It works well, but doesn't come with any songs (or tracks, as they're called) with it. You have to download the music or files you want to hear. The program itself, however, was easy to download, set up and use. But I wanted more - I was now hooked on listening to music while I surfed and using Real Jukebox kept my CD-ROM freed up for use.

I went back to the Real site and downloaded Real Jukebox Plus for $29.99 (if you have RealPlayer Plus, you can get Real Jukebox Plus for just $19.99). I got mine at a local retailer, so it also came with 50 free songs on the CD-ROM - I'd highly recommend getting this version versus downloading it, unless you have a high speed Internet connection.

Both look pretty much the same and have the same features, but Real Jukebox Plus also allows you to: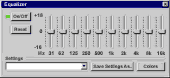 Fine tune your sound with a 10-band graphic equalizer
Organize music by Artist/Album, Genre/Album, and Genre/Artist
Record CDs to your hard disk in full CD quality (up to 320 kbps)
Make new music information categories
Customize music information display
Edit song information by dragging and dropping
Easily convert music to different digital formations and quality levels

The 50 free songs included are from MP3.com and although I only recognized a couple of names (David Cassidy and Darius), I could search for the type of music I liked and decided to give a few of the other band/musician names a try. I wasn't disappointed - even with odd names such as Bowlfinger, Redneck Girlfriend and Ruff Draft, the music was pretty darned good. There's a good mix of all genres of music, from classical to alternative to rock, R&B, and so on; plenty to choose from. And that's without going to the web site to download more music or click on one of the sites listed in the pull-down menu. The MP3.com site has a lot of audiobooks available to download, although I didn't recognize most of the authors. There were some classics available, however, such as Dr. Jekyll and Mr. Hyde, Island of Dr. Moreau, and some Edgar Allen Poe stories.
My big problem with Real JukeboxPlus was that it kept crashing, especially when I tried to play any of the music off the CD. I even clicked on UPDATE and got the latest update for the program. When I downloaded music from the web to my hard drive, it played fine, but I still couldn't play music from the Real Jukebox CD-ROM without the program crashing. I sent a request for help to their Tech Support folks and still hadn't heard back more than six hours later.
Another cool feature is that Real Jukebox Plus fully integrates with a portable music player, such as the RCA Lyra, Diamond Rio or Creative Labs Nomad. You don't have to worry about CDs or cassettes. Just download the music, put your headphones on and you and your Lyra (or whatever) are on the go!
There's a great Beginner's Guide on the Real Jukebox site, a New User's Guide and links to Free Music Downloads (when I checked out the page, there were 138 free songs available - they keep adding to the site, so check back frequently). You can also change the look of your Jukebox by downloading free "skins" (it comes with six wild skins that can make your Jukebox look like a pager, a zebra and even claymation).
All in all, for the price, Real Jukebox Plus can't be beat if you have a high speed Internet connection. If you have a 56K or slower modem, I'd suggest getting Real Jukebox Basic for free and playing around with that before deciding on whether or not to get the Plus version. Of course, if you're not really into music to begin with, then don't bother with either, unless you just like to try out the latest "toys" from the web.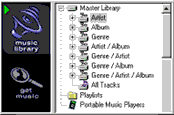 UPS OF REAL JUKEBOX PLUS:
Download the program from their site or buy it at your local retailer
Fast installation and setup
Records in true CD quality sound at up to 320 Kbps in MP3 format (although I never got higher than 128 Kbps)
Lots of great features
Ability to categorize the music you download by artist/genre/album, etc
There are thousands of free songs, albums and even audiobooks available to download from various web sites
You'll discover new musicians, bands and authors
Works with portable music players
Records CDs as well as playing them
DOWNS OF REAL JUKEBOX PLUS:
If you want to search your disk for a song, it doesn't allow you to select your CD-ROM drive
Can't play music from your CD-ROM/DVD-ROM without the program crashing
Most of the free music and audiobooks available are from bands/musicians or authors you've probably never heard of
Downloading music/audio files take a long time with a typical modem, even if you have a 56K. If you have a high speed connection, you'll have no problems; otherwise, pick out the files you really, really want, begin the downloading process and go away for an hour or so (it took me about 25 minutes to download one 3.68MB song from the MP3.com web site)
System Requirements:
Pentium 200 (300 MHz recommended)
32MB RAM (64MB recommended)
15MB hard disk space for the program itself
200MB+ for music (1 gigabyte recommended)
Full duplex sound card and speakers
16-bit color video card
Internet connection and web browser
Windows 95/98/NT
---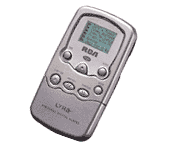 What comes in the box is everything you need to get started: The player, batteries, memory card, card drive, headphones, removeable belt clip software and cables.

The Lyra, like most MP3 players, is compact and slim, with no moveable parts to break except for the battery compartment door (and headphones, if you count them). The Lyra easily fits into a shirt or coat pocket and even the pockets in your jeans without creating a huge bulge, or you can use the removeable belt clip, which firmly holds the Lyra to your pants or wherever you want it to go.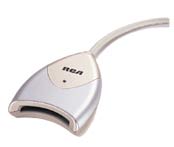 I found installation of the CompactFlash reader/writer external drive to my computer pretty easy. Since I use a switch box for four printers I use (don't ask), the drive allows you to plug your printer parallel cable into its adapter, as well as your keyboard. Everything is color coded, so if you have a newer computer system, this is a snap for you.
The CompactFlash memory card is a teeny tiny thing and slips in and out of the MP3 player and drive quickly and easily. Installing the Music Manager software was just as easy - the regular version of Real Jukebox comes on the CD included with the Lyra, so if you're not sure you want Jukebox Plus, this is the way to go. Also included on the CD is RealPlayer G2 and sample music.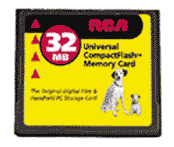 My only quibble with the Lyra is that the parallel port/keyboard connector screwed up my printing, primarily due to the switch box I use. I found that one printer hooked up directly to the Lyra connection worked absolutely fine. It's easy to install, use and a gas to show off to friends, who all want one now.
Once the software is installed, you can either download music or audiobooks off the Web, or copy current music CDs you have (or any that have MP3 and compatible files on them). Since I primarily planned to use the Lyra for audiobooks while traveling, I headed out to a few web sites I'd heard about to see what they had. I've rated each one on a scale of 1-10, with 10 being Excellent and 1 being Horrible.
Audio Highway at http://www.audiohighway.com offers free audiobooks and is by far my favorite site for downloads.

Although some of the books are those in public domain, there are quite a few good titles available (actually hundreds). If you want business-related books, you'll find HOW TO FIND THE WORK YOU LOVE, LEADERSHIP AND THE NEW SCIENCE, SECRETS OF THE GREAT INVESTORS series, THE ART OF WAR and THE COMMON SENSE MBA among the 15 titles available when I checked the site - and this is just the business section, mind you. The site is broken down into Fiction, Nonfiction and Publisher. From there, the breakdown is:
FICTION
Classics
General
Kids Corner
Mystery & Suspense
Poetry
Romance
Science Fiction
Short Stories
Westerns
NONFICTION
Autobiography
Business
Economics
History
Music
Nature
Philosophy
Religion and Spirituality
Science & Technology
Self-help
Sports
PUBLISHERS
BOOKTALK
Fantastic and informative interviews with today's best-selling authors that give you the inside scoop on the writing craft, the publishing world and more!
CANDLELIGHT STORIES
Fairytales such as Cinderella and Sleeping Beauty
COMPACT CLASSICS
A Compendium of Western Literature from Compact Classics: These short, abridged recordings by talented voice actors make for a pleasurable review of these classics of great literature. From Heroic Epics, to the Great Human Dramas, each Compact Classic audio version ranges from 10 to 40 minutes.
PUBLISHING MILLS
A collection of fiction and non-fiction titles including AMISTAD, ANGELSPEAKE, TALKING BACK TO PROZAC and THE FAN.
Although most of the audiobooks are available in MP3 format, some are not, so look at the listings carefully before downloading! Unless you have a high speed connection, expect to take at least an hour to download an entire book, depending on whether it's abridged or unabridged. If you have a 56K modem like me, you may want to stick with the abridged books or some of the shorter pieces available.
I decided to try Short Stories and selected The Wondersmith, by Fitz-James O'Brien. The blurb read:
"A superb short story, this marvelously crafted tale of horror and fantasy turns on a plot by a small group of Gypsies to wreak revenge and terror on the populace through the use of tiny, fiendish wooden mannequins armed with daggers dipped in poison. The story entices one instantly with its intrigue and incredible plot, and the recording captures the atmosphere of the story brilliantly, conveying the horror so well that the listener is nearly breathless by the time the ironic conclusion is reached. This gem from one of 19th century America's finest short-story writers will find a ready audience." -- American Library Association Booklist, 1980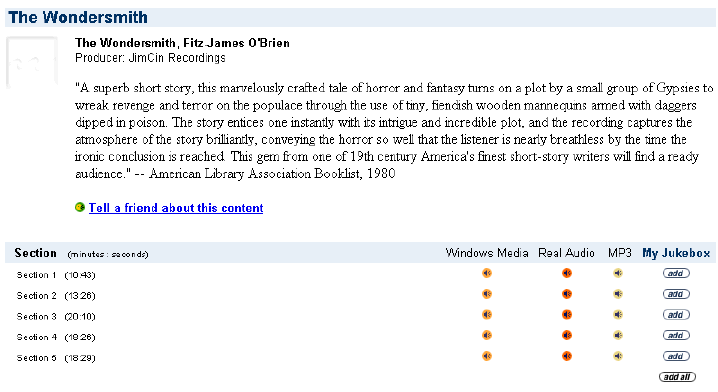 It was broken down into five parts, ranging from 11 to 20 minutes each running time. I clicked on the ADD ALL button on the far right and bottom of the screen, then clicked on MY JUKEBOX in the upper right of the screen. Now I was given the option of playing all the selections on my computer via Windows Media Player or Real Player or downloading as MP3 files. I did the latter and clicked on Section 1, which was 10:43 minutes long. It took me just over 5 minutes to download this file, which isn't bad for a 54.6 connection. The rest of the downloads were almost as quick and I had the short story downloaded within a half hour.
I found out, to my delight, that in addition to the audibooks tab, there is free Music to download, as well as Comedy - featuring comedians such as Margaret Cho, Brian Regan and Richard Belzer; Entertainment - which includes interviews with actors, horoscopes, audio movies (the same kind of idea as the old radio dramas), sports shows and even updates of your favorite prime time TV shows; and News - some of these are only Real Audio enabled, so scout around for the MP3s, which range from Technology News to Sports to Newsweek OnAir.
I give Audiohighway a solid 10.
The only other site I could find that offered free audiobooks was MP3 Lit at http://www.mp3lit.com/.
This is set up similar to Audiohighway, with a breakdown of Fiction, Nonfiction, Biography, Poetry, Self-Help, and Loudmouth, where you can post your own spoken word recordings (very weird, if you ask me).
The catch here is that the majority of the MP3s available are excerpts and not the entire book, which may or may not be good for what you're looking for. I give this site a 7.
Audible.com at http://www.audible.com is nicely laid out and seems like it's easy to choose which books you want to order (no freebies here). But it's not - you have to download their Audible software first, order the book, pay for it, then download the book. I tried to do this no less than five times, e-mailing Audible.com's support folks and still couldn't download the book I paid for. They should just offer straight MP3 files to download instead of having to use their own software, which I found to be a waste of time. I give this a 3.
The RD2201, which I reviewed, with 32MB memory card, retails for $199.99 The RD2204, which includes a car kit and 64MB memory card retails for $249.99
Basic Info about the Lyra RD2201
Dimensions: 4 1/2" H, 2 1/2" W, 7/8" D Small enough to fit in your pocket.
SkipFree™ Removable Solid-State Memory No moving parts means uninterrupted audio playback. Supports Type I and Type II CompactFlash.
Stereo Headphone Jack
External 4.5V DC Jack
Battery Operated Up to 12 hours of playback with two AA alkaline batteries. (Included)
CompactFlash Reader/Writer Transfers files from PC to Flash memory using PC parallel port.
6 Play Modes Shuffle, Shuffle Repeat (one/all), Program, Play.
6 DSP Modes Choose from five preset DSP modes (Flat, Bass, Rock, Pop or Jazz) or use 5-band Custom EQ to customize bass and treble levels.
Multi-Functional Selector Rotary Dial Controls volume and allows for easy navigation of DSP and Mode functions.
Multi-Line LCD Display (lists name of artist, song, and elapsed time when in playback mode. Can select up to 20 tracks to store in playlist memory.)
Back-lit display is easy to see, even in low lighting.
Digital Volume Control
Low Battery Indicator
Forward/Reverse Track Search Allows audible high-speed scanning to desired part of selected track.
Auto Resume Remembers track location and volume setting when power was shut off and starts at the beginning of that track when power is returned.
Auto Power Down Unit will automatically power down after 60 seconds when pause or stop have been activated to help prolong battery life.
System Requirements
Pentium 200 MHz or faster (recommended), 166 MHz or faster (minimum)
Windows 95/98 with Internet Explorer 4.0 or better with Internet access; or Windows NT with ASPI DLL
64 MB Memory (recommended)
Free Hard Disk Space–4 MB for the software, plus 1 MB for every minute of CD quality audio that will be stored on the PC
CD-ROM Drive
Parallel Port
Installed Sound Card
256 Color Display
---
Relevant web sites/newsgroups:
alt.binaries.mp3.macast.skins-plugins
alt.binaries.sounds.mp3
alt.music.mp3
Some sites with free music downloads:
---
J.A. Hitchcock is a regular contributor to Compute Me. Visit her web site at jahitchcock.com.
Return to the Compute Me Reviews main page.