---


By Jayne A. Hitchcock
as it appeared in the November/December 1999 issue of Link-UP magazine
There's something my husband's parents have been after us about - thinking about retirement (yes, even at our age). So, after talking with friends, I picked up Quicken Deluxe 99. It's supposed to be a one-stop-shop for everything you want to know about investments, managing your money, reducing taxes and planning for the future. And it turns out it is.
The only thing I didn't like during the installation process was that I selected not to install Internet Explorer (only because it was already installed on my system), but it installed it anyway and kept asking me if I "approved" of it overwriting some files. I was tempted to click on the "NO" button, but knew that would cancel the whole thing. So I clicked on "YES" about a zillion times and it finally finished.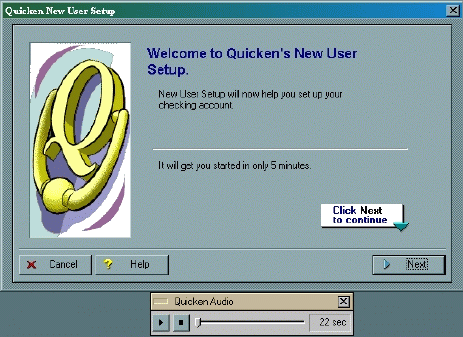 The first thing that came up was a small window reminding me to go to the Quicken.com web site. Then there was an offer for 100 free hours on AOL. After getting past that, I was asked to restart my computer.
Upon restarting, I found that two icons had been automatically placed on my desktop, one for Quicken 99 and one called QuickEntry 99. Maybe I'm being picky here, but usually the user is asked if they want the icons on the desktop. I only have certain icons on mine, only to keep it less cluttered. So I had to delete them.
Another picky point was that during installation I was asked if I wanted to place Quicken in a specific folder. I did, my Accessories folder. But, guess what? Quicken made its own folder, and placed it in the Programs main menu, not in the Accessories folder. I'm hoping this is just a glitch, because it is a true pain to go into Taskbar Setup and change these things around.
Starting the program brought a pleasant surprise - an audio welcome to the program explaining that I would be taken through setup step by step via audio. Pretty cool. As I clicked on the "NEXT" button, the audio directed me as to what to do. I was asked to enter my last checking account balance, whether I was married, had children, owned a house, etc. Simple. Easy. Fun.
Quicken's HELP automatically popped up with a video about what was new in Quicken99. It was just over a minute long, so I figured, why not? New features, I was told, included easier navigation, a customizable Quicken home page, multiple currency support, simplified budgeting, average cost support for investments, asset class information download, one-step updates, portfolio export, PIN vault, financial activity centers, alerts, "What if" scenarios, quick entry, WebEntry, and capital gains estimator. Phew! New things to learn and I was ready!
The main screen was the Bank Checking Account, which showed my current balance. I ran the cursor over various points on the screen and found that five icons at the bottom offered more options when the cursor was placed over them:
BANKING CENTER
Report on my income and expenses
View my list of accounts
Use my register
Reconcile an account
Write a check to print
Schedule a future payment
Pay my bills online
Get started with online financial services
PLANNING CENTER
Report on my spending
Budget my spending
Evaluate financial opportunities
Plan for retirement
Create a debt reduction plan
Order my credit report
INVESTING CENTER
Report on my investment performance
View my portfolio
View security detail & news
Use my investment register
Enter a new investment
Track my 401(k)
Get my account info online
Research a stock or mutual fund
HOME & CAR CENTER
Report my net worth
Track the value of my assets
Set up or track a loan
Record my home inventory
Track important addresses
Organize emergency records
Research insurance rates
Research mortgage rates
TAX CENTER
Report on my tax-related transactions
Plan for taxes
Identify possible tax deductions
Setup tax categories
Estimate capital gains
Files taxes with TurboTax Online
Visit Quicken.com online tax center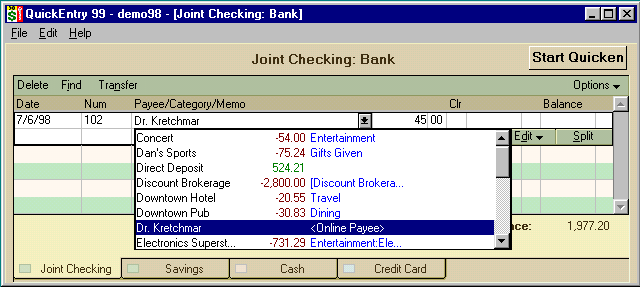 This is just a short list for each Center. When I actually went to each one, a screen filled with various options popped up. It was a tad overwhelming at first, but since it's laid out like a web page, with "links," it was much easier to negotiate once I began exploring it.
I did find that if you are already using Quickbooks, most of Quicken Deluxe 99 won't be of interest, unless you use this strictly for your personal checking account. But even if you use just the investment and planning centers, it's definitely worth it. There are a lot of helpful hints throughout each section, and many of the questions posed in each Center were what I probably would have asked, so the answers were interesting to read.
I learned quite a bit, especially since my husband and I run a small business and want to know how to invest our money wisely for a good retirement. I'm not the best when it comes to money things like this, but Quicken Deluxe 99 answered many questions, in simple, easy-to-understand ways that a "simple Joe" like me could understand - You don't need to be an investment or math whiz to use this program.
I have to admit, one of the oddest options on this was to change the color scheme. You're given several selections, from New England (default, muted browns and tans) to Spring (a bit of pink and yellow). It's a nice, if offbeat, option.
There are links from the program to Quicken's site on the web, which is especially helpful if you want to research money markets, stocks, get your credit report, update the program (it's a one-click, one-step process - very easy), or just to browse Quicken's site for information and news. I also liked the option of setting up an account to pay your bills online. The caveat here is that your bank must be a participating institution and the companies you want to pay online must also participate. There are extra fees involved, so make sure you check with your bank before jumping headfirst into this - most of the fees range from $5 extra a month to $15 and up. You'll find the larger banking institutions tend to offer this service.
The PIN Vault is a neat option - you can enter your various PIN numbers in one spot, the Vault, which is then protected by one password. When a certain PIN number is needed for an online transaction, such as paying a bill, checking your balance, etc., the PIN Vault brings up the information, you supply the password and the PIN is automatically entered. You do need to use two or more financial institutions for this option, which isn't a problem with most people. I have several friends and relatives who have their IRA's in one bank, checking in another, savings in another and CD's in yet another. So the PIN Vault could come in handy, especially if you have a hard time remembering all those PIN numbers.
Another interesting feature is WebEntry - a boon for the business traveler. This allows you to enter transactions into your own private page on the Quicken web site, then download them later when you return home. You review the transactions, then enter them into your Quicken registers with a single click.
But I especially liked the "What if" scenarios. If you're a worry-wart (like my husband), this is the perfect spot to send them to. Among the scenarios are: Should I be thinking about estate planning? Can I afford to pay my child's education? Can I afford to buy a house?
The answers are broken down into different sections. For example, "Can I afford to buy a house?" offers advice in 10 easy steps. The first asks "What are your financial goals in life?", then goes down the line with a series of questions with thoughtful and concise answers. It brings your financial outlook into perspective to help you make a wise decision. Even the biggest pessimist will appreciate this feature!
Other features of Quicken Deluxe 99 include:
Bank account and credit card tracking
Create reports, graphs and budgets
Track average cost basis and asset class
Save on insurance and mortgages
Includes TurboTax online
Calculator included
All in all, I liked Quicken Deluxe 99. The only things I didn't like were the minor installation glitches and the fact that if you use Quickbooks, you'll find you may not need this program at all. But, if you want to keep your business and personal accounts separate, I'd suggest QuickBooks for the business and Quicken Deluxe 99 for personal use.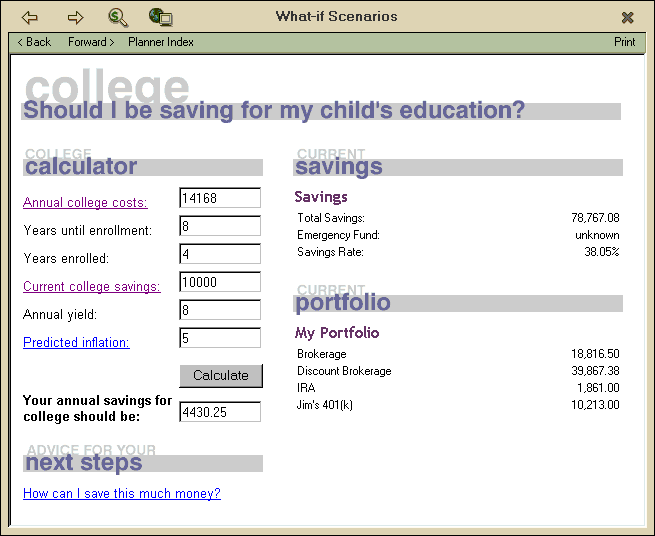 SYSTEM REQUIREMENTS
486 or higher PC (Macintosh version also available)
12MB or higher (16MB recommended)
38-98MB hard disk space
CD-ROM (double speed or faster)
256-color display (SVGA recommended)
Windows 95, 98, or NT
100% compatible Hayes modem for online features (highly recommended)
MPC-2 compliant (8-bit) sound board (optional, but recommended)
Retail price: $59.95, if you upgrade from a previous version of Quicken, save $20; Also available - Quicken Basic $39.99
Can be purchased online or at your local software retailer
Technical support available via phone or online at their site
Related web sites:
Quicken Deluxe 99
Quicken.com

Newsgroup
alt.comp.software.financial.quicken
---
J.A. Hitchcock is a regular contributor to Compute Me. Visit her web site at jahitchcock.com.
Return to the Compute Me Reviews main page.