---

By J.A. Hitchcock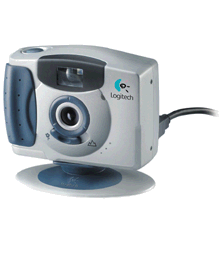 Logitech makes some pretty nifty products and I have to admit, almost all my peripherals are made by them (keyboard, mouse, speaker system). I was pricing digital cameras to take with me on business trips and to use for fun, but found that many of them were more than what I wanted to pay for. So, when I found out that Logitech had a digital camera that was not only pretty inexpensive but doubled as a PC webcam as well, I was hooked.
For just $149.95, you get a double-duty camera, some pretty nice software, a free account at Spotlife.com (for your own personal webcasts and web photo albums) and a durable product. The only thing I do wish the camera had was a flash, but for the price, it can't be beat.
Setting up the camera and installing the software was very easy. The camera takes two AA batteries and even with those inside of it, it's very lightweight and small, fitting easily into a shirt or jacket pocket, a small purse or a backpack. When I first read the instruction book and it claimed the camera could take up to 200 photos in good quality, I scoffed. Until I tried the camera out. There are two setting for the "focus" button on the front of the camera - a flower graphic that is the default and most-used, and a mountaintop graphic for close-up shots (personally, I think it should be the other way around, but that's me). On the back is a small LCD screen which shows you how many shots you have left, depending on what resolution you've set the camera to, a delete button, and a timer.
On the left side of the camera, you select the camera graphic for using it as a digital camera, or the computer graphic to use it as a webcam or when transferring photos from the camera to your PC.
I took the camera with me to a barbecue a group of writer friends was having. I set the camera to HI resolution, which gives you about 60 or so photos. When I pressed the button to take a photo it beeped, but didn't click like on a regular camera - this took some getting used to. I took photos outside, inside, in a closet (just to see what would happen without a flash, mind you) and just about everywhere I could think of. When I got home, it was night, so I took a few outside night shots.
The camera connects to a PC via the USB port, and within minutes I downloaded the photos (much faster than other digital cameras I've tried out). I was pleasantly surprised at the quality, and the inside shots and some of the night shots actually came out. The one in the closet didn't. I used the included software to edit the photos, used the Logitech software to create a Web album then opened up a Spotlife.com account and published my Web album there to see how they looked. Not bad! I invited my writer friends and they died laughing. . .at the captions I'd added, not the photos.
Well, not most of the photos, anyway.
I'd tried out a PC webcam once before and the web sites you can use to "mingle" with other webcam users scared the heck out of me (men in their underwear at 8 am is very scary). But Spotlife.com is nice. I set up a test "show" or webcast (the QuickCam Traveler has a built-in microphone), did some really stupid things with my Star Wars action figures (yes, I have no life) and laughed my head off. It was a lot of fun. Hmm. I hope no one was really watching.
I now use the QuickCam Traveler for on the road shots, sending video e-mails to friends who live overseas, talk "face-to-face" with relatives across the country and do my "action figure theater" for my own amusement. The dogs don't know it, but they're going to star in my next production! I told you, I have no life. And no, you can't ask me what time I broadcast.
This is by far Logitech's best product yet. Inexpensive, lightweight, easy to install and use and it really works well.
Logitech QuickCam Traveler
$149.95
Included with the camera is a strap, plastic connector to snap it into when using it on your PC as a webcam, plus this software:
QuickCam image capturing software with fully integrated:
Video e-mail software
Web page builder software
Web cam software
Digital Radar II video monitoring software
Microsoft NetMeetingŪ video calling software
Reality Fusion GameCam SE and screensaver software
CrestaCards Video Greeting software (Lite version)
SpotLife Internet Personal Broadcasting Membership
Disney's Club Blast (60 day free trial - US only)
Logitech Smart Internet Updater (free QuickCam software updates via the Internet as soon as
they're released)
MGI PhotoSuite III SE Image Editing software
MGI VideoWave III SE Video Editing software
To send video e-mail, you need an e-mail application that supports file attachments such as AOL 5.0, Eudora Pro, Microsoft Outlook Express or Netscape Mail; a14.4k modem; an Internet connection with e-mail account
To receive and view video e-mail and stills, you need the same as above, plus a sound card and speakers (required for receiving audio)
To make live video calls and SpotLife Internet Broadcasts, you need an internet connection of 28.8k or faster for video calls and 56k for broadcast live videos
To create web pages and webcams, you need an internet connection, a web page account, standard FTP access, and a web browser.
System Requirements
Windows 98, 2000, orŪ Me
266 MHz Pentium
Available USB Port
16 MB RAM
Hard Drive with 100 MB free space
CD-ROM drive
16-bit color display
Windows compatible sound card (full duplex sound card recommended)
Mouse
J.A. Hitchcock, awriter@jahitchcock.com, is the author of seven books and a freelance writer, as well as president of W.H.O.A. (Working to Halt Online Abuse)
Return to the Compute Me Reviews main page.