---



as it appears in the August 1999 issue of Women's Biz Resources
By Jayne A. Hitchcock
I've been using M.Y.O.B. for years as my accounting program, primarily to keep track of my expenses and income as a writer. Now that my husband is self-employed, I thought I'd try a program that so many people have recommended to me: QuickBooks. I especially liked the idea of being able to do my banking online - this would save a lot of hassle writing checks and mailing them.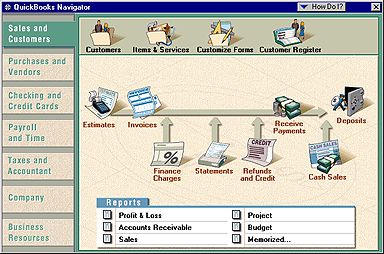 Installation of QuickBooks Pro 99 was fairly painless and soon the "Welcome" screen appeared.
I was taken through a step-by-step interview about my business that included:

General questions
Name and address of the company/business
Income tax forms (such as Schedule C)
Select the industry - I was pleasantly surprised to see a choice for Writer/Photographer/Other Artist
Accounts - a default list appears, but you have the choice of creating your own; however, you can add new accounts anytime, so I went with the default list
Preferences - Add inventory items; whether you collect sales tax from customers; how you want printed invoice to look; track time on each project and/or segments of your business; handle bills and payments; accrual or cash-based reporting
Start Date of the business

Income and expenses
Go over each of the accounts and add new ones or delete as needed

Income details
Do you send out monthly statements?
Set-up items - Service: I set up items for articles, reviews, short stories, non-fiction, fiction, web pages, and miscellaneous; Non-inventory parts (writers don't use this, so I skipped it); Miscellaneous charges
Set-up inventory

Opening balances
Add customers who owe you money
Add Vendors
Set up a credit card account
Lines of credit info
Loans and Notes Payable
Bank Account set-up
Assets account
Equity account

Payroll
Set-up payroll options for employees

Menu items
Employees
To Do List
Set finance charges
Setup budgeting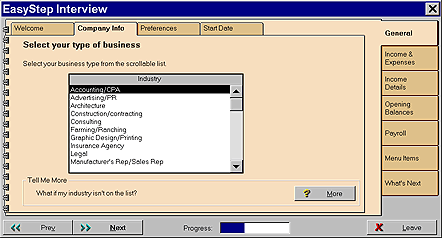 This was actually pretty easy - there were a few things I was not sure about, but the HELP provided in the program explained things a bit better and answered any questions I had. I especially liked the additional information offered at the bottom of each interview screen - there was a "? More" button next to a question, such as "What if I have more than one business?"
At the end of the interview, a list of suggested steps pops up, including setting up additional users and passwords, entering historical transactions, customizing invoices, and setting up 1099 tracking.
There were two options for Online Payroll Service, one for automatic deposit of employee checks into their bank account and online payroll tax service. The tax service appealed to me, since my husband and I now have to pay quarterly taxes. This service allows us to pay our federal and state taxes online, file federal and state forms online, and also prepares necessary W-2 or W-3 forms, and automatically sends tax updates.
Once setup was complete, a Navigator menu appeared, allowing selections for Sales and Customers, Purchases and Vendors, Checking and Credit Cards, Time and Employees, Taxes and Accountant, Company, and Business Resources. The Navigator can be closed, but a nifty little button is at the top right corner of the screen for easy access.
After I'd set up accounts for my husband and me, I went about entering bills, vendors, income received, etc. Everything went pretty smoothly, as there was help available pretty much anywhere in the program. There are also extra help options, such as QuickBooks seminars and training and Professional Advisors in your area.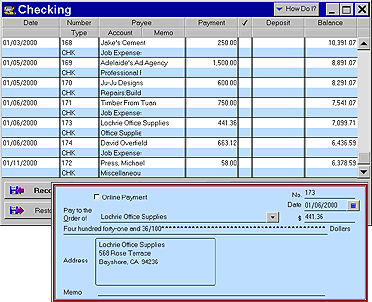 ONLINE BANKING
This is available as an option, but your bank needs to be a participating financial institution. If it is, then this is great - you can check your account balances, transfer money online, download transactions from a checking, savings, money market or credit/charge card account, plus you can send online payment instructions to pay bills. The only caveat with the latter is that the payee must be set up to receive electronic payment or you can request the bank to print and send a check for you (you're better off doing that yourself, it costs less). The monthly fee is determined by your bank, which varies.
ONLINE PAYROLL SERVICE
This allows a business to take care of payroll tax filings, deposits and W-2's and allows you to do payroll anytime and anywhere (great if you're on the road and working from a notebook computer). You can select either or both QuickBooks Online Payroll Tax Service or Online Direct Deposit. The estimated cost for a small business with five employees is $30 per month for payroll services and $15 per month for direct deposit services (twice a month employee payments)
Now to get to some problems I did have with QuickBooks (which were very minor):
Adding new vendors or items in my husband's account was a breeze when in Invoice or Bill mode, but with my account, I got an error and the program shut down. I had to go to Items or Vendors direct, add any new ones, then to Invoice or Bill and enter my information. A pain!
When tabbing from line to line, I wish the pull-down menus would automatically pull down so that I can select from it. As it is, I need to tab to a particular line, move the cursor to a "down" arrow to activate the pull-down menu, then select from there. One neat thing, though, is that I can type in the first few letters of the vendor, item, etc and it automatically goes to that name.
Set-up was fairly easy, though I had to really read the books and watch some of the SHOW ME videos on the CD-ROM to understand how to set up what I needed. I liked the fact you can easily customize each account to fit what you do. This is definitely a boon for small business owners and those who are self-employed, like my husband and me.
Quickbooks also has a comprehensive web site and offers supplies such as checks, preprinted invoices and multi-purpose forms, located at http://www.quickbooks.com
UPS OF QUICKBOOKS PRO 99
Easy installation and set-up
Online banking service options
Ability to customize accounts to suit your business
The five-user option is great for larger businesses
Export customer dada from QuickBooks to Microsoft Word
Library of 25 pre-written, pre-formatted business letter, which can be customized in Word
Easy integration with Microsoft Excel
Pre-designed invoices, bills, etc can be customized
Y2K compliant
Can be used by self-employed businesses consisting of one employee or businesses with many employees
Data conversion from Quicken & Quicken Home and Business (very nice!)
Integration with TurboTax and TurboTax for Business
Lots of online options - software updates, order supplies online, find an advisor in your area, support resources
DOWNS OF QUICKBOOKS PRO 99
Pull-down menus in Invoice or Bill mode don't automatically open
Doesn't have quick keys for opening accounts, such as CTRL+O
Adding New Vendors or Items sometimes works in Invoice or Bill and sometimes shuts down the program
At times a bit confusing as to how to pay bills, write checks and make deposits - but finally got the hang of it after looking at several HELP files
Learning curve is a little steep for novices like me, but the program can be learned - you need to have patience with it
System Requirements
486 or higher PC
16MB RAM (32MB recommended
55MB hard disk space
Windows 95/98/NT
VGA/SVGA monitor
2X or higher CD-ROM
Modem and online service (if using online banking options)
PRICE: $219.95 (if upgrading from previous version, you get a $70 rebate; Quicken users get $30 rebate
5-user value pack $599.95 (if upgrading from previous version, you get a $100 rebate; Quicken users get a $30 rebate)
Also available is QuickBooks 99 at $119.95 (it doesn't have MS Word and Excel integration and no multi-user capabilities
---
J.A. Hitchcock is a regular contributor to Compute Me. Visit her web site at jahitchcock.com.
Return to the Compute Me Reviews main page.