---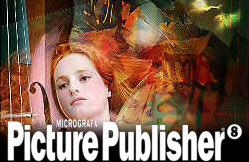 If you are familiar with image editing software, than you'll have no problem using Micrografx's latest version of Picture Publisher. However, if you're a beginner, you will need to take advantage of the online tutorials and extensive HELP files included in Picture Publisher 8 (PP8), but it should be fairly easy to use once you're more familiar with it.
Opening up a photo or graphic expands the top toolbar and menu items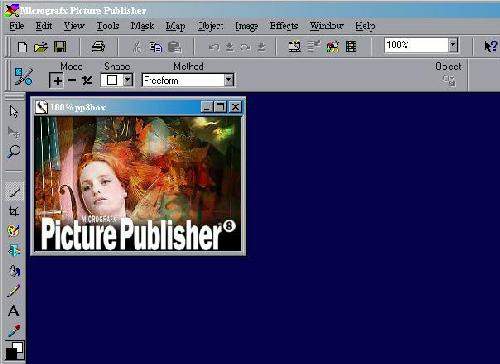 Personally, I've tried Adobe Photoshop, Paintshop Pro and some other photo/image editing programs, but have found Picture Publisher the best for me - thus far. I previously had Version 5, so jumping to PP8 was a good choice - not only because it's the newer version, but also because of its added capabilities - some of which are very unique.

Installing PP8 was easy (it seems that as time goes by, it gets easier and easier to install any type of Windows-based software) and fairly quick. When I started PP8, I could see differences between Version 5 and 8 right away.

The first time the main window appears, a separate window pops up to ask what you want to do. I disabled this option - I hate being asked questions each time I go into a program. A toolbar not only appears at the top and left of the main window as in Version 5, but a new toolbar sits on the right side of the window. And, of course, the toolbar icons were not all the same as Version 5, so I had to go through each one to discover what it did. The toolbars can be customized to suit your needs - I left mine as is, only because it currently fits my needs.

The function commands at the top of the program window contain five pull-down menus when the program starts: File; Edit; View; Tools; and Help. Once a photo or graphic has been opened, the main toolbar expands to include Mask, Map, Object, Image, Effects and Window pull-down menus.

The hardest thing to get used to was the location of the image editing menu window - it used to be listed under the Edit pull-down menu in Version 5. After much hunting and frustration, I finally found it under the Effects pull-down menu - it's now called the Effects Browser.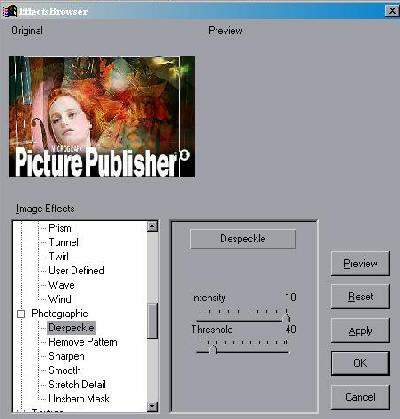 The effects browser allows you to give your photo or graphic extra "oomph"
PP8 has the usual crop, mask, magnify, text, and other tools found in many image editing programs. However, PP8 gets high marks for its expanded Effects Browser, which lets you not only manipulate a photo or graphic, but also do some pretty interesting things to it (see images).
PP8 is also great for creating logos, simple graphics, then spiffing them up with one or more effects. There are far more options available with PP8 versus its earlier versions, and it is much improved, although it did take some getting used to.
Other goodies include "Wizards," which allow you to create unusual objects using templates, such as making a puzzle out of your photo or graphic; getting rid of the dreaded "red eye" in photos; making buttons for web pages; it has over 10,000 royalty-free stock photos; plus web page output. PP8 is very efficient at what it sets out to do, but the learning curve is a bit high if you haven't owned a previous version.
While checking out the various effects, I found there were many more than what was in the Effects Browser I was used to. I found over 140 visual effects, filters and macros, which made my daffodils look totally different - some very cool, some odd and some downright scary. Other web page-related functions include a gif animator (with easy-to-understand instructions), web pattern viewer, copy to HTML, image maps and direct links to Micrografx's web pages for updates, support and add-ons.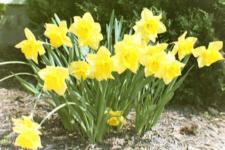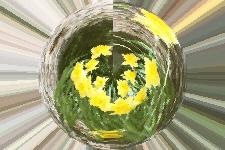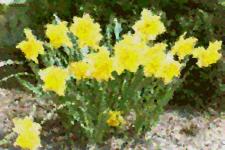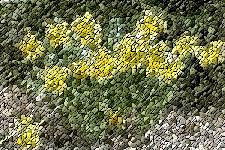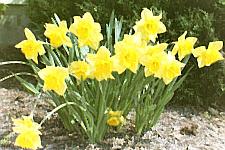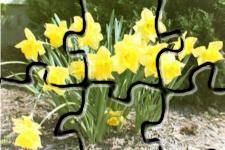 The top left photo is the original, scanned in at 75 dpi; the middle top photo uses PP8's "sphere" effect, available in the Effects Browser; the top right photo uses the "oil painting" effect; bottom left uses the "mosaic tile" effect; bottom middle uses the "sharpen" effect; and bottom right uses the "3D Puzzle Pieces" effect
Although PP8 won't replace my web design or desktop publishing programs, it is a wonderful addition to them. For people who take a lot of photos and need a program to "fix" a few things in it, PP8 is perfect for their needs. . .and more. I have a feeling that anyone who uses this may be too busy playing with the effects and other options and will soon forget what they set out to do - which happens to me quite a bit. But I always end up with something that looks a lot better than when I photographed it. And I'm a pretty darned good photographer.
For the price, PP8 is certainly the best buy around at just under $150. You'd pay much more than that for a similar program. But be ready to read, learn and get to know all the functions of the program before jumping in.
PP8 Features
Command Center allows infinite redo/undo capability, editable command properties, grouping and more
Object layers
Object manager
Professional masking tools
On-screen editable text
Macro recording and playback
Image warping
Camera Aperture
Light Studio
Digimare digital watermarking
Advanced CMS (Color Management System) Support
FlashPix technology
LowRez and FastBits post processing
Layout tools - grids, rulers, guidelines, snap points

Internet Content Creation
Create animated GIFs
Editable web styles Wizard
Interactive color palette editing
Image map creation
Bevel factory (for buttons)
Enhanced contact sheet generator
Advanced color reduction
Random texture generator
Create common color palettes
Batch file conversion
Internet page separators (bars)
Seamless texture creator
Cool text effects
Advanced GIF & JPG saver
Web pattern viewer (preview)

Compatible with MS Office
Media Manager 8 for organizing, storing of images, drag and drop access to over 50 filename formats
Automated task wizards for fast effects
Integrated tutorials
Special effects filers and stock macros
Interactive visual previews of effects, images and a quick zoom window
Intuitive paint and texture brushing
---
UPS OF PP8
Great for previous users of Picture Publisher or similar image editing programs
More effects, tools and web page-related graphic functions
Tutorials are well done and easy to understand
Layout, toolbars and pull-down menus are efficient
Toolbars are customizable
Preview effects before deciding
Price is more than competitive with similar programs that do less
Royalty-free photos, graphics and fonts aren't cheesy and are actually pretty nifty
Micrografx web site has a lot of extras, great support and general information
DOWNS OF PP8
High learning curve for beginners
Preview of images when opening a file could load a little faster
Almost too many effects (it's hard to choose when one you want)
Wish it had HTML web page design capability included
---
Minimum System Requirements
Windows 95 or NT 4.0
486 or faster (Pentium recommended)
8 MB RAM for Windows 95 (16MB recommended)
16 MB RAM for Windows NT (24MB recommended)
30MB hard disk space (50+ recommended)
SVGA video card with at least 16-bit for best results
CD-ROM drive
Mouse, Intellimouse, tablet or compatible pointing device
Retail: $149.95, 3 CD-ROMs, manual included, available at most retail stores or from Micrografx at 1-800-671-0144
30 days free support via phone or anytime online at Micrografx Web Site

---
J.A. Hitchcock is a regular contributor to Compute Me. Visit her web site at jahitchcock.com.
Return to the Compute Me Reviews main page.