---


By Jayne A. Hitchcock
In the past, I've used only two other antivirus programs: McAfee and Thunderbird. The former was used on my desktop the latter on my laptop. My husband raved about Norton Antivirus for years and I finally decided to give it a try. I was glad I did and begrudgingly thanked my husband for recommending it.

Norton Antivirus 5.0 (NAV 5.0) is a product of the Symantec Corporation and is part of a "family" of tools for PCs. Other programs available include Norton 2000, Norton CrashGuard, Norton Utilities, Norton Mobile Utilities and Norton SystemWorks.

Installing NAV 5.0 on my Pentium 100 PC was very easy. All I did was follow the prompts and let the CD-ROM do the rest. I directed the program to check my system files upon startup or restart, which works very well (and so far, no viruses in my system).
To try out NAV 5.0, I clicked on my shortcut to it. The window is small and compact and offers the following pull-down menus at the top of the window:
Scan (Selected Rives, Files, Folders)
Tools (Options, Virus List, Scheduler
Activity Log
Live Update
Inoculation
Help (Contents, Product Support Online, About)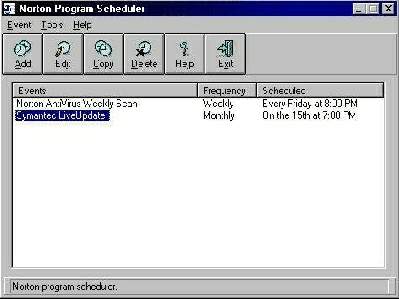 A toolbar just below this has buttons for Options, Virus List, Scheduler, Activity Log and Live Update. Below on the left is a list of drives on the computer, in the middle are check boxes for All Floppy Drives, All Hard Drives and (if applicable), All Network Drives. You can check all, one or two of these. On the right are three buttons for Scan Now, Exit and Help. Below this shows what drives have been selected to be scanned and below that is a hint box.
The place I went to first was the Options section. The tabbed options include :
Scanner (what to scan, what to do if a virus is found)
Auto-Protect (how NAV 5.0 works in the background)
Startup (what is scanned when the computer is started or restarted)
Alerts
Activity Log
Exclusions
General
Password
Inoculation (Inoculate files against unknown files, such as boot records and system files)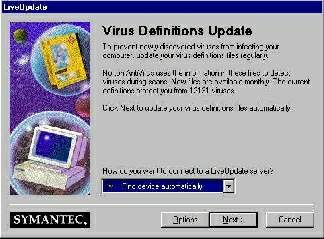 Once I had my options selected, I decided to see just how many Viruses were in my Virus List - a whopping 16,151. A neat feature is LiveUpdate. When clicked, this allows you to automatically connect to Symantec's FTP site to update your virus lists (recommended to be done at least once a month). McAfee offers free updates, but you have to install the update yourself - NAV 5.0 does it all for you. Much more convenient.

Another nice feature is the online product support, found in the Help pull-down menu. One of these options, Getting Connected To The Web, is great for newbies or those who have questions about the web and Internet Service Providers. The other options, Norton Anti-Virus Support Center, Online Support Information and Symantec AntiVirus Research Center automatically bring up your web browser and take you directly to the appropriate site (I highly recommend visiting these, just to see the information that is available).

Next I performed a scan of my hard drives. I have a 6.1 gig partitioned hard drive, broken down as C:, D: and E:. The full scan took about 10 minutes - pretty fast. Luckily, no viruses were detected and I'm happy as a clam.

In addition to keeping your hard drives, floppies, network and Zip drives free from viruses, NAV 5.0 automatically scans any files downloaded from the web as they're downloaded - this saves headaches if you get a file with a nasty virus lurking in it. It also works on email attachments and shared files. If you want to cough up the few extra bucks for NAV 5.0 Deluxe, you also get protection against hackers and destructive Active X and Java applets from entering your computer; encryption of your files and communications; and two years of free product upgrades.

Compared to McAfee and Thunderbird, NAV 5.0 is much, much better, pricewise and capability- wise. With free virus updates for the life of the product, this antivirus program can't be beat -- In my opinion, at least.

If you don't have an antivirus program on your PC, GET THIS TODAY! If you do and it's not NAV 5.0, seriously consider switching. I did, and I'm glad I did.
UPS OF Norton AntiVirus 5.0
Easy to install
Easy to understand
Live updates for the life of the product
Online support is wonderful
Upgrades are available on the Symantec site
Automatic full-time heuristic protection from new macro viruses
Email notification of major virus news
Repair Wizard
Money back guarantee
Works with Windows 95/98, Windows NT, Windows 3.X and DOS workstations
FREE trial available at http://shop.symantec.com/trialware/ (30 days, 14.4 megabyte download)
DOWNS OF NAV 5.0
This is the first time I can actually state that I found no downs to a product!
SYSTEM REQUIREMENTS
(for Windows 95/98 users - see NAV 5.0 web site for other platform requirements)
386 or higher (486 or higher is recommended)
8 MB RAM (16 MB recommended)
16 MB hard disk space required
CD-ROM drive
Internet connection
$49.95 retail price (or less, depending on where purchased), get the Deluxe version for just $20 more - $69.95.
Related Newsgroups:
symantec.support.win 95.nortonantivirus.definitionupdates
news:symantec.support.win95.n ortonantivirus.general
symantec.support.win95.nortona ntivirus.install
symantec.support.win95.nort onantivirus.liveupdate
symantec.support.win95.n ortonantivirus.specificvirus
symantec.support.win9 5.nortonantivirus.virusrepair_info
---
J.A. Hitchcock is a regular contributor to Compute Me. Visit her web site at jahitchcock.com.
Return to the Compute Me Reviews main page.