---

As seen in the February 2002 issue of IT magazine
By J.A. Hitchcock
I've been using Symantec products on my computers for several years now and have never been disappointed. When the 2002 version of Norton SystemWorks and Internet Security came out, I didn't hesitate to purchase them. Yes, they are expensive when you first buy them, but the security they provide your computer (and peace of mind) is definitely worth it. Plus, purchasing subscription updates after the first year (which is free), is nominal compared to the damage that can be done to your computer these days, what with viruses, trojans, hackers and the like.

And if you don't think you won't get hit by these, think again:

If a friend sends you an e-mail with an attachment and you open it without an antivirus program installed, you could be opening a virus, trojan or other program that can do anything from harmless "fun" to deleting your entire hard drive. And it doesn't matter if you have a dial-up modem or cable/DSL.

Anytime you are online, someone out there is "probing" your connection to see if it's protected or not. If it's not, they could do damage such as mentioned above, hijack use of your computer and/or Internet connection to wreak havoc online, steal confidential information (credit card numbers, SSN, etc) or worse.

If you have cable or DSL Internet service, your online connection is active 24 hours a day, whether or not your computer itself is turned on. So, if you don't have a firewall program protecting it, you could go to turn your computer on and find that nothing is on it, someone has stolen your Internet account, and more.

Still don't believe me? Go to Symantec's Security Check web site at http://www.symantec.com/securitycheck/ and find out if your computer is protected. If you don't have any type of firewall/antivirus protection, I can bet it isn't.

I installed Systemworks and Internet Security on my new IBM A22M laptop first. This came with Windows XP Home Edition and although I expected a problem, there was none - at all. The software quickly when through installation, registration, then automatically checked to see if there were any updates. There were. It downloaded and installed them.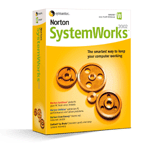 I went through the options for all the included programs for SystemWorks first:
Norton Utilities - a super group of tools to keep your hard disk and computer running efficiently
Norton AntiVirus - you can select it to check your incoming and outgoing e-mails for viruses, among other things
Norton CleanSweep - a great tool for cleaning up those web browser histories and caches, as well as cookies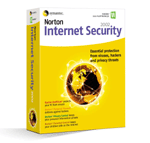 Norton Internet Security also includes AntiVirus, if you don't want to purchase SystemWorks, plus:
Personal Firewall - more protection for your computer while you're online, whether you use a dial-up modem, cable or DSL
Internet Access Control - allows you to select which programs on your computer have access to the Internet
Parental Control Feature - it's only installed if you selected it at the initial installation, but is a great way to control what your kids are doing while online
Internet Zone Control - if you have a home or small business network, you can select which computer(s) are allowed to interact with yours, if you want, and which don't.
Intrusion Protection - detects the more common types of hacker attacks and keeps a log
Privacy Control - keep your credit card numbers, SSN, home address, phone number and more confidential while online, especially if you do a lot of online shopping or register for use of some web sites
Ad Blocking - my personal favorite; when selected, this option keeps the majority of those annoying banner ads from appearing in your web browser. And it really works!
What's wonderful about SystemWorks and Internet Security is if you use both products, you can arrange it so that Internet Security integrates seamlessly with the SystemWorks menu. This allows you to check on everything in one place, instead of having to open each program separately. Also, as you go through each set of options, there's always a "Tell Me More" internal link that offers easy to understand instructions on what you can do. This is great for first-time users of products like these. Also, when you start the program, there is a "One Button Checkup" that checks for the more common problems most computers experience. It's quick and easy to use.
I highly recommend setting the options for Live Update to check for updates automatically, without interrupting you with messages. This means every time you go online, it checks to see if there are new virus definitions or software updates. With the proliferation of viruses and hacker attacks, you may find that your software is updated daily.
Now, for my desktop computer. I still have Windows ME on it (I haven't gotten brave enough to put XP on it just yet). When I installed SystemWorks and Internet Security, there weren't any problems until I opened up the program to make sure everything was okay. It wasn't. I got an error:
Internet Explorer Script Error
An error has occurred in the script on this page
line: 584
char: 5
error: object doesn't support this property or method, code 0, url res://c:\program % 20 files\norton%20 systemworks\swplugin.dll/1317
I had no idea why this popped up, so I went to the Symantec support site and found at the time, there was no "cure" for this. When I went back a couple of months later, it turns out a dll file, scanwrap.dll was causing problems. So I had to rename the scanwrap.dll to scanwrap.old, then reinstall SystemWorks (actually it came up as a modification and not a complete reinstallation).
Next, I did the One Button Checkup, found there were a few minor problems and let SystemWorks do its thing to repair them. When I went to exit the program, a new error came up:
"One Button Checkup Is Currently Scanning Your System - Are You Sure You Want To Abort The Process?"
What the hey? I clicked on the YES button and it seemed to take forever to shut down. Back I went to the Symantec Support Site. It claimed this error occurred when some files were left by older versions of SystemWorks. Made sense to me. I was instructed to download a utility called SymClean and did so. I had to uninstall everything, run SymClean to make sure all the old files were gone, then reinstall everything. I did as instructed, but when I reinstalled SystemWorks and Internet Security, I found I still got the One Button Checkup error. And still do. I'm waiting for a response from Symantec on this, but I found that although it's a pain to wait for the program to shut down, this error does not effect the repairs it does. NOTE: This error only occurs during the One Button Checkup process, not with any of the other utilities/programs associated with SystemWork and Internet Security.
I have a feeling that when I break down and install Windows XP, the problem will go away, since my laptop with XP works fine.
Even if you don't have XP on your system, I still highly recommend Norton SystemWorks and Internet Security 2002, either together or at least Internet Security (since it comes with AntiVirus, you'll be protected anytime you're online).
One last word - NO software is completely perfect, although I have to admit that Norton SystemWorks and Internet Security come as close to perfect as possible, as far as I'm concerned.
If you're still not sure, just go to this URL and try out both products free for 30 days - decide for yourself: Trialware
Minimum System Requirements for both Norton SystemWorks and Internet Security 2002
Windows® XP Home Edition/Professional - Intel ® Pentium ® II 300MHz or higher processor
128 MB of RAM
Windows NT®/2000 Professional/Windows NT 4.0 Workstation with service pack 6a or higher -
Intel Pentium 150MHz or higher processor 64 MB of RAM
Windows®Me/98 - Intel Pentium 150MHz or higher processor 32 MB of RAM (48 MB recommended)
CD-ROM or DVD-ROM drive
Microsoft® Internet Explorer 5.0 or above
Email scanning supported for any standard POP3 compatible email client, including Microsoft ® Outlook ® Express 4.0/5.x, Microsoft Outlook XP/2000/98/97, Netscape ® Messenger 4.X, Netscape Mail 6.0, Eudora ® Light 3.0, Eudora Pro 4.0, Eudora 5.0
Supported instant messaging clients for Confidential Information filtering MSN ® Messenger 3.6, AOL ® Instant Messenger 4.3, Windows Messenger 4

Additional Minimum Requirements for Norton SystemWorks 2002:
Windows® XP - 85 MB of available hard disk space (Typical)
Windows 2000 Professional -105 MB of available hard disk space (Typical)
Windows NT® Workstation - 105 MB of available hard disk space (Typical)
Windows Me/98 - 85 MB of available hard disk space (Typical)

Additional Minimum Requirements for Norton Internet Security 2002:
60 MB of available hard disk space (without Parental Control feature installed)
90 MB of available hard disk space (for complete installation)
Microsoft Windows Internet support

Norton SystemWorks 2002
New $69.96
Upgrade $39.95

Norton Internet Security 2002
New $69.95
Upgrade $39.95

Yearly Subscription renewal for both $16.95/each per year
J.A. Hitchcock, awriter@jahitchcock.com, is the author of seven books and a freelance writer, as well as president of W.H.O.A. (Working to Halt Online Abuse)
Return to the Compute Me Reviews main page.