---

Hardware Review: Logitech's Optical Keyboard/Mouse Combo: Great for "Righties"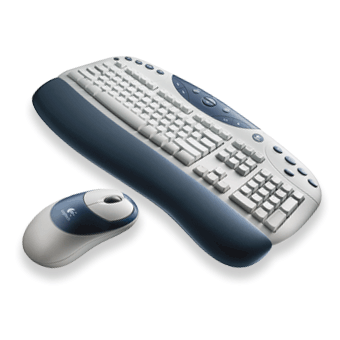 By J. A. Hitchcock
as it appeared in Link-UP
When Logitech announced the optical version of their cordless keyboards and mice, I was excited! I already had the cordles iTouch keyboard and mouse, but the mouse still used a little ball, which tends to get dirty. I also didn't like to have two receivers on my desk - one for the keyboard and one for the mouse. I couldn't figure out why they couldn't combine one receiver for both products? Then they did, with the Cordless Freedom Optical keyboard and mouse combo.
I was jumping up and down while I unpacked the box when it arrived, until I got to the mouse. Unlike the iTouch cordless mouse, which can be used by either right-handed or left-handed people, the Freedom mouse was designed only for right-handed people. Boo! But, since I was brought up in a right-handed world, I've become used to having to use things with my right hand or awkwardly with my left.
It was easy to hookup the sleek-looking keyboard and mouse to my desktop. I already had the most current iTouch software for the mouse, so that stayed as is. I did have to install new software for the Freedom optical keyboard, as it is bigger in size and with a lot more buttons that the iTouch keyboard I previously had.
That's probably my biggest beef with the keyboard - it has too many buttons and they're already labeled, not only with cute little graphics, but with words underneath, such as Shopping, Finance, Community, and more. I really wish they'd left the words off, because not everyone shops online, does their finances online, etc. The graphics are fine, because I could associate the graphics with the web site I want to go to at a touch of that button. That is what I did like about the Freedom optical keyboard - instead of going to the bookmarks in my web browser for my favorite web sites, I could set the keyboard software up so that if I touched the Search button, it would automatically open my browser (if it wasn't open) and go right to Google. But I do think there are too many buttons. I ran out of web sites that I frequent often before using up the buttons. And the layout of the buttons may have seemed like a good idea by splitting them on either side of the top of the keyboard, but I wish they'd all been on one side, like the number key pad is.
The Freedom optical mouse was hard to get used to. I tried to use it with my right hand and couldn't coordinate myself to do it. So I switched to my left hand and was able to use the mouse, but kept hitting a button with my thumb, which made my mouse cursor go places where it shouldn't have. I had to disengage that button so that nothing happened when I kept accidentally hitting it.
I finally gave up on the keyboard and mouse, mostly because I was frustrated, but also because my husband was begging me to let him have them. He's right-handed. He also likes lots of buttons and he wanted cordless.
So I went back to my regular old Freedom cordless keyboard and mouse and my husband fell in love with the Freedom cordless optical keyboard and mouse. He has done nothing but rave about them ever since he installed them on his desktop. The only beef he has is about the buttons being labeled with words.
So, if you're right-handed and love buttons, the Logitech Cordless Freedom Optical keyboard/mouse combo is for you! If you're left-handed, think twice. I found out later that Logitech does offer an ambidextrous optical mouse that can be used with the same keyboard - they should have made that the included mouse instead of the one that is in this package. But that's just my left-handed opinion.
Logitech Cordless Freedom Optical keyboard/mouse $99.00
Features:
Zero Degree Tilt™ typing area for increased comfort
Easy Internet navigation and connectivity with the iTouch™ keys and iNav™ wheel.
Secure digital radio transmission utilizing an encrypted multi-channel technology signal for advanced security and reliability.
Convenient familiar multimedia controls at your fingertips.
No cords to hassle with, No ball to clean.
Carries a 5-year warranty.
System Requirements
IBM® or compatible system:
Available USB port or 2 PS/2 ports (1 mouse / 1 keyboard)
USB requires Windows® 98 or higher
Full iTouch™ software functionality in Windows® 95 or higher
Windows® 3.x for basic functionality
Suspend mode requires Windows 95 or higher with power management enabled
CD-ROM drive
For Internet browser control:
An Internet account
Netscape Navigator® 3.0 or higher or America Online™ 4.0 or higher or Microsoft® Internet Explorer 3.0 or higher

For Multimedia control:
Sound card and speakers
---
J.A. Hitchcock is a regular contributor to Compute Me. Visit her web site at jahitchcock.com.
Return to the Compute Me Reviews main page.