---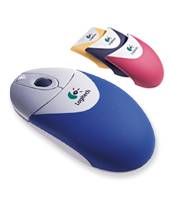 By J. A. Hitchcock
as it appeared in the January 2000 issue of Womens Biz Resources
This nifty little mouse is probably one of the best things to happen for people like me who hate cords and being "tied" to the computer. I used a touchpad previous to installing Logitech's Cordless Mouse, primarily because I'm left-handed and it's hard to find a mouse that can be programmed to my liking. Well, left-handers unite! This mouse is for you!

The cordless mouse comes in two pieces - the mouse itself and it's radio unit that connects the mouse to the computer via infrared technology. Setup was very simple - plug the unit into the mouse port on the back of the computer, open the mouse and install the two AAA batteries (included), set the mouse near the radio unit and press the "Connect" button and it's all set for Windows to see. Once the software is installed, you can instruct whether the mouse is for left or right-handed use, set the speed of the double-click and whether you want mouse "trails" or not and set the three buttons on the mouse to do what you want. There's also a section in the mouse properties that lets you know if the batteries are good or getting low on power. If you want to change your pointers, you can do that, too, without going to the Control Panel mouse settings.

Once the cordless mouse is installed, you're off and running. I tested the mouse to see how far from my computer I could take it and it would still work. I rolled across my room in my chair to my filing cabinet (a good five feet) and it still worked on top of my filing cabinet. As long as the mouse is in a fairly direct line to the radio unit, you can pretty much go across the room to use it, although you probably won't see your monitor too well (and I have a 17-inch monitor). Logitech claims it will work up to six feet away, even behind cups, papers, etc, but I found the mouse didn't work when I placed it on top of my copier, not even two feet from my desk chair. I think the height cut off a direct connection to the radio unit.

I like the fact that I can move the mouse from next to the keyboard in the keyboard drawer of my desk to the top of my desk or near my copier if I'm on the phone - no wires, no fuss and I can point and click to my heart's delight.

The Special Edition part of this mouse is that it comes with four color covers (purple, dark gray, cranberry, and yellow squash - my interpretation of the colors, not Logitech's), one for just about every mood you can be in, even including dark gray, which can pass for black on a particularly bad day. The color cover snaps off and on easily for a daily change if you want.

For less than $50, you can get a cordless mouse that works for right or lefthanded folks, works well and is pretty darned cool, too - I get people asking me all the time about it.
System requirements:
IBM compatible system
Windows 95, Windows 98 or Windows NT 4.0 required for scrolling
Works as a cordless three-button mouse in Windows 3.1
Available PS/2 (mouse) port
CD-ROM drive (for the software)
5 year limited warranty
---
J.A. Hitchcock is a regular contributor to Compute Me. Visit her web site at jahitchcock.com.
Return to the Compute Me Reviews main page.