---

By Jayne A. Hitchcock
as it appeared in the March 2001 issue of IT Magazine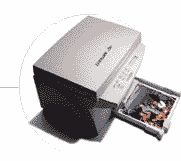 I thought Iíd had it made with my Xerox Workcentre Ö then I got the Lexmark Z82. Although they both can print up to 1200x1200 dpi, I found the Lexmark was much faster all around and the quality was much better. This puppy spits out black and white pages at eight pages a minute (sometimes faster) and color at four pages a minute (although it specifies ďup toĒ four pages, I never got less than that, even with some heavy-duty graphics). I donít know what kind of mechanics are inside, but the Z82 is fast, fast, fast when it comes to printing.
Copying isnít bad, either. Although I have a Xerox business copier for my regular black and white jobs, I use the Z82 for color copies and it gets them out at about one page a minute, sometimes faster, depending on the graphics involved. And the quality is always good. Plus you can zoom from 25%-400%, depending on the document.
The big difference from other color copiers/printers is the Z82 uses thermal inkjet technology, which means itís pretty much dry when printed. Thus, the final output is beautiful and doesnít have that ďwetĒ look and feel to it. And you donít have to worry about letting it dry before doing something with it (or getting ink all over your fingers).
A nice option is that you can get a photo ink cartridge so the Z82 will do six color photo printing, and let me tell you, the results are as good as my HP Photosmart Printer (which is pretty darned good). This means I need only one piece of machinery for four needs Ė color and black and white printing, photo printing, color copies, and scanning.
Speaking of scanning, the Z82 uses a nice little program to acquire (scan) the image you want. Itís very easy to use and you can scan up to 360x360 dpi with wonderful results and even up to 4800 dpi enhanced, from 8 bit grayscale (256 levels of gray) to 24 bit color (millions of colors).
A bonus program is called ďSmarThru.Ē Itís basically a bunch of programs in one (multifunctional like the Z82). One is an image manager that keeps track of everything youíve scanned. You can also scan directly from SmarThru, then send the outcome via e-mail or fax. SmarThru has its own e-mail software built-in, so all you need to do is add your e-mail information. It also has an image editor that lets you apply visual effects to your scanned images, change colors, add annotations, etc. SmarThru also includes AnyPage OCR software, so that you can convert scanned images or incoming faxes into text documents, ready for editing. SmarThru is a nice product in itself, so I was pleasantly surprised to find out how useful it really is Ė definitely a bonus to an already great package.
The Z82 is perfect for the small office or home office, or someone with a small space for his or her computer setup. You wonít be disappointed with its quality and performance and itís covered for a year with Lexmarkís LexExpress warranty. Plus, itís a steal at $199.99.

J.A. Hitchcock is the author of seven books and writes for several print and online publications. She can be reached by e-mail at anotherwriter@hotmail.com. She is also the president of WHOA (Working to Halt Online Abuse) which is online at www.haltabuse.org.
Return to the Compute Me Reviews main page.