---

By Jayne A. Hitchcock
as it appeared in the March 2001 issue of IT Magazine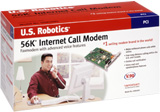 If you're like me, still stuck with a regular dial-up ISP, you probably hate having to pay for two phone lines so that one can be used for the Internet and the other for your home or business calls. So when I heard about the U.S. Robotics Internet Call Modem, I scoffed at first. Then I decided to try it out … well, I'm scoffing no more.

This was probably one of the easiest things I've ever installed. You put in the CD-ROM, run the installation, and the software loads with just a few clicks. Then you can watch a multimedia installation video (great for novices) or go ahead and shut down your computer and install the 56K modem.

More than just a standard modem, the Internet Call Modem not only allows you to send and receive faxes, but also lets you make outgoing phone calls while you're online. No kidding. What's the catch? You need to install and use the Net2Phone software included (or use one of many available on the Web) and connect a regular telephone to the modem. The modem comes with a 7-foot phone cord, so this is no problem, no matter what kind of phone you decide to use. Calls to anywhere in the U.S. and Canada are free, so it's not a bad deal (other countries are discounted and if you make a call from PC to PC, it's free, but you need a microphone, soundcard, and speaker system set up on your computer for that). This actually works better than it sounds. The voice quality wasn't as tinny as I thought it would be, although there is a slight delay when talking back and forth. It was more like when I talk to my friend in Australia – you get used to the delay and you forget you're talking via the Net and not the phone company. I tried it out on my mother – she thought I was kidding when I told her I was calling from my computer and not the phone. I don't think she's still quite got the grasp of the whole Internet thing.

The Internet Call Modem can do much more than just let you make phone calls while online – if you get a phone call coming in while you're online, a small window pops up on your computer screen to let you know who's calling (but only if you already have Call Waiting/Caller ID on your regular phone service). You decide whether you want the modem to take a message for you or if you want to pick up the phone and disconnect your Internet connection. If you stay online, a voice mailbox takes a message.
Another advantage to using the Internet Call Modem is advanced line probing technology, which finds the "potholes" in your V.90 connection. It tells your service provider's equipment how to avoid the conditions that cause slowdowns and dropped calls. So the latest weather maps, live audio broadcasts, and even streaming video come to you at the highest speed possible on your line.
The U.S. Robotics ConnectionsT CD includes more than just basic modem software; it also has fax and Internet access software as well as complete and sample programs for work, home, and entertainment.

This is a must for any SOHO or those who work out of the house a few days a week. Now you can tell if it's your boss or a customer calling or someone you can call back later. And it saves the cost of a second phone line.

Hallelujah!
J.A. Hitchcock is the author of seven books and writes for several print and online publications. She can be reached by e-mail at anotherwriter@hotmail.com. She is also the president of WHOA (Working to Halt Online Abuse) which is online at www.haltabuse.org.
Return to the Compute Me Reviews main page.