---

Uncle eBay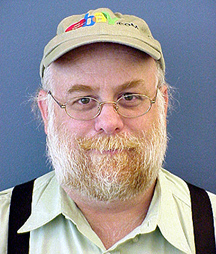 by J. A. Hitchcock
As seen in the December 1999 issue of Interface Monthly
He's nothing like the Uncle you know. Or maybe he is. Not only does he offer advice at the popular online auction site, eBay, "Uncle Griff" is a "fifty-something, cross-dressing dairy farmer from West Upperbuttcrack, Vermont who lives with his mother. . .even though she died 30 years ago."
The real "Uncle Griff"- Jim Griffith - isn't much different from the fictitious one. Griffith is a former rock-and-roll mural painter who joined eBay way back when they were called AuctionWeb. Although he denies being a cross-dresser, Griffith is just as curious as his persona, at least when you can get him to be just Jim.
Just how "Uncle Griff" came about is a story in itself.
"In June of 1996, I was posting on the AuctionWeb bulletin board," explains Griffith. "A nice woman asked me to describe myself. I made up something about the wind rushing through my dirndl, rustling the hair on my legs. It sounded really silly - a large, older, hirsute Vermont dairy farmer with a penchant for his mother's clothes, cavorting about the cow pastures imagining himself to be Julie Andrews - so I went with it."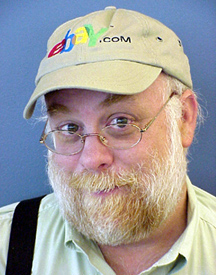 It's hard to tell when he's seriously answering questions or pulling your leg, but either way, Uncle Griff has helped make eBay what it is today - an enjoyable place for bidders to "shop" and a great place for sellers to get rid of all that junk they've been hoarding in their attics, cellars or garages - you name it, you can probably find it on eBay.
"Uncle Griff" started off by helping newcomers to the AuctionWeb bulletin board, showing them how to negotiate the whole thing, all the while remaining his humorously weird self. His assistance was not lost on the bigwigs at AuctionWeb and soon founder Pierre Omidyar asked "Uncle Griff" to join the newly named eBay as their first customer support representative.
"I worked as an independent contractor until January of 1998, then I became a full-fledged employee as supervisor of customer service," Griffith says. "Now I'm manager of training and customer support for all of eBay's internal employees. On my first trip to eBay's San Jose offices, I trained two customer service reps. Then I started going every two weeks to train more of them - now there are five trainers who train about thirty people every three weeks. We have close to 200 customer support reps now!"
Although born in San Diego, California, Griffith moved to Lawrence, Massachusetts when he was a toddler. He attended two semesters at Berklee College of Music, studying piano and composition, then gave that up to play piano and sing in an R&B rock-and-roll band from 1972-1976, what he calls "four of the most glorious years of my life." He then moved to Vermont, got himself into the antiques business and never looked back.
Until eBay came along.
"I've temporarily relocated to Salt Lake City where I'll work for two years, then I'll reassess my life," Griffith adds. "I've kept the house in Vermont and I'd really like to go back someday. But Salt Lake City is beautiful beyond words and Uncle loves all those wonderful used frocks in the various thrift stores."
With a chuckle, "Uncle Griff" goes back to answering questions for his weekly "Dear Uncle Griff and Dear Aunt Flossie" column on eBay Life. So if you have a hankering for Vermont cross-dressing dairy farmers, go pay Uncle Griff a visit.
---
J.A. Hitchcock is a regular contributor to Compute Me. Visit her web site at jahitchcock.com.
Return to the Compute Me Reviews main page.