---

Software Review: Greetings Across The Web
Hallmark CardStudio Deluxe and American Greetings CreataCard Plus 4
By Jayne A. Hitchcock
as it appeared in the July/August 2000 issue of Link-UP
Printing your own greeting cards has been around for a while, but only recently have the top card-makers gotten the hang of being able to send a card via the web. Here I'll review the American Greetings web site and their CreataCard Plus 4 software, as well as the Hallmark web site and their CardStudio Deluxe.

One of best things about American Greetings is their web site. You can send greeting cards via e-mail, or make your own and print them out on your color printer - all for free. The selection is fairly good, though limited, and when you send the e-mail card, you can add a photo to the card and have a copy of it sent to yourself.

When testing this on myself, I received the card within minutes, clicked on the provided URL and there was the card I had selected, complete with music and animation. I then received notification that my e-greeting card had been picked up (by me, of course).

Choices for "Create & Print" cards was a bit better and almost negates the purpose of purchasing their CreataCard software; they should think about putting less on the site to entice people into buying CreataCard.

You can also personalize a card and have American Greetings print it, sign it and snail mail it for you. Cards average $2.50 each, but pricing was difficult to figure out as there was no information until you selected a card and put the order in. I don't know if they charge a handling fee, as I didn't go that far with a test order, but I am assuming they do. Frankly, having someone else sign and send a greeting card is a bit impersonal.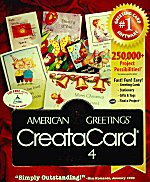 Creatacard Plus 4: This is pretty clunky software, which is a surprise from a company that did such a bang-up job on their web site. Not only does CreataCard change the colors of your computer screen, whether or not you have a Desktop Scheme already loaded, it's pretty much a pain in the behind to use, although it does install easily. If you click on the INTERNET button on the main page, it takes you to a site called ExpressIt which offers tutorials and forums, but it doesn't take you to the American Greetings site, which I thought was a bit odd.
I do have to admit, CreataCard does offer a lot beside creating personalized greeting cards, including:
Gift Enclosures
Invitations
Announcements
Stationery
Posters
Certificates
Gift Tags
Labels & Stickers
Postcards
Calendars
Banners
There's almost too much to choose from, but if you're looking for a package that has a lot, this does have it.

To test CreataCard, I clicked on CARDS, then was given three choices: ALL, FEATURE CARDS, or GREETING CARDS. I decided to stick with the usual and clicked on GREETING CARDS, then was given a choice of all kinds of occasions to choose from. Since July 4th is upon us, I selected that, then was shown three choices. I selected one, double-clicked on it and was instructed to insert CD2. I soon found that instead of putting certain categories all on one CD, they were all over the place. For example, if I selected BIRTHDAYS, then clicked on a card I wanted to look closer at, there was no guarantee it was on the CD that was already in my CD-ROM drive. It soon became truly annoying to keep switching back and forth between the two CDs. Once I did get the card, I personalized it with ease, changing the name to my own, then clicked on the SEND button to send as an online greeting. Bad news - I couldn't do that unless I upgraded to CreataCard Platinum for another $19.99, although it clearly stated on Page 27 of the manual that I could send any of my projects electronically to the American Greetings web site for my recipient to view.

Printing the card was equally difficult and I soon lost my patience with the whole thing.

My results: The American Greetings Site is a joy to behold, while their software is not worth purchasing (even though it's much lower than CardStudio Deluxe, if you want to send e-cards, you have to shell out another $19.99 for the upgrade, so it ends up costing more). If you can get it for free on the web site, why pay for it?
---
The first thing I noticed about Hallmark's web site are the colors - they're easy on the eyes, which is a relief when you spend most of the day on the computer like I do. The layout is simple and free e-cards are a click away. They have some great selections to choose from and categories to fit just about any lifestyle or event, although most of the cards were a bit cutesy for me (it's the first time I saw a card humorously congratulating someone on being pregnant).
I decided to try the site out and sent myself a "Thinking of You" card with a dog's tail wagging on it. Personalizing the card was easy and I was promised I'd be notified when the recipient got their card. It took a lot longer for the card to arrive in my e-mailbox than with American Greetings, and there were no options to create and print a card on my printer, which American Greetings offered.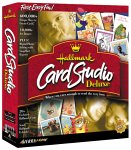 CardStudio Deluxe looked ominous when I opened the package; it came with four CDs in a plastic case versus three in a cardboard holder with American Greetings, but it did come with a bonus - a paper sample pack with several kinds of card stock, stationery, envelopes and more. Very nice!
Installing was simple and using the program was much easier than CreataCard, plus it didn't change the colors on my computer screen (yay!). Then I found out it not only included Hallmark cards, but some Shoebox Cards, too (for those of you who aren't familiar with Shoebox, they're the funny ones).
The buttons on the main menu were much easier to understand and the main selection was just greeting cards versus too many selections with American Greetings. If you wanted to create or personalize other projects, there was a button just for that, which goes to another menu. I found this to be much better organized all around.
The biggest plus was that the greeting cards and other products were categorized on separate CDs so that you didn't have to swap a CD every time you wanted to see a different card. All the Birthday, Day by Day, Photo Greetings and Other Products were on CD 1; Holiday Cards were on CD 2; Special Day Cards and Art Book Images were on CD 3; and Content Packs with Snapshot Express (photo editor) were on CD 4.
I selected a Holiday Card, but harumph, no 4th of July card was available, although they did have Nurse's Day cards (really). So I decided to check out the Special Days selection and chose a New Grandchild card for friends of ours, then personalized it.
Now came the real test - would I be able to send this card electronically without having to upgrade, like what American Greetings wanted me to do?
When I clicked on E-MAIL, another menu appeared and asked me to select a background, either white or black, then I could preview the card before sending it, which I did. It looked great. I was then given a choice to send the card electronically via E-mail using a current Internet Connection, via MAPI through Microsoft Exchange or any compatible e-mail program, or save it to my hard drive and send it via my e-mail program later. I decided to use my current Internet connection and it only took about two minutes to send the card. Since I sent it to myself as a test, a message arrived in my e-mailbox fairly quickly, with instructions and a link to the Sierra Home web site (the developers of CardStudio Deluxe). The card came as an executable file (.exe) attachment, which I double-clicked on. The card instantly appeared, no muss, no fuss and when I clicked on the cover of the card, it took me to the inside text, then allowed me print it out or close it. Very simple and well done!
Creating a card and printing it out on my Lexmark Z52 color inkjet printer was a snap, much easier than CreataCard.
My results: The Hallmark web site is so-so, but CardStudio Deluxe is a winner.
---
Final results: The American Greetings web site wins hands down, while Hallmark's CardStudio Deluxe software is the clear winner.
Hallmark CardStudio Deluxe
Retail $49.95
Features
Over 3,000 Hallmark and Shoebox cards to choose from
Over 150 project templates, including calendars, photogreetings, envelopes, stickers, labels, stationery, postcards, and more.
10,000 original art images
Over 20 specially-created Hallmark fonts
Create over 600,000 projects
Snapshot Express photo editor included
Additional Content Packs are available for purchase direct off of CD 4 and include additional Shoebox cards, Mary's Bear, Norman Rockwell, Valerie Taborsmith, Celebrity Classics, Kids & Pals, and Common Threads
System Requirements
Windows 95/98/NT
Pentium 100 or higher
16 MB RAM
800x600 16-bit color SVGA video display
At least 59 MB of hard disk space
4X CD-ROM
Mouse
Internet connection for electronically sending cards
American Greetings CreataCard Plus 4
Retail $29.99
Features
Create over 250,000 projects
Over 11,000 images
Spellcheck
Forget-Me-Not calendar
Photo editor
System Requirements
Pentium/100 MHz or faster processor
Microsoft Windows 95 or 98
32 MB RAM
70 MB hard disk space
2x or faster CD-ROM drive
Internet connection to e-mail cards
---
J.A. Hitchcock is a regular contributor to Compute Me. Visit her web site at jahitchcock.com.
Return to the Compute Me Reviews main page.