---

By Jayne A. Hitchcock
as it appeared in the January 2001 issue of IT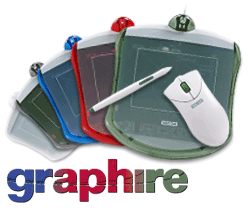 Iíd had an old Kurta IS/ONE tablet a couple of years ago that I used quite a bit with my drawing programs, but it was huge - the tablet was something like 24x20, so it promptly went up into the attic once weíd settled in our new house. Iíd been itching to get a smaller tablet and looked at what Wacom had to offer. Since I donít do as much drawing as I used to, and mainly would need this for photos, I selected the USB Graphire for my PC (itís also available for Macs and in the serial version for PCs). The fact that it was less than $100 and the mouse and pen were cordless helped, too.
When you purchase the Graphire, you get a choice of color and size. I selected the grape in 4x5, about the size of a mousepad. When the Graphire arrived, I first had to figure out how to open the box - there were so many tabs to pull up, it was a bit confusing. Once I got it open, I liked what I saw.
Next came installation. Since this was going to effectively replace my current Logitech Cordless Mouse, I uninstalled that, then installed the Graphire. I couldnít get it to do anything I wanted. Iím left-handed and when I went to the preferences section to select that, then hit APPLY, nothing happened. I restarted the computer, got a mouse .dll error and still the Graphire mouse was set for a right-handed person. Using the mouse was another problem - it felt very jerky and wasnít as smooth as my old Logitech Cordless. I went to the Wacom web site, got the latest software update and drivers and tried that. Nothing doing. The same problems.
I uninstalled the Graphire, checked my hard drive for disk and Windows errors (I was using Win98 at the time), made sure the disk was optimized (it was) and restarted, then reinstalled the Graphire. Still nothing doing. I decided to try something else and reinstalled my Logitech Cordless Mouse. Suddenly the Graphire worked perfectly. But since I wanted this to replace my mouse, I was a bit frustrated. I set my Logitech Cordless aside and began testing the Graphire.
The set-up for the mouse and pen is pretty straightforward. The preferences menu allows you to test each, set it for right or lefthand use (for the mouse, and finally it worked as lefthand), set the pressure point for the pen and mouse-click speed, etc.
I took a photo for one of my magazine articles, scanned it into Adobe Photoshop LE (included with the Graphire) and tried out the pen. It was great for all those little things you need to correct in a photo - red-eye, scratches, dust, speckles, changing colors, etc. Not bad.
Other programs included are:
Corel Painter Classic - This is a great way to take photos and ďturn themĒ into digital paintings that look like they were drawn by chalk, oil, watercolor and more. This was definitely a fun piece of software to play with.
Paragraph PenOffice 2000 SE - This allows you to draw a note or annotation on your computer screen and save it as a bitmap, however you do need Microsoft Word 97/2000 to use this. Since I donít, I canít vouch for this product, but it seems like it could be useful for someone who likes to doodle in their speeches and memos. A very cool addition to this version of PhotoShop is PenTools, which gives you some very cool effects to use in your photos and graphics, including one called SuperPutty©, which is just like that putty stuff in an egg you used when you were a kid.
If all you do involves drawing, editing photos, etc, then the Graphire is definitely for you. If youíre looking for a replacement for your current mouse to use in all applications, including surfing the net, word processors, etc, you may want to think twice. I found the Graphire mouse was still not as smooth as my Logitech Cordless Mouse. I know the Graphire mouse has no moving parts, but when itís still herky-jerky going from web site to web site or hangs up when I alt+tab to switch apps, then itís not the mouse for me, although it does track smoothly when using in drawing programs. The pen I canít say enough good things about and the tablet works well and fits in nicely next to my keyboard. The software included is worth the price alone. However, I went back to my Logitech Cordless Mouse and like it much better for what I do - a little bit of everything.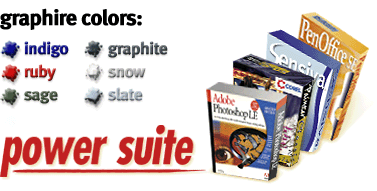 The Wacom Graphire
Retail: Starts at $99.99, comes in indigo, ruby, sage, snow, slate, graphite (grape is no longer available)
Patented cordless and batteryless Pen and Mouse
Pen features pressure-sensitive tip, 2 side-switches and pressure-sensitive eraser
Mouse features 3 buttons and rubberized scrolling wheel
Mouse scrolling wheel speed is customizable
Tablet features clear plastic overlay for tracing
Tablet pen stand is detachable
System Requirements:
Serial Version
PC with an available serial port and PS/2 port, running Windows 95 or later or Windows NT 4.0 or later, CD-ROM drive and color monitor.
USB Version
PC with Win 98/Windows 2000 and working USB port, CD-ROM drive, and color monitor.
Mac
iMac with Mac OS 8.5 or later or PowerMac with Mac OS 8.0 or later with USB port, CD-ROM drive,and color monitor.

Other programs included on the CD-ROM:
Sensiva - Lets you draw your own symbols, then program them to activate or open files, programs, jump to your favorite web site and more. This was a cute program, but not something I could or would really use.
Adobe ActiveShare - This is great for people who love to share their photos with others online or to help organize photos youíve scanned in. I found this very useful for the magazine articles I take photos for.
---
J.A. Hitchcock is a regular contributor to Compute Me. Visit her web site at jahitchcock.com.
Return to the Compute Me Reviews main page.