---

This review appeared originally in the March/April 1997 issue of Link-UP Magazine.
Software Review : Freehand Graphics Studio 7 for the Macintosh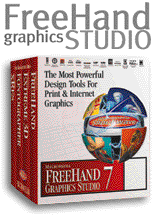 Say you have recently constructed and uploaded your own home page to the World Wide Web. The design, due to your basic lack of experience with advanced HTML, is modest yet attractive, with a few clip art images decorating the borders of your document and several links embedded throughout the page. Traffic to your homepage is good. Yet, you want more.
Seeking inspiration, you browse sites representing major companies and people well-seasoned in HTML and graphic design. You are awed by their colorful client-side and image maps, textured baskgrounds, colorful fonts, unique stationery and animated graphics. You wonder, "How can I add such graphics to my web page without paying a high price to a web design firm? Can my site look like this?"
It can, with a little help from Macromedia's latest release of Freehand Graphics Studio 7. Billing itselfas a package of "the most powerful design tools for print and the Internet," Freehand Graphics Studio 7 is the one stop shop for Macintosh image design and editing, animated graphics, unique fonts, and third-dimensional modeling.
Composed of four different design programs and enhanced by Macromedia plug-in Shockwave, Freehand Graphics Studio 7 is great for professional web designers, small businesses specializing in graphics-laden publications, and anyone wanting access to powerful Internet graphics authoring tools.
Seamless integration, professional results
What is it about Freehand 7 that puts it head-and-shoulders over other Macintosh-compatible software, such a Adobe Photoshop and CorelDraw? Aside from the simple interaction between the four programs included in the package (Macromedia Information Exchange, or MIX, allows the user to switch from program to program without problems), Freehand 7 is also compatible with non-Macromedia products -- documents created with Photoshop and PageMaker may be easily exported by Freehand 7 programs and edited and/or enhanced.

Add an increased number of tools found within floating palettes, "drag-and-drop" features not available in other programs, and support for third-party plug-ins, and you have a package able to create high quality products at a low total production cost.

For a more thorough idea of what Freehand 7 has to offer, here is an inside look at each of the four programs included in the package.
Freehand 7
How many times has it happened that two people working on the same project discover each is using a different computer platform? Situations like this are common and frustrating, especially since most Macintosh software will not work on PC computers. Freehand 7, however, can. Since the file format is the same for Freehand programs of both platforms, documents created in Macintosh are readable on Windows 95, and vice versa.

If the ease of cross-platform capabilities were not enough to entice one into buying this package, consider this other useful qualities of the programs. Freehand imports and exports files from older versions of the program as well as various image and text files (RTF, ASCII, TIFF, GIF, etc.) and interacts well with applications such as Adobe Photoshop and QuarkXPress.

Freehand also offers many extensive editing features sch as multiple-page design and layout, copyfitting, columns spell-check capabilities, search and replace functions, and specialized style sheets. Special effects tools found on Freehand supply endless ideas for design : users may choose from new roughen, bend, smudge, and fisheye lens tools, among others, when constructing new images.

With Shockwave, users can truly make their Freehand files shine. Use Freehand to attach URL links to one design (or part of a design if creating a navagational map image), upload the results to the Internet, and visitors to that Web site can click your images to explore more of the web. The images on the web site never lose the bold, crisp quality given to them on the drawing board.

System requirements : 12 MB of RAM (16 MB+ recommended); 25MB of available hard disk space; PostScript-compatible printer (recommended); CD-ROM drive; 68040 processor or faster (Power Macintosh recommended), System 7 or higher.
Macromedia xRes
High-resolution graphics, built-in World Wide Web functionality, and an array of creative design tools make Macromedia xRes one of the most used programs among Macintosh web designers. This program takes the MacPaint concept several steps into the future, with advanced design tools and cross-program compatiblity to allow for graphics and digital photographs that enhance any web site or company newsletter.

Where on more primitive design programs brush and texture styles and limited, Macromedia xRes offers a wide range of style -- from charcoal to chalk to watercolors. Users can simulate calligraphy on rough paper or oils on a canvas using any of the available options found within the program's floating toolboxes. Photographs imported into xRes may be manipulated and blended with other images and colors to create unique digital designs.

System requirements : 12 MB of RAM (18 MB recommended); 10 MB free disk space for software; 500 MB minimum free disk space for swap file; 8-bit color; CD-ROM drive; 68040 processor or faster Power Macintosh, System 7.5.
Extreme 3D 2
Okay, so you have finally mastered the creation and implementation of two-dimensional graphics. You have them pasted all over your Web site, and you have received many compliments. However, you are still not satisfied. What now?

Take your flat, lifeless images to the next dimension with Extreme 3D 2, Macromedia's powerful Internet design and multimedia authoring program. Professional and amateur graphics, Web designers, and multimedia developers will find this software a blessing, with easy-to-use tools for creating full and animated art, all of which are compatible with Macromedia's Shockwave, Director, and Authorware Plug-ins.

Simple designs may be twisted like pretzels, bent, tapered, skewed, and trimmed to one's content. One of Extreme 3D 2's most important features, the Metaform tool, creates organic shapes that flow together naturally, as water does from a jar. Import graphics created with xRes and Freehand (as well as any JPEG, GIF, PNG, and TIFF file) to add life to Macromedia documents. Extreme 3D 2 can help turn any flat World Wide Web page into a shocked site.

System requirements : 24 MB of RAM (or more); 25 MB available hard disk space; CD-ROM drive; Macintosh : Power Macintosh (no 68k support in v 2.0); System 7.1 w/QuickDraw 3D or higher.
Fontographer 4.1
So Arial Bold and Times New Roman are a bit too conventional for your Web site and company newsletters. Why use them? With Fontographer 4.1, creative minds can design unusual, decorative, and royalty-free fonts. A floating palette of drawing tools allows one to create all 26 letters of the alphabet (and other characters as well). Users may also scan in company logos and enhance them for future use. With the program's special blend tool, one can mix two fonts together to create an entirely new typeface.

Fontographer 4.1 also generates Multiple Master fonts, PostScript-language Type 1 fonts, and TrueType fonts to use. EPS files created with this program may be imported and exported into other Macromedia programs in the FGS 7 package to create super Web documents. Fontographer 4.1 may be the smallest program of the four, but it packs a punch just as powerful.

System requirements : Any Macintosh computer with 5 MB RAM and a hard drive; System 6.07 or greater, CD-ROM drive.

For ease of use, mass compatibility, and dynamic results guaranteed to turn heads and generate Web site hits, Freehand Graphics Studio 7 is a must for any computer graphic artist's library. There is no image these programs cannot enhance and animate, and therefore make any company's Web site, newsletter, or annual report more attractive and professional.
---
Kathryn Lively is an employee with Cox Interactive Media and a freelance writer.
Return to the Compute Me Reviews main page.