---

As seen in IT magazine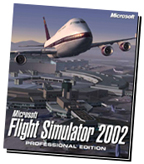 By J.A. Hitchcock
Many IT folks travel for business reasons. Since 9/11, there are those who have decided itís better to conduct meetings via web conferencing or other means. Then there are those who are still traveling and, depending on what airport theyíre flying out of and into, they have to contend with long lines. A line to check in your bags (if youíre checking any); a line going through security screening; and a line to get on the plane. Pretty soon, theyíll have a line when you leave the airport (just kidding).

I love flying. Yes, even now. And Iíd love to learn how to fly a plane, but with everything thatís happened, plus the high cost of learning to fly and getting a pilotís license, I decided to turn to Microsoft and their Flight Simulator 2002 Professional (FS2002) software. It costs a lot less, I can fly all kinds of aircraft, I donít have to worry about buying or renting an airplane, and if something (heaven forbid) ever happened on a flight Iím on in real life, I just may be able to fly the plane. I always say, ďItís better to be safe than sorry.Ē And itís better to have someone who knows the basics than nothing at all.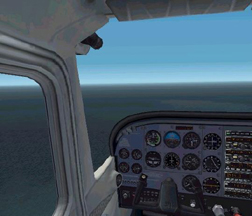 Oh heck, and itís just plain fun. Even we computer geeks needs to relax once in a while (yes, I called myself a geek).
So, why did I choose the Professional version over the regular version? It offers 16 aircraft vs 12 in the regular version, including a Boeing 747-400, 777-300 and 737-400, some of the more common aircraft that airlines use.
Other than that, I didnít really find any big difference between the two. Both have the following new/improved features, all of which are tremendous improvements over previous versions of Flight Simulator and any competitorís products: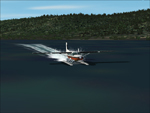 - Interactive Air Traffic Control (ATC): This took some getting used to. You really feel like youíre flying. You can ask for takeoff clearance, get vectors for an instrument approach, hear other traffic as you fly - and each airport/flight is different. Itís an artificial intelligence thatís almost scary.
- AutoGen Scenery: Probably the best improvement. If you thought scenery was good in the previous version of Flight Simulator, you havenít seen anything yet. Be warned - you do need a good graphics card and SVGA monitor and a fast computer, but as you fly, whatever you fly over is automatically rendered as it looks in real life. And I do mean real. From farmlands to the ocean to airports and mountains, everything is rendered beautifully.
- Crowded Skies: Nothing could be more realistic than having other aircraft in the air, especially in and around airports. No longer are you the only aircraft in the air - you have to contend with others on landing and takeoff and elsewhere.
- Floatplane Flying: This is the fun part. Fly a floatplane and takeoff and land in virtually any river, lake, or bay around the world (did I mention there are over 21,000 airports/locations you can choose from?)
- Enhanced Virtual Cockpits: With a 3D graphics card, many of the aircraft cockpits now look more realistic with ďworkingĒ instruments (this is still just a game, you know). from a new perspective-3D cockpits with working instruments.
- Create your own aircraft, buildings, etc with an add-on thatís included: Swap your creations with others online, or download creations others have made.
- Flight Analysis and Instructor's Station: If you want to keep track of how well youíre doing, there are maps and graphs that show you if you maintained course correctly, what you did wrong, etc.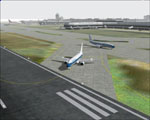 - More than 21,000 airports from virtually every airport in the world, plus the Jeppesen NavData database, including small airports as well as large ones. Thereís also basic Global Positioning System (GPS) for point-to-point navigation with constant position updates on a moving map (hard to get used to since itís on the screen while youíre flying), plus ground speed, course to the next waypoint, and other information.
- Updated and improved weather system: You can download actual current weather reports provided by Jeppesen from anywhere in the world so that youíre flying in the weather thatís really going on at that time.
- New Lessons and Challenging Flights: Earn your instrument rating or just learn how to fly. From the basics to those who are more experienced, youíre sure to never be bored. I wasnít. Plus there are articles and information you can check out from the Aircraft Owners and Pilots Association (AOPA)
- Multiplayer capability: All right, I was wrong. THIS is the best part of FS2002. Go online and fly your aircraft with other pilots over the Internet, a network, or via direct modem connection. Have a dogfight, race each other, see who can get to the airport in the fastest time, etc. (The Zone is where you can find others if you donít know anyone).
If none of the above convinces you, go to the FS2002 site and view some videos of actual flights using FS2002 at www.microsoft.com/games/fs2002/downloads.asp - pick a 747, a Cessna C208 Caravan on floats, or a Bell 206B JetRanger III helicopter or watch all three.
There are also a lot of extras on the FS2002 web site, so I check it pretty regularly for charts, news and other information - www.microsoft.com/games/fs2002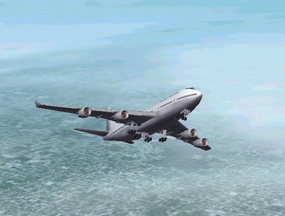 There is a $20 difference between the Professional version vs. the Standard version, so unless you want to learn how to fly a Boeing jet, donít care that the Standard version has 12 aircraft vs. 16 in the Professional, and arenít serious about learning how to fly and just want to have fun, get the Standard version.
MS Flight Simulator 2002 Professional
$74.95
MS Flight Simulator 2002 Standard
$54.95
Minimum System Requirements for both versions:
Windows 98, ME, 2000, or XP (Does not support Windows NT)
Multimedia PC with Pentium II 300Mhz equivalent or higher processor (higher is better)
8MB 3D video hardware acceleration or better
Super VGA monitor supporting at least 800x600 resolutions in 16 bit color
DirectX 8.0a API or later
DirectX8.0a or later compatible 8 MB video card
DirectX8.0a API compatible sound card with speakers or headphones
Sound card with speakers or headphones are required for audio.
Approximately 650 MB of available hard disk space; additional 100MB for swap file.
Quad Speed or better CD-ROM drive
64 MB of memory
Joystick or flight yoke (highly recommended)
Mouse or compatible pointing device
J.A. Hitchcock, awriter@jahitchcock.com, is the author of seven books and a freelance writer, as well as president of W.H.O.A. (Working to Halt Online Abuse)
Return to the Compute Me Reviews main page.