---


By J.A. Hitchcock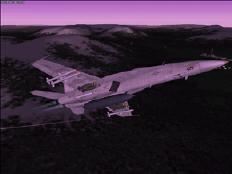 From the developers of Jane's F-15, Jane's F/A-18 has everything you need to fly the Navy's front line multi-role fighter. Jane's newest hardcore sim focuses on the thrill of taking off and landing on a rolling aircraft carrier in the deep, cold North Sea. Complete avionics and weapon system modeling along with a next generation flight model make this the most detailed simulation ever from Jane's. Jane's F/A-18 will pit you against modern Russian aircraft as you fly against a rebel army of Russian generals bent on returning mother Russia to her past glory. F/A-18 has a new graphics system that puts you in the seat of the Navy's fastest fighter/attack jet over shimmering water, puffy clouds and rolling terrain.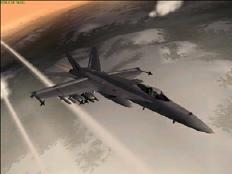 I found that although system requirements claim you can run this combat sim on a P266 or higher, I would highly recommend nothing less than a P450 or higher. Even then, that's pushing it. I have a P450 with 128MB RAM and the game still ran a bit slow for me. This did not, however, take away from the super action, realistic graphics and in-your-face combat. I sometimes felt myself flinching when getting fired upon, or leaning when I moved my Force Feedback joystick, as though I were really in the F/A-18. The only thing missing was the G-Force and the noise.
Everything is realistic, from the cockpit graphics to the jet itself. The most astounding thing was the way the mountainous terrain, the seas and other land graphics were constantly changing, as though they were real. The night flying is superb! This adds a lot to the game, whether playing alone or multiplayer. Speaking of multiplayer, you can hook up to Jane's Combat.net to play online with up to seven foes or allies. This makes for some heart-racing action and enthusiastic team work when you get the right teammates.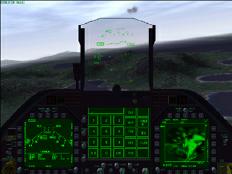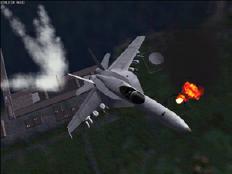 MINIMUM SYSTEM REQUIREMENTS
266 MHZ Pentium or compatible (I'd recommend at least 450 MHZ)
Windows 95/98
32MB RAM (I'd recommend at least 128MB)
CD ROM drive
250 MB free hard drive space (additional is needed for DirectX 6 installation)
3D graphic accelerator compatible with Direct3-D
DirectSound compatible Soundcard
Mouse
Keyboard
Joystick (Force Feedback DirectX compatible is highly recommended)
Multiplayer requirements
LAN Network, TCP/IP/Internet connection
IPS compliant network (2-8 players, one CD per player)
Modem 28.8 or higher
High-speed serial port
Cost: $39.95 retail, available at computer stores everywhere
---
J.A. Hitchcock is a regular contributor to Compute Me. Visit her web site at jahitchcock.com.
Return to the Compute Me Reviews main page.