---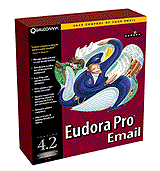 By Jayne A. Hitchcock
as it appeared in the January/February 2000 issue of Link-UP magazine
While looking for an e-mail program, I tried quite a few out. There was Pegasus (not bad for shareware), Forte Agent (combined with a newsreader) and Netscape Communicator's Composer (I don't use the Microsoft Internet Explorer browser unless I absolutely have to). Each had good and bad features, but I was looking for something with a bit more "oomph," multiple address book capabilities, more mailbox options and more overall.

Why would anyone want to use a separate e-mail program when most web browsers allow you to surf, send/receive e-mail and view newsgroups? Personal preference and security. With all the loopholes of web browser e-mail programs blasted in the media recently, I wouldn't even dream of using that e-mail program, no matter what web browser I'm using. And I find it much easier to read my newsgroups using Forte Agent. Others may like the all-in-one concept, but I personally don't. I have a feeling that many people would switch to separate programs if they knew how much better they work and all the extra options and features you get.

That's when I discovered Eudora Pro Email. Their latest version, V4.2, has enough features to make even the pickiest e-mail user happy. Plus, you can now get it for free - Eudora announced on December 9, 1999 that it was making Eudora Pro available for free as a download from their web site. What's the catch? A small ad in the corner under the mailboxes (in the Mac version it's a small, moveable window). The ad will change on a rotation basis, won't contain any animation or sounds and Eudora claims it won't be too distracting.

For those of us (like me) who prefer no ads, you can still purchase the retail version of Eudora at your local retailer or online. If you download it from their web site, you'll be asked if you want the freeware (ad) version or wish to purchase the full version for $29.99.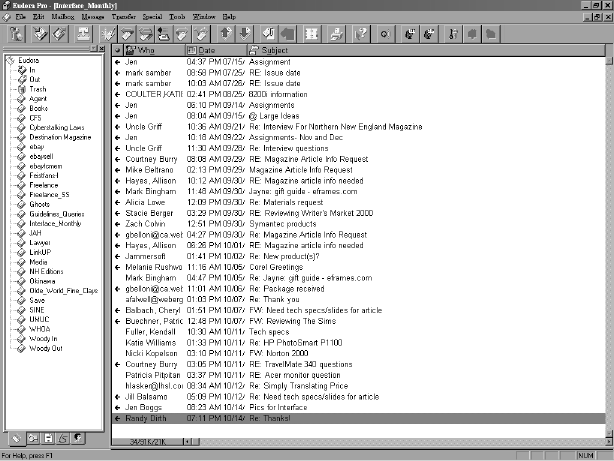 Their Eudora Lite is still available for free from their site, although a small ad has been added, which will change on a monthly basis (rather than a constant rotation, as with the full version).
I decided on the full retail version (no ads) and found the install quick and easy. I was automatically taken to the Eudora site to register and download the latest upgrade, bringing my V4.2 to V4.2.2. A Eudora spokesperson mentioned to me that one of the reasons they decided to offer the program for free was the ability to offer changes and upgrades for free whenever they became available, instead of waiting for a bunch of changes, then offering a new upgrade once a year or so. Plus, Eudora can now keep up with the other free e-mail programs, while maintaining a high quality product. You won't hear me complaining.
Setting up my mailboxes was easy and I found that I could have mail from three of my accounts set up as different "personalities" (two in addition to my primary e-mail, one is with the University of Maryland University College, who I work for part-time and the other is with Women Halting Online Abuse, who I am Co-President of). This definitely saves me time and allows me to get all my e-mail in one place and in their designated mailboxes.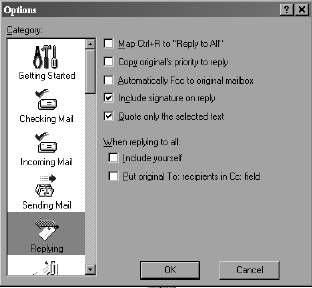 Address Book setup was just as simple, although it took me a little while to figure out how to configure multiple address books. Once I had a handle on this, I setup three address books - one for friends/family, one for professional contacts and one for media contacts.
I went through the OPTIONS and input my SMTP and POPD information, how I wanted attachments sent and received and so on. Everything was easy to do - if I had a question, the HELP files were super easy to navigate and understand.
Soon I had my signature file set up for each "personality" and decided to test out the program. I sent myself an e-mail, then one with an attachment of a .gif and a sound file to my husband. He received them with no problem and they looked and sounded great.
I checked my e-mail and sure enough, mail to me went to my IN mailbox, mail addressed to my UMUC e-mail went into my UMUC mailbox and mail to WHOA went into my WHOA mailbox. I further separated my e-mail by configuring the filters to automatically put e-mails into some other mailboxes I set up. I was becoming a very organized and happy e-mailer!
Other features of Eudora Pro Email are:
Being able to view or write messages offline
Send and receive messages in the background while doing other things
Set it up to automatically check your spelling as you type (I found this a bit annoying and turned it off. I know run Spellcheck before I send a message off)
You can have a virtually unlimited amount of mailboxes to sort your e-mail into (I have 32)
Drag and drop attachments from other programs directly into an e-mail message you want to send
You can change the color, style and size of the text and/or receive and send messages in HTML viewable formats
Voice messages can be sent with the included Qualcomm Pure Voice (microphone, headset not included)
Color code important messages
Search function is great - you can search all of the Eudora file, all the mailboxes or certain ones.
Automatic address completion (this was hard to get used to at first, but now I find I can't live without it!)
Tabs for easy access to whatever you want to do
Another interesting feature is the Directory Services option. While online you can do a Finger, WHOIS, and other searches. I tried this a few times and found it to be a bit quirky. I've stayed with my web browser for doing these kind of searches, but this function would be useful for someone who doesn't want or have web browser.
I set up my web browser (Communicator) so that if I clicked on an e-mail link on a web page, it would automatically take me to Eudora Pro. That's when I found a glitch - when I did this, the text cursor should have been blinking on the SUBJECT line of the e-mail. Instead it was blinking in the message portion. If I tried to move my mouse to the SUBJECT line and click on it, the cursor would still blink in the message portion. So I typed my subject title and sure enough, it appeared in the SUBJECT line. I then hit the tab key and the cursor blinked in the message portion, waiting for me to type my message. This is a bit disconcerting, as it happens every time I use my web browser. The folks at Eudora are aware of this and say they hope to take care of the problem with a patch soon.
Other than that, I found Eudora Pro very easy to use and certainly easy even for a novice. There are "expert" options for those of us who know a bit more about software, so it makes Eudora Pro a very compatible piece of software for anyone.
UPS OF EUDORA PRO EMAIL
The option of purchasing the full version or getting it for free
Simple to setup and use
Multiple mailbox and address book capability is a huge plus
View graphics right inside your messages
Multiple "personalities" allow you to receive e-mail from several accounts at once
Filters for sending spam right to the TRASH or sending messages to the correct mailbox
Many more functions and options than web-based e-mail programs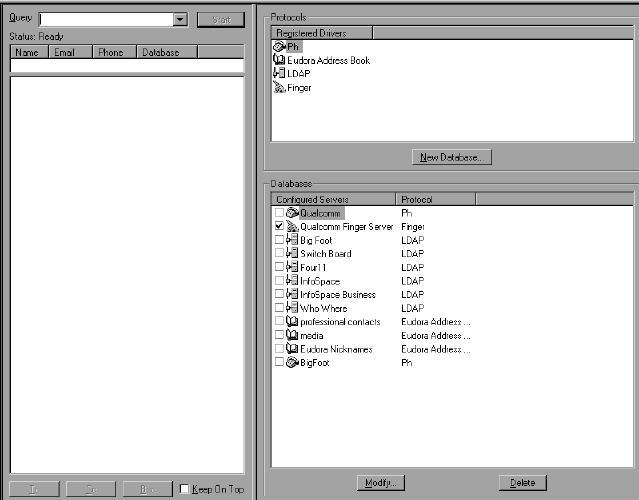 DOWNS OF EUDORA PRO EMAIL
Free version has ads in it
Glitch puts cursor in message portion of e-mail than in the SUBJECT line
Figuring out how to do multiple Address Books should be easier
Directory Services don't always work
SYSTEM REQUIREMENTS
Windows 95/98/NT
Microsoft Windows 95/98 or Windows NT 4.0 or greater
A POP3 or IMAP4 mail account via an Internet
Service Provider or network connection
Access to your mail account via PPP dial-up networking using a modem or a TCP/IP
Internet-style network connection
CD-ROM drive recommended
(To use QUALCOMM PureVoice TM Plug-in: Windows-compatible 16-bit sound system, speaker/headphones and microphone required.

Mac OS
Macintosh PC 68020 or better.
Mac OS System 7.1 or later.
An Internet mail account that uses POP3 protocol with an Internet service provider or on the network.
Access to the mail account via dedicated TCP/IP Internet-style network connection or via PPP dial-up networking through a modem (9600 BPS or higher recommended)
(To use QUALCOMM PureVoice Plug-in for Eudora, microphone required)
---
J.A. Hitchcock is a regular contributor to Compute Me. Visit her web site at jahitchcock.com.
Return to the Compute Me Reviews main page.