---

Software Review: Copernic Shopper Plus
As seen in the September/October 2001 issue of Link-UP magazine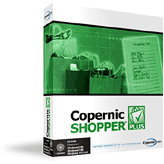 By J.A. Hitchcock
When I'm looking for something to purchase, I inevitably start online to do some research on prices and reviews (the reviews more for high-ticket items such as computers, electronics, etc). When I heard that Copernic had released a new program called Copernic Shopper Plus, which claimed it searched prices and reviews from dozens of online merchants, plus showed shipping costs and more, I decided to go for it.

Although there is a free version, Copernic Shopper Basic, I purchased the Plus version for $29.95, as it offered additional features: Automatic tracking of prices; monitor product availability; e-mail notification of new tracking results; and (my favorite) no advertising banners.

The features included in both the Basic and Plus versions include:

- Access to hundreds of online stores in the USA, Canada, Germany, France and the U.K.
- Read product reviews, tips and articles in English and French
- Consult unbiased store ratings and other helpful store information
- Browse results and products within a single window
- Convert prices into your currency
- Keep track of all your shopping sessions results

The fastest way to get Shopper Plus is to download it, although you can get it on CD for an extra $10.00. The download is just under 3 MB, so it doesn't take long to download. This is definitely one of the easier programs to install - it asks what language you want to use and what currency (for me, English and U.S. dollars). It automatically looks for updates to the program as it installs, then asks if you want to start the program right away - no restarting the computer!

The main menu has nice graphics that are larger than normal ones, and easy to read tabs. The top menu has the usual "File, Edit, View, Search, Tools, Help" selections. Next is the toolbar with graphical buttons that "light up" only when necessary: Find Reviews; Find Prices; Modify Search; Update Search; Stop; Track Search.

The third toolbard offers: Group By (you can leave this blank or select from several options including Title, Price, Availability); Shipping (the default is Ground or you may select 2-3 days or Overnight); Convert Prices to or from another currency; Price Range (can be set to your budget or leave it at default which includes all prices).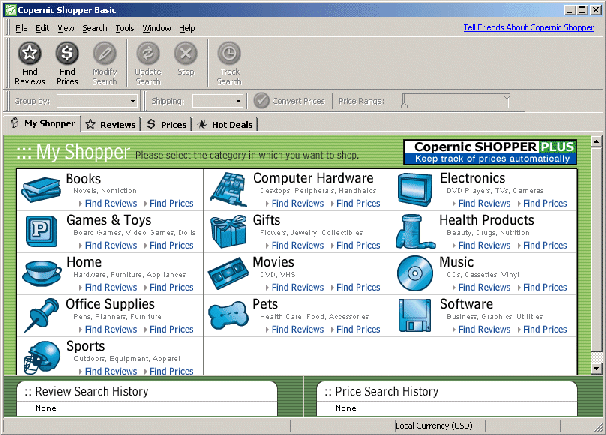 The four tabs are:
MY SHOPPER
This is the default tab when the program starts, with 13 categories to choose from:
Books
Games & Toys
Office Supplies
Sports
Computer Hardware
Gifts
Movies
Pet Products
Electronics
Health Products
Music
Software
Each of this has sub-categories to refine the search even further if you want.

Once you've done a search, two other tables appear below these categories listing the searches you've done for reviews and searches for prices.

REVIEWS
Lists the last search you did for a product and what the results were

PRICES
Shows prices from the last search you performed

HOT DEALS
Automatically checks to see what's available online (you have to be connect to the net for this to work)

Now that I had the basics of Shopper Plus down, I decided to do some searching.

MY FIRST SEARCH:
Wireless Lapel Microphone in Electronics - I like to use a wireless lapel microphone for my speaking engagements and find that many conferences I go to don't have them. I figured if I brought my own, I wouldn't have to look like I was getting ready to sing karaoke.

I typed "wireless lapel mircophone" (no quotes) in the text box, then clicked on the Search button. While it searched over 20 online retailers in a separate pop-up window, I was able to look at the results as they came in on the main window. Although the results were only four selections, it started with the least expensive of which was $24.99 through Amazon.com (which was more in my price range) through the most expensive ($379.99 through Etronics.com - too much for my budget). I was then able to search for prices on the less expensive item, a Cobra Lapel Speaker Microphone and found it for five cents less at 800.com. Yes, I bought it. Now when I'm not using the microphone for lectures, I can pretend to be Britney Spears at home (just kidding).

I then did a search for any reviews and found there were none, but I pretty much knew how a wireless lapel microphone worked anyway.
---
SEARCH #2
This was for VALHALLA RISING by Clive Cussler, his latest Dirk Pitt Adventure (fiction series). I wanted to see the lowest price I could get it for, not only in hardcover, but also on cassette. Again, the list of sites searched was well over 20, including many I'd never heard of, including DoubleDiscount.com, ElGrande.com and and GoGoCity.com (hey, you learn something new every day).
When searching for books, you can fill in one or more of the fields available: Title, Author, and/or ISBN. I typed in the title of the book and the author's name. Big mistake. I found out that I should have put in only the title. The results included not only Cussler's newest book, but *all* of his books, which is not what I wanted. So I redid the search with just the title of the book.
The revised search brought up 45 results, a mix of hardcover and audiobooks. It turns out DoubleDiscount.com had the lowest prices for both, at $13.47 for the audiobook and $16.77 for the hardcover. The price results also listed shipping rates, which was great, because sometimes the lower price at one place evened out or was higher than other sites because of shipping. However, DoubleDiscount.com still won out in both the hardcover and audiobook category with a total of $17.77 for the audiobook and $21.07 for the hardcover (shipping included). The next best prices were $20.71 (shipping included) for the audiobookand $23.09 for the hardcover (shipping included), both from Buy.com
What killed me was the highest price for each: $48.90 for the audiobook and $29.10 for the hardcover, both including shipping and both from Walmart.com, which is supposed to have the lowest prices around. Where's that smiley face when you need it to cut costs? Guess they're not the lowest after all.
In Music, I searched for CDs by the rock band Journey (yes, I'm showing my age now). I knew they released a new one, but couldn't remember the name of it.
Seventeen sites were searched and I got way too many erroneous results. Instead of looking for just that band, it looked for every band with the word Journey in it. Youch. I did a web search for the official Journey site to find out the title of their latest CD. It was "Arrival." So I revised the search and got a lot of results that were for other CDs with the word "arrival" in it.
I began to wish Copernic Shopper Plus had an "exact phrase" or similar to refine the search so that I wouldn't get all these other matches. You can't use quotes around more than one word, or the "&" sign or plus or minus, like in other search engines. The only time you can choose "exact phrase" is when searching for reviews. But that's a minor complaints compared to the wide range of web sites searched at one time.
However, by clicking on the Band column in the results, I scrolled down to "Journey" (it turns out quite a few bands like the "Arrival" title). The lowest price I could find was at CheapCDs.com for $13.88 (shipping included). The highest price was through Borders.com, at $20.43 (shipping included).
---
For my final search, I chose Software, then searched for prices on PageMaker 7.0. I have version 6.5, but wanted to see if Copernic could find a lower upgrade price than what Adobe offered me ($79.00).
There were 37 results and I was pretty surprised to see listings for Corporate and Government prices, which were lower than what I got for an upgrade price - $23.99! However, the regular upgrade price Adobe gave me wasn't bad, considering I got free shipping. The lowest upgrade price was $72.23 at eCost.com, but you had to call about shipping rates, so I suspect they are either the same as Adobe's price or higher.
Out of curiousity, I checked the prices for the full version of PageMaker 7.0 and eCost.com came in again as the lowest, at $484.04, but again had to call for shipping. Adobe listed the full version as $499.00 on their web site, so it's pretty comparable.
---
The pricing is great, but the reviews part is poor - there are a limited number of review sites listed for each category. Every time I tried to find a review on any of the products searched for above, the result came up as zero and I know there are reviews out there for each of these. The one I expected at least one review of was the Journey album, "Arrival" and it was the only one who had four good results, from Borders.com, BN.com and Amazon.com. Some of the results I got I couldn't tell if it was the album from Journey or Abba or some other band.
A very nice feature is the Hot Deals tab, which searches for the latest sales and specials in each category. When I checked it, many of the categories had specific retailers offering percentage or dollars off discounts off entire purchases or if you spent a certain amount. One offered free shipping if you pre-ordered MS Office XP.
So, is Copernic Shopper Plus worth the $29.95 I paid for it? For me, yes. I do a lot of online shopping and love to comparison shop. Since each of the searches took less than a minute (and that's with a 56k modem), I saved a lot of time instead of going from one merchant's site to the other to compare prices. The multitude of merchant web sites searched was amazing and you can send new merchant info to Copernic to add to the program. Then the next time you run it, it's automatically updated with any new merchants.
If you do a lot of online shopping, want the best deals and love to comparison shop, get Copernic Shopper Plus. If you do online shopping once in a while, try the free Basic version. I guarantee that Copernic Shopper - Basic or Plus - will change the way you think about online shopping and make it fun.
Copernic Shopper Plus
$29.95
Copernic Shopper Basic is FREE
Both have online demos if you want to see how it works before downloading either program. Both are available only for computer systems running the Windows operating system.
J.A. Hitchcock, awriter@jahitchcock.com, is the author of seven books and a freelance writer, as well as president of W.H.O.A. (Working to Halt Online Abuse)
Return to the Compute Me Reviews main page.