---

As seen in IT magazine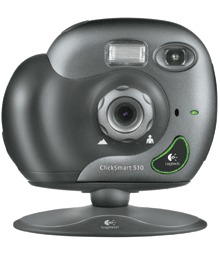 By J.A. Hitchcock
I have a digital camera, but it's not web-capable, meaning I can't use it for web conferencing or as a PC camera. I started looking around for something that wouldn't burn a hole in my pocketbook, but could do a lot of things. I've reviewed several Logitech products before, so I checked out their web site and saw two ClickSmart digital cameras. After reading through each of their features, I decided to give the ClickSmart 510 a shot because it had a removable memory card, while the 310 did not.

At a price of only $149.95, I was curious to see if it lived up to the features listed on the web site. When it arrived, I was pleased with the size - not too big and not too small, about the same size as other digital cameras and it *looked* like a camera (some of the others look kind of odd).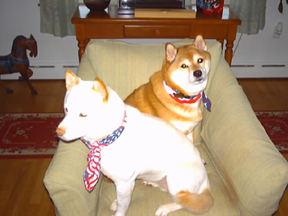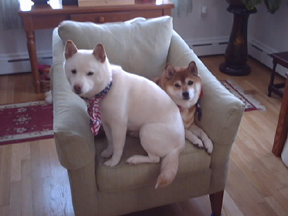 Photo on the left with flash on, photo on the right with flash off
I swear - Logitech makes installation of their products as easy and painless as possible and the ClickSmart 510 was no exception. I just followed the step-by-step instructions after connecting it via USB (the cable is included) and installed the included software:
Intelligent QuickSync™ (image transfer to your computer)
One click photo and video e-mail software
SpotLife™ web album software*
SpotLife™ Personal Video Broadcasting*
SpotLife™ webcam software*
Digital Radar ll™ motion detection software
Stop motion and time lapse animation
Reality Fusion® GameCam SE & screen saver software

Plus these extras:
Microsoft® NetMeeting™ video calling software (for live web conferences, very cool)
MGI® PhotoSuite® SE PC image editing software
MGI® VideoWave® SE PC video editing software
FREE SpotLife.com Trial Membership*
CrestaCards™ video greeting software (Lite version)
Logitech® Smart Internet Updater
*Trial Membership includes 60 minutes of live video, 10 MB of storage for video/pictures and unlimited webcamming.
The stand that comes with the ClickSmart 510 allows you to place it anywhere on your desktop when you want to use it as a PC cam or for web conferencing, or when you upload the photos/video. Yes, I said video. This baby can record up to 90 seconds of video *with* audio. It may not sound like a lot, but believe me, it's a very nice feature.
Once everything was installed on my computer, I began stalking the dogs around the house. One of them is a big ham and loves to pose for the camera and I made him do a little dance so that I could try out the video portion. I took photos with no flash, flash and fill-flash, some close-up shots, some far away - a little bit of everything. Uploading was the easiest I've ever seen - you just connect the camera to the USB cable, place it in the stand, press a button on the front and the photos and videos automatically upload very quickly. I clicked through each photo, played the video and found that for the most part, everything looked great. However, you can't get too close to the subject you're photographing, or they end up looking blurry. And sometimes the flash was a bit too much. I think you have to get used to the camera to find the best way to take photos - like with any camera. Once I did get the hang of it, I think the dogs were getting sick of me chasing them around the house and yard.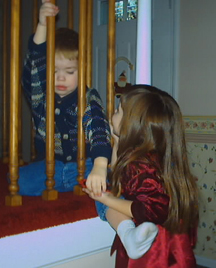 Although I found the digital "click" sound annoying at first (to simulate a 35mm SLR camera sound), it was helpful in letting me know when I took a photo.
My big mistake was showing my husband, Chris, the ClickSmart 510. He pouted until I let him have it for himself. I do have a Logitech QuickCam hooked up to my computer to use as a PC cam, so we compromised - he could use the ClickSmart 510 when I didn't need it as a digital camera.
What was great was we got to try out MSNs NetMeeting software. After Chris installed it on his computer, we set up a "meeting," then had a live web conference with each other, even though we were only two rooms away from each other in the same house. But it did give me an idea of how this could be used for small companies and SOHOs (like me) to communicate with clients, editors, employees, etc inexpensively. It's a lot cheaper than airfare or those expensive video conferencing units and the video quality is excellent.
Now I get a bunch of photos e-mailed to me by Chris. He's having way too much fun with this camera.
A nifty feature is that this can be used as a surveillance camera with the included motion detector software. This is great for a small business, for someone who wants to keep an eye on the kids when the babysitter is around, or other things. There are a lot of extras with this camera, so do take the time to visit the web site and check everything out.
For less than $150, this is a great buy - you get a digital photo camera, digital video camera and PC cam all rolled into one. With its ease of use, anyone can have this up and running in minutes - literally!
Logitech ClickSmart 510
$149.95
Specifications
High-quality VGA CCD sensor (640x480)
Built-in microphone & flash
Self-timer
Multi-snap mode (5 continuous shots)
Tripod socket

When used as a digital camera

Still image resolution: Up to 1.3 megapixels (1280x960)
Video capture resolution: Up to 320x240 pixels
Frame rate: Up to 15 frames per second
Estimated for 8MB SmartMedia memory card:
• 120 pictures in 640x480 or 1.3 megapixels
• 480 pictures or 40 seconds of video in 320x240 pixels
• 90 seconds of video in 160x120 pixels
Focus settings: Close-up 1.3 feet (40 cm) to 3 feet (91 cm)
Distance 3 feet (91 cm) to infinity
40-degree field of view, f 2.8

Used as a web camera:

Still image resolution: Up to 640x480 pixels
Video capture resolution: Up to 640x480 pixels
Frame rate: Up to 30 frames per second
System Requirements
Windows® 98, 2000, Me, XP
300 MHz Pentium® II, Celeron™, AMD Athlon® processor, or higher (400 MHz Pentium® III, Celeron™, AMD Athlon® processor, AGP video card recommended)
Available USB port
CD-ROM drive
64 MB RAM
Hard drive with 100 MB free space
16-bit color display adapter
Windows compatible sound card and speakers (full duplex sound card recommended)
FOR ONLINE ACTIVITIES AND TO SEND OR RECEIVE EMAILS:
Web browser such as Microsoft® Internet Explorer™ 4.0 or higher or Netscape® Navigator™ 4.0 or higher
E-mail application that supports file attachment such as AOL 6.0, Microsoft® Outlook™ Express or Netscape® Mail
28.8k modem
Internet connection with email account
Sound card and speakers needed for audio playback
Package Contents:
Logitech® ClickSmart™ 510 camera
8MB SmartMedia™ memory card
Adjustable swivel base
USB cable
Lens cover and wrist strap
4 AAA batteries
Getting Started pocket card
Getting Started manual
2-year limited hardware warranty
J.A. Hitchcock, awriter@jahitchcock.com, is the author of seven books and a freelance writer, as well as president of W.H.O.A. (Working to Halt Online Abuse)
Return to the Compute Me Reviews main page.