---


By J.A. Hitchcock
Have you ever wanted to own your very own baseball team? And I'm not talking bush league here, I'm talking Major League! Now you can. I'm not kidding. Okay, it's a virtual ownership, but it's a kick and you can thank Microsoft for it.
Baseball 2001 not only allows you to own, run and manage one of 30 Major League teams, but also allows you to conduct a game on your computer screen, complete with screaming fans, vendors selling hot dogs and beer and very realistic players. Although no computer company has really got humans down pat, Baseball 2001 gets pretty darned close. From small movements, like a pitcher scratching his nose to the ball flying over the fence for a home run, you can almost smell the popcorn.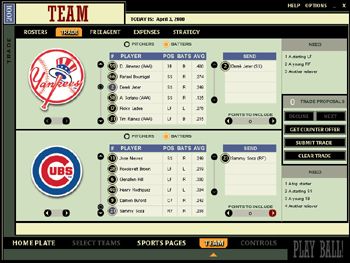 You can even download a trial version to try it out first - I highly recommend this, although I think you'll end up buying the retail version anyway.
Included are four new stadiums: Enron Field (Houston Astros), Pacific Bell Park (San Francisco Giants), Mller Park (Milwaukee Brewers) and Comerica Park (Detroit Tigers). Some other very cool features include: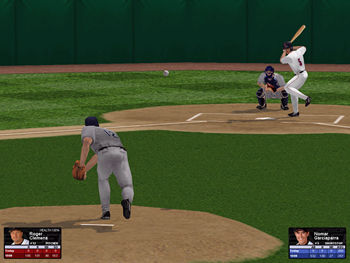 Extensive General Management mode includes smart trades, robust player editing capabilities and financial management
Commissioner mode lets you make management decisions for all the teams in your league
Updated teams and players (roster updates are available online during the regular season)
Throwing errors based on fielding percentages
Defensive alignment will adjust to the situation after each pitch
Improved announcer calls
In-game tracking of most and longest home runs
Endorsed by Boston Red Sox All-Star shortstop Norman Garciaparra (on the box and in the game)
You can simulate the Playoffs, trade, sign and release players (and deal with their temper tantrums), creat new players and edit their attributes, then at the end of the season, decide who stays, who goes, and which free agents to go after for the next season.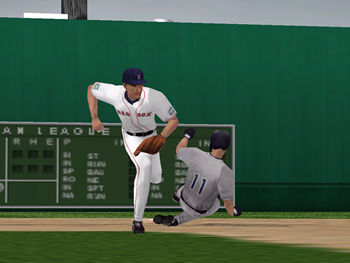 The multiple game option is truly cool - either play in single game mode for a quick one, or get some other options:
Play TONIGHT'S GAME, then choose a date and play any game scheduled for that day and maybe change the outcome!
PLAYOFFS mode skips the regular season and jumps to the playoffs - choose the teams, format and try to win the World Series
HOME RUN DERBY lets you square off against an opponent in a home run hitting competition at the ballpark of your choosing
LEAGUE play means you own, run and play whatever team you choose, with the option to let the game take over if you feel overwhelmed
Be just a PLAYER and have at it!
I really enjoyed playing this and found it to be one of the few sims that doesn't get boring after a while. The choices are almost endless and it's never boring. So take yourself out to the ball game with Microsoft's Baseball 2001!
MINIMUM SYSTEM REQUIREMENTS
166 MHZ Pentium or compatible (I'd recommend at least 266 MHZ)
Windows 95/98
32MB RAM
CD ROM drive
100 MB free hard drive space (minimum install)
Super VGC 16-color monitor
DirectX 7.0 compatible Soundcard
Mouse
Keyboard
Speakers or headphones for audio
DirectX 7.0 API (included)
MS Direct 3D compliant 3D accelerator card and 8MB VRAM highly recommended
Cost: $29.99 retail, available at computer stores everywhere
---
J.A. Hitchcock is a regular contributor to Compute Me. Visit her web site at jahitchcock.com.
Return to the Compute Me Reviews main page.