---

By Jayne A. Hitchcock
as it appeared in the September/October 2000 issue of LINK-UP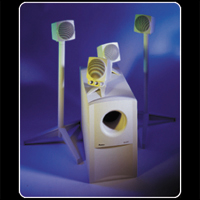 Although I have a larger office in our current home, it's still chock full of too many things - two desks, three microwave carts (doubling as hold-alls and printer stands), four printers, my computer system and a fold-out couch for guests. So, when it came time to upgrade my so-so speaker system, I needed to find something that wouldn't take up a lot of room, but would still give me great sound.
When a friend recommended Boston Acoustics, all I could think of was home stereo systems, and pricey ones at that. But I went to their web site and took a look. I still had my doubts, but there was one speaker system that looked good to me - the BA4800 5-Piece, 4-Channel PC Gaming System. The web site claimed this system, consisting of four powered surround satellite speakers and a "pounding" 6.5" sub-woofer, would bring not only PC games alive, but make the web sound like it was right in my room.
At $199 for the whole system (stands for the four satellite speakers included), it sounded like it was promising a lot. But I bought them.
When the package arrived, the box was a lot smaller than I expected. When I opened it up, the speakers looked far too small to provide the sound they claimed they would. The four satellite speakers measure about 3 inches square *each.* The sub-woofer was suitably sized. Two of the speakers came with desktop pedestal stands, which make them about 4 inches high and the other two come with "tower" stands so that they sit behind you at just over a foot tall (depending on where you put them). The good news is that you can wall-mount the two rear speakers if you'd like.
I have to admit, set-up was fairly painless - the instructions are color-coded, there are extra-long cable connections and the audio controls are conveniently placed on one of the desktop speakers. The only gripe I had so far was the attachment of the rear tower stands to the speakers. They didn't seem to sit right and it took me a few tries to feel comfortable enough about letting them stand on the floor. I still have to be careful not to knock into them; they are flimsier than what I would have liked.
Set-up was easy, my computer instantly recognized the speaker system (you do need a 4-channel output sound card for the speakers to work properly).
Now for testing the speaker system out. My husband is into games like Quake, so we started that up and almost fell over in our chairs. The sound was absolutely incredible. Footsteps sounded like real footsteps. Water dripping made it sound like it was actually dripping off my walls, and the action! Phew!
I then went online and visited Yahoo! Chat, then took advantage of the Voice Chat now available. Yes, you get the same weirdos who only want to know if you're female and "looking," but just by lurking (hanging out in the chat room, but not "talking), I was able to hear the others "speak" without any loss of quality or crackling sounds I got with my old speakers. I then cruised to some web sites that offer short movies, videos, etc and found that the BA4800 speaker system never let me down.
Now when I surf online I leave my volume turned up, where before I'd turn it off because of the poor quality of my former speakers.
With my only gripe the rear tower stands, this speaker system is a must for anyone who demands good quality sound in a small package and a decent price.
SPECIFICATIONS
Frequency Response 50-20,000Hz
Max Sound Pressure Level - 106dB
Crossover Frequency - 180Hz
Inputs - 1 front analog and 1 rear analog
Color - Computer gray (a light gray)
Master, Surround and Sub-woofer volume controls
---
J.A. Hitchcock is a regular contributor to Compute Me. Visit her web site at jahitchcock.com.
Return to the Compute Me Reviews main page.