---

Hardware Review: All In One or Separate Components
By Jayne A. Hitchcock
As seen in the January 2000 issue of Computer News
When it comes to printing, scanning and copying, most people prefer separate components. But for many, an all-in-one system just may be the right component instead. Below, you'll find information and mini-reviews of the Xerox WorkCentre XK35c (an all-in-one option) and separate components. Then decide for yourself based on cost, efficiency, quality and your needs.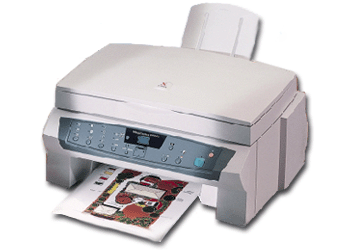 Xerox Workcentre XK35c
The Xerox WorkCentre XK35c is low in price and comes with an unbeatable combination of capabilities just right for that small business or home office. You get a flatbed color scanner, color inkjet printer and a color copier, all rolled into one.
To compare the output quality of this versus separate components, I used the same image - the color cover of a magazine which had a photograph on it. First, I scanned in the photo at the same resolution of 150 dpi on the WorkCentre, then on the Visioneer 8600 OneTouch. The OneTouch was a tad faster, but both had the same output quality, which was very good. However, the WorkCentre does offer the option of higher resolution when scanning, and the OneTouch offers more features than the WorkCentre (see review below), so these are things to consider.
I took the scanned image, saved in .jpg 256-color RGB format, and printed it out on four different printers: The WorkCentre; Lexmark's Z51; Canon's BJC-6000 and Canon's BJC-5100. Although the WorkCentre uses the Lexmark Z51 engine, I found the output quality of the WorkCentre to be just a tad superior - the colors and image itself were sharper. Both of the Canon printers did a good job, with the 6000 just beating out the 5100.
I then printed out the image in black/white mode, and added my Hewlett-Packard 4P laser printer to the mix and found a surprise here - although the HP4P was far superior than the inkjets, the Z51 was sharper than the WorkCentre and the 5100 sharper than the 6000, but just a tad below the other two.
For copier comparisons, I didn't have another color copier. The color copy of the magazine cover, full size, was nice, the colors were just slightly faded and surprisingly, the color image of the cover I scanned in was richer than the copy.
Next I photocopied the magazine cover in black/white mode with the WorkCentre and my personal copier, a Xerox XC830. I still find the XC830 superior, not only because it uses a "dry" ink (toner), but also because it tends to be sharper in detail. The WorkCentre copy was not bad (600x600 dpi), mind you - it was softer in texture and that may be more pleasing to some people. Both copiers offer reducing/enlarging functions, copy quality modes, take up to legal size paper, but the XC830 does allow you a larger glass area to reduce tabloid or larger sized papers.
The size of the WorkCentre is not too big and not too small at 17.4x18.1x8.5" and weighs less than 20 pounds. The color and black ink cartridges average $40.00 each for replacement
I found that I liked the WorkCentre so much, I made it my default printer, primarily because of the COLOR photocopy capability. I can't tell you how many times I had something in color I wanted to photocopy and didn't want to bother going to the local copy shop and paying an arm and a leg for a color photocopy. The output is more than decent and definitely worth it and the price is right. I have kept my HP4P and XC930 copier, but only because of the laser printer's quality for black/white output and the copiers ability to handle larger jobs faster, especially when I need 15 copies of a 34-page proposal.
The only caveat - if you run a LAN or have two or more computers networked together, the XK35c is not recommended - you'd be better off with separate components.
System Requirements
Windows 95/98/NT
486 or higher PC or compatible (Pentium II recommended)
16MB RAM (32MB RAM recommended)
20MB hard drive space
USB cable included (IEEE 1284 compliant)
Specifications
Replacement cartridges cost around $40 each for black and color

PRINTER:
Up to 1200 x 1200 dpi color inkjet
Up to 8 PPM black, 3 PPM color

COPIER
Up to 600 x 600 dpi
Up to 3 PPM black, 1.5 PPM color
25-400% reduction/enlargement in 1% increments
B&W/Color selection

SCANNER
300x600 dpi, up to 4800 x 4800 dpi enhanced
30-bit color
10-bit black

Takes up to 100 sheets of paper in tray
Up to 8.5x14" (legal) paper size
Can use transparencies, labels, envelopes, t-shirt transfers, card stock, banners, postcards
Includes PagisPro, TextBridge Pro and MGI PhotoSuite software
$349 Retail
Return to the top
---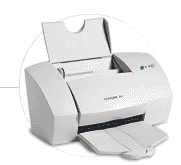 Lexmark Z51
The Lexmark Z51 is a fast printer, easy to set up, a good size (and doesn't weigh a lot) and has some sharp output with high resolution options. You can also get a photo ink cartridge for printing photos, which is great for those who have a separate photo printer. Software included: Corel Print House Magic™ and ArcSoft Photo Fun House.
SPECS
10 PPM black, 5 PPM color
1200x1200 dpi
Takes up to 8.5x14"(legal) size paper
Color ink cartridges run $37, black $30, photo $40; there are refill kits available which will lower the ink replacement costs.
Accepts high gloss photo film, photo paper & cards, banner, hi-res & brilliant white, t-shirt transfers, card stock, fabric sheets, transparencies, envelopes, more
Windows 95/98/NT
$249
Return to the top
---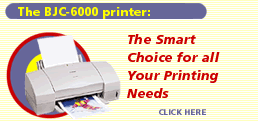 Canon BJC-6000
Although the resolution output isn't as high as the Lexmark or Xerox, the Canon BJC-6000 printer has something Lexmark and Xerox don't - separate ink tanks for each color. So when you run out of red ink, you replace the red ink cartridge, not the whole color cartridge. This is a must for anyone who prints using a lot of color. Save time and money on ink! Comes with Canon CreativePro software.
SPECS
Up to 1440x720 dpi
Up to 5 PPM color, 8 PPM black
Takes up to 8.5x14"(legal) size paper
Currently can get 4-pack set of ink cartridges (1 black, 1 red, 1 blue, 1 yellow) for around $19
Accepts high gloss photo film, photo paper & cards, banner, hi-res & brilliant white, t-shirt transfers, card stock, fabric sheets, transparencies, envelopes, more
Windows/iMac compatible
$149 (with $50 rebate)
Return to the top
---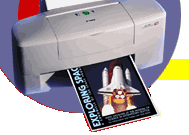 Canon BJC-5100
This color inkjet printer is a must for any SOHO - you can print everything from brochures to greeting cards to photographs (photo quality output) to newsletters and more – all the way up to 11x17 (although only one at a time manually for the 11x17, a negative). And resolution is as high as 1440x720 dpi with specialty papers (720x720 dpi otherwise). It also comes with three ink cartridges - one enhanced black cartridge ($36 replacement cost), one regular black ink tank ($8.99 replacement) and one color ink tank ($26 replacement; photo ink cartridge optional at $45). Comes with Canon Creative Pro software, which includes 300+ TrueType fonts.
SPECS
Up to 1440x720 dpi
Dual cartridge system makes it the fastest BJ printer to date
Up to 4 PPM color, 10 PPM black
Accepts high gloss photo film, photo paper & cards, banner, hi-res & brilliant white, t-shirt transfers, card stock, fabric sheets, transparencies, envelopes, more
Takes up to 11x17 (tabloid) paper size
Windows 95/98
$149 (after mail-in rebate)
Return to the top
---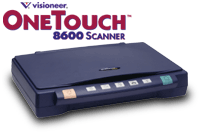 Visioneer 8600 OneTouch Scanner
This scanner is for those who want a scanner and want it NOW! It's so easy to set up and truly does one-touch scanning up to 600x1200 dpi in 36-bit color. You can set it up to scan to e-mail, a printer, or a file, it does OCR, even faxes! However, you do have to like the color purple (the only downside). It is compact in size and truly remarkable. Software included: PaperPort Deluxe 6.1, TextBridge Pro 8.0 OCR, WebPublisher Link, PictureWorks PhotoEnhancer, MGI PhotoSuite II SE
SPECS
8.5" x 11.7" scanning area
Win 95/98/NT
$249
Return to the top
---
Hewlett-Packard 4P Laserjet Printer
Although no longer available, their latest Laserjet 6P runs $500 and up
SPECS
Up to 4 PPM black
600 dpi
4MB memory
Takes up to 8.5x14 (legal) size paper
Also does specialty papers, envelopes, etc as the printers listed above.
Laser toner cartridge prints up to 3,000 pages and costs around $42 to replace
Return to the top
---
Xerox XC-830 Copier
Although no longer sold as new, you can still find it at many retail surplus stores or online stores for about $350
SPECS
8 PPM black
Up to 8.5x14 (legal) size paper
70-141% reduction/enlargement
Toner replacement runs $135
Return to the top
---
J.A. Hitchcock is a regular contributor to Compute Me. Visit her web site at jahitchcock.com.
Return to the Compute Me Reviews main page.